Anti-Microbial, Anti-Biofilm Activities and Cell Selectivity of the NRC-16 Peptide Derived from Witch Flounder, Glyptocephalus cynoglossus
1
Research Center for Proteineous Materials, Chosun University, Gwangju 501-759, Korea
2
Department of Biotechnology, Chosun University, Gwangju 501-759, Korea
3
Department of Bioinformatics, Kongju National University, Kongju 314-701, Korea
*
Author to whom correspondence should be addressed.
Received: 26 March 2013 / Revised: 25 April 2013 / Accepted: 3 May 2013 / Published: 28 May 2013
Abstract
Previous studies had identified novel antimicrobial peptides derived from witch flounder. In this work, we extended the search for the activity of peptide that showed antibacterial activity on clinically isolated bacterial cells and bacterial biofilm.
Pseudomonas aeruginosa
was obtained from otitis media and cholelithiasis patients, while
Staphylococcus aureus
was isolated from otitis media patients. We found that synthetic peptide NRC-16 displays antimicrobial activity and is not sensitive to salt during its bactericidal activity. Interestingly, this peptide also led to significant inhibition of biofilm formation at a concentration of 4–16 μM. NRC-16 peptide is able to block biofilm formation at concentrations just above its minimum inhibitory concentration while conventional antibiotics did not inhibit the biofilm formation except ciprofloxacin and piperacillin. It did not cause significant lysis of human RBC, and is not cytotoxic to HaCaT cells and RAW264.7 cells, thereby indicating its selective antimicrobial activity. In addition, the peptide's binding and permeation activities were assessed by tryptophan fluorescence, calcein leakage and circular dichroism using model mammalian membranes composed of phosphatidylcholine (PC), PC/cholesterol (CH) and PC/sphingomyelin (SM). These experiments confirmed that NRC-16 does not interact with any of the liposomes but the control peptide melittin did. Taken together, we found that NRC-16 has potent antimicrobial and antibiofilm activities with less cytotoxicity, and thus can be considered for treatment of microbial infection in the future.
View Full-Text
►

▼

Figures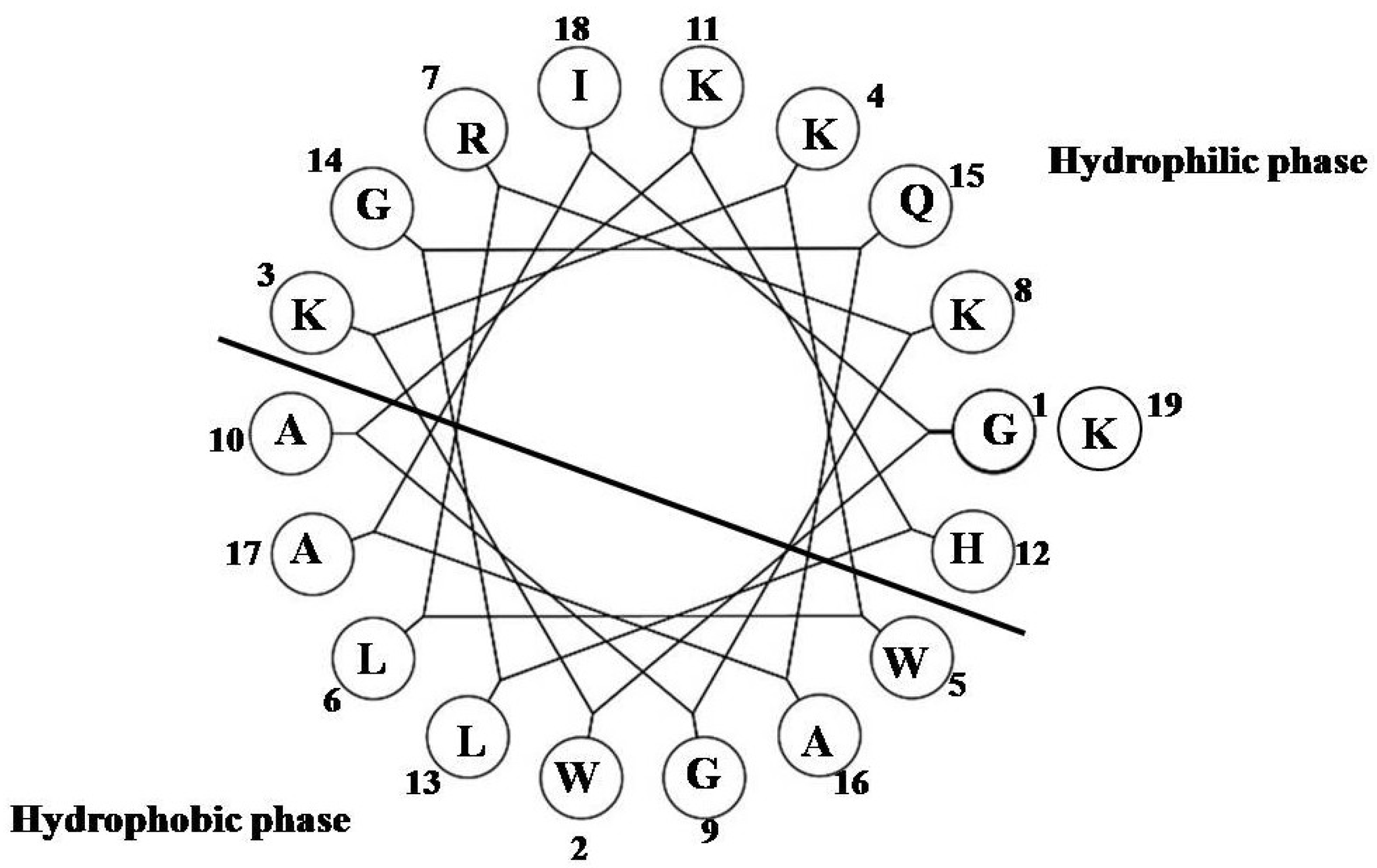 Figure 1
Share & Cite This Article
MDPI and ACS Style
Gopal, R.; Lee, J.H.; Kim, Y.G.; Kim, M.-S.; Seo, C.H.; Park, Y. Anti-Microbial, Anti-Biofilm Activities and Cell Selectivity of the NRC-16 Peptide Derived from Witch Flounder, Glyptocephalus cynoglossus. Mar. Drugs 2013, 11, 1836-1852.
Related Articles
Comments
[Return to top]