Exposure to the Neurotoxic Dinoflagellate, Alexandrium catenella, Induces Apoptosis of the Hemocytes of the Oyster, Crassostrea gigas
1
Institut National des Sciences et Technologies de la Mer, Laboratoire Milieu Marin, 28 rue du 2 mars 1934, Salammbô 2025, Tunisia
2
Institut Français de Recherche pour l'Exploitation de la Mer, Centre National de la Recherche Scientifique, Université de Montpellier 2, Université de Montpellier 1, Institut de la Recherche pour le Développement, Unité Mixte de Recherche 5119 "Ecologie des Systèmes Marins Côtiers", Place Eugene Bataillon, CC93, Montpellier cedex 5, 34095, France
3
Institut Français de Recherche pour l'Exploitation de la Mer, Laboratoire Environnement, Microbiologie et Phycotoxines, Rue de l'Ile d'Yeu BP 21105, Nantes CEDEX 3 44311, France
*
Author to whom correspondence should be addressed.
Received: 27 September 2013 / Revised: 31 October 2013 / Accepted: 6 November 2013 / Published: 2 December 2013
Abstract
This study assessed the apoptotic process occurring in the hemocytes of the Pacific oyster,
Crassostrea gigas
, exposed to
Alexandrium catenella
, a paralytic shellfish toxins (PSTs) producer.
Oysters were experimentally exposed during 48 h to the toxic algae. PSTs accumulation, the expression of 12 key apoptotic-related genes, as well as the variation of the number of hemocytes in apoptosis was measured at time intervals during the experiment. Results show a significant increase of the number of hemocytes in apoptosis after 29 h of exposure. Two pro-apoptotic genes (Bax and Bax-like) implicated in the mitochondrial pathway were significantly upregulated at 21 h followed by the overexpression of two caspase executor genes (caspase-3 and caspase-7) at 29 h, suggesting that the intrinsic pathway was activated. No modulation of the expression of genes implicated in the cell signaling Fas-Associated protein with Death Domain (FADD) and initiation-phase (caspase-2) was observed, suggesting that only the extrinsic pathway was not activated. Moreover, the clear time-dependent upregulation of five (Bcl2, BI-1, IAP1, IAP7B and Hsp70) inhibitors of apoptosis-related genes associated with the return to the initial number of hemocytes in apoptosis at 48 h of exposure suggests the involvement of strong regulatory mechanisms of apoptosis occurring in the hemocytes of the Pacific oyster.
View Full-Text
►

▼

Figures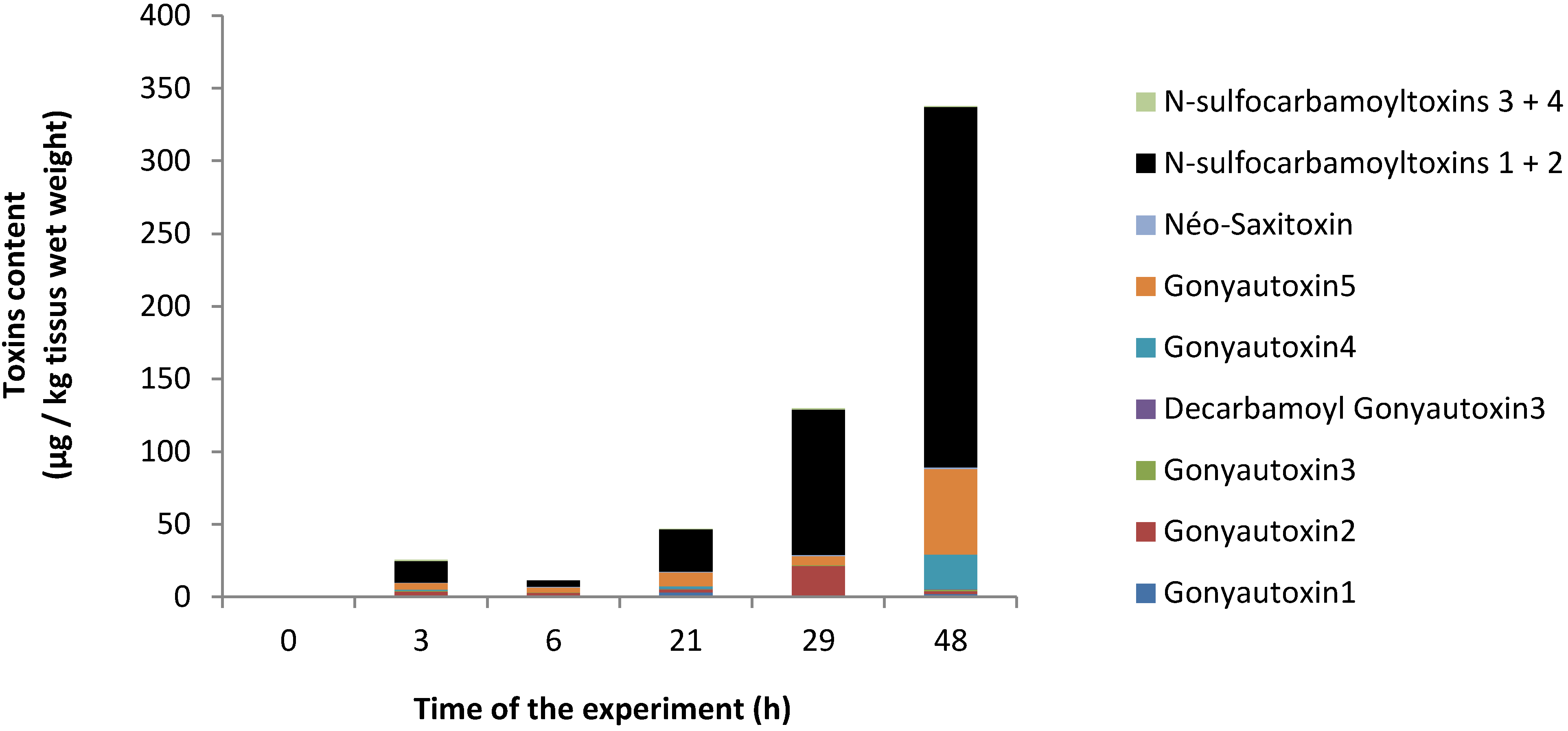 Figure 1
Share & Cite This Article
MDPI and ACS Style
Medhioub, W.; Ramondenc, S.; Vanhove, A.S.; Vergnes, A.; Masseret, E.; Savar, V.; Amzil, Z.; Laabir, M.; Rolland, J.L. Exposure to the Neurotoxic Dinoflagellate, Alexandrium catenella, Induces Apoptosis of the Hemocytes of the Oyster, Crassostrea gigas. Mar. Drugs 2013, 11, 4799-4814.
Related Articles
Comments
[Return to top]