Involvement of HDAC1 and HDAC3 in the Pathology of Polyglutamine Disorders: Therapeutic Implications for Selective HDAC1/HDAC3 Inhibitors
Department of Molecular and Cellular Neuroscience, The Scripps Research Institute, SP2030 10550 N. Torrey Pines Rd, La Jolla, CA 92037, USA
Received: 15 January 2014 / Revised: 8 May 2014 / Accepted: 12 May 2014 / Published: 26 May 2014
Abstract
Histone deacetylases (HDACs) enzymes, which affect the acetylation status of histones and other important cellular proteins, have been recognized as potentially useful therapeutic targets for a broad range of human disorders. Emerging studies have demonstrated that different types of HDAC inhibitors show beneficial effects in various experimental models of neurological disorders. HDAC enzymes comprise a large family of proteins, with18 HDAC enzymes currently identified in humans. Hence, an important question for HDAC inhibitor therapeutics is which HDAC enzyme(s) is/are important for the amelioration of disease phenotypes, as it has become clear that individual HDAC enzymes play different biological roles in the brain. This review will discuss evidence supporting the involvement of HDAC1 and HDAC3 in polyglutamine disorders, including Huntington's disease, and the use of HDAC1- and HDAC3-selective HDAC inhibitors as therapeutic intervention for these disorders. Further, while HDAC inhibitors are known alter chromatin structure resulting in changes in gene transcription, understanding the exact mechanisms responsible for the preclinical efficacy of these compounds remains a challenge. The potential chromatin-related and non-chromatin-related mechanisms of action of selective HDAC inhibitors will also be discussed.
View Full-Text
►

▼

Figures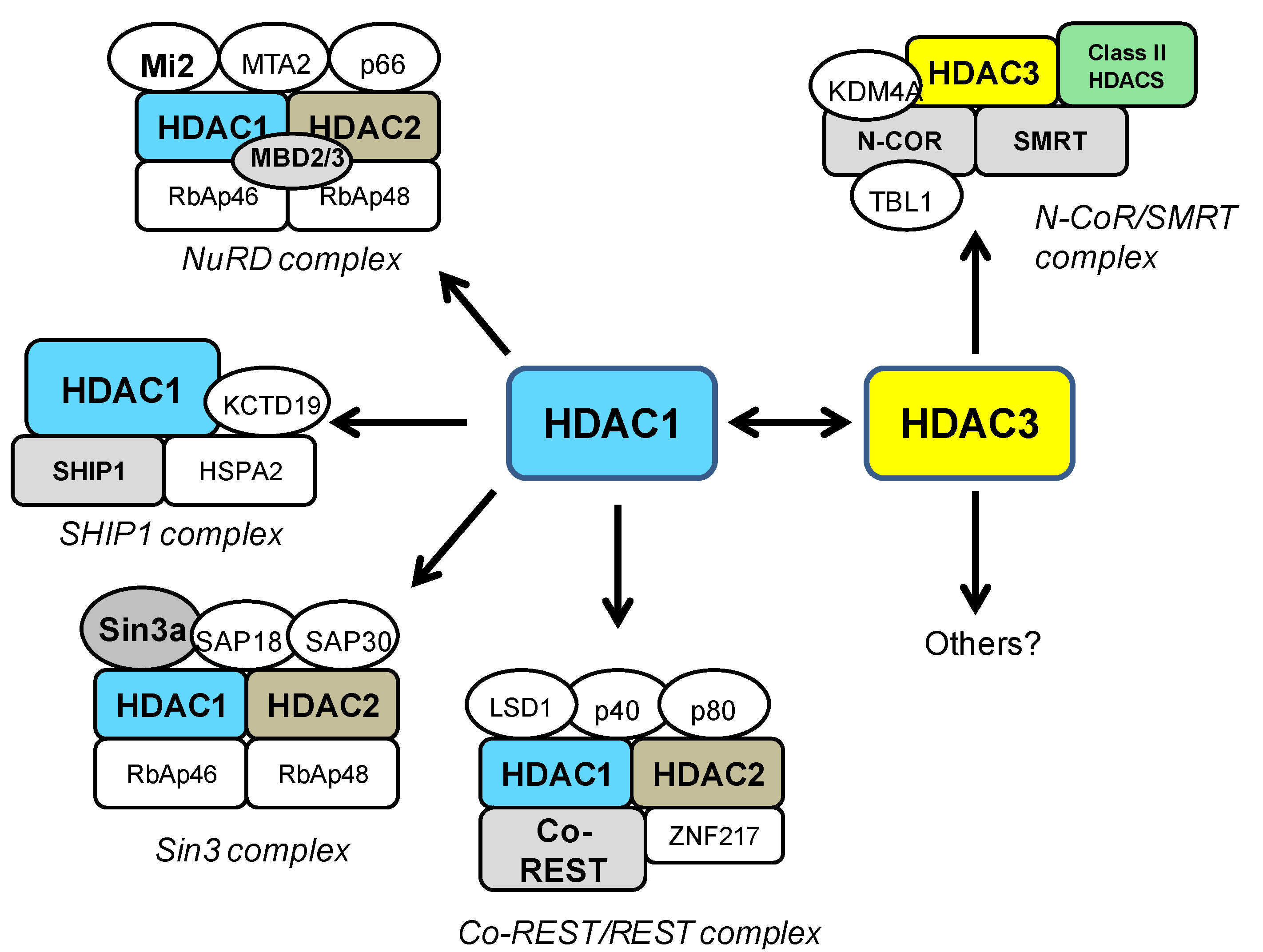 Figure 1
Share & Cite This Article
MDPI and ACS Style
Thomas, E.A. Involvement of HDAC1 and HDAC3 in the Pathology of Polyglutamine Disorders: Therapeutic Implications for Selective HDAC1/HDAC3 Inhibitors. Pharmaceuticals 2014, 7, 634-661.
Related Articles
Comments
[Return to top]