Future Trends in the Pharmacogenomics of Brain Disorders and Dementia: Influence of APOE and CYP2D6 Variants
1
EuroEspes Biomedical Research Center, Institute for CNS Disorders and Genomic Medicine, Bergondo, 15165 Coruña, Spain
2
EuroEspes Chair of Biotechnology and Genomics, Camilo José Cela University, Madrid, Spain
*
Author to whom correspondence should be addressed.
Received: 28 May 2010 / Revised: 7 September 2010 / Accepted: 25 September 2010 / Published: 29 September 2010
Abstract
About 80% of functional genes in the human genome are expressed in the brain and over 1,200 different genes have been associated with the pathogenesis of CNS disorders and dementia. Pharmacogenetic studies of psychotropic drug response have focused on determining the relationship between variations in specific candidate genes and the positive and adverse effects of drug treatment. Approximately, 18% of neuroleptics are substrates of CYP1A2 enzymes, 40% of CYP2D6, and 23% of CYP3A4; 24% of antidepressants are substrates of CYP1A2 enzymes, 5% of CYP2B6, 38% of CYP2C19, 85% of CYP2D6, and 38% of CYP3A4; 7% of benzodiazepines are substrates of CYP2C19 enzymes, 20% of CYP2D6, and 95% of CYP3A4. 10-20% of Western populations are defective in genes of the CYP superfamily; and the pharmacogenomic response of psychotropic drugs also depends on genetic variants associated with dementia. Prospective studies with anti-dementia drugs or with multifactorial strategies have revealed that the therapeutic response to conventional drugs in Alzheimer's disease is genotype-specific. The disease-modifying effects (cognitive performance, biomarker modification) of therapeutic intervention are APOE-dependent, with
APOE-4
carriers acting as the worst responders (
APOE-3/3
>
APOE-3/4
>
APOE-4/4
).
APOE-CYP2D6
interactions also influence the therapeutic outcome in patients with dementia.
View Full-Text
►

▼

Figures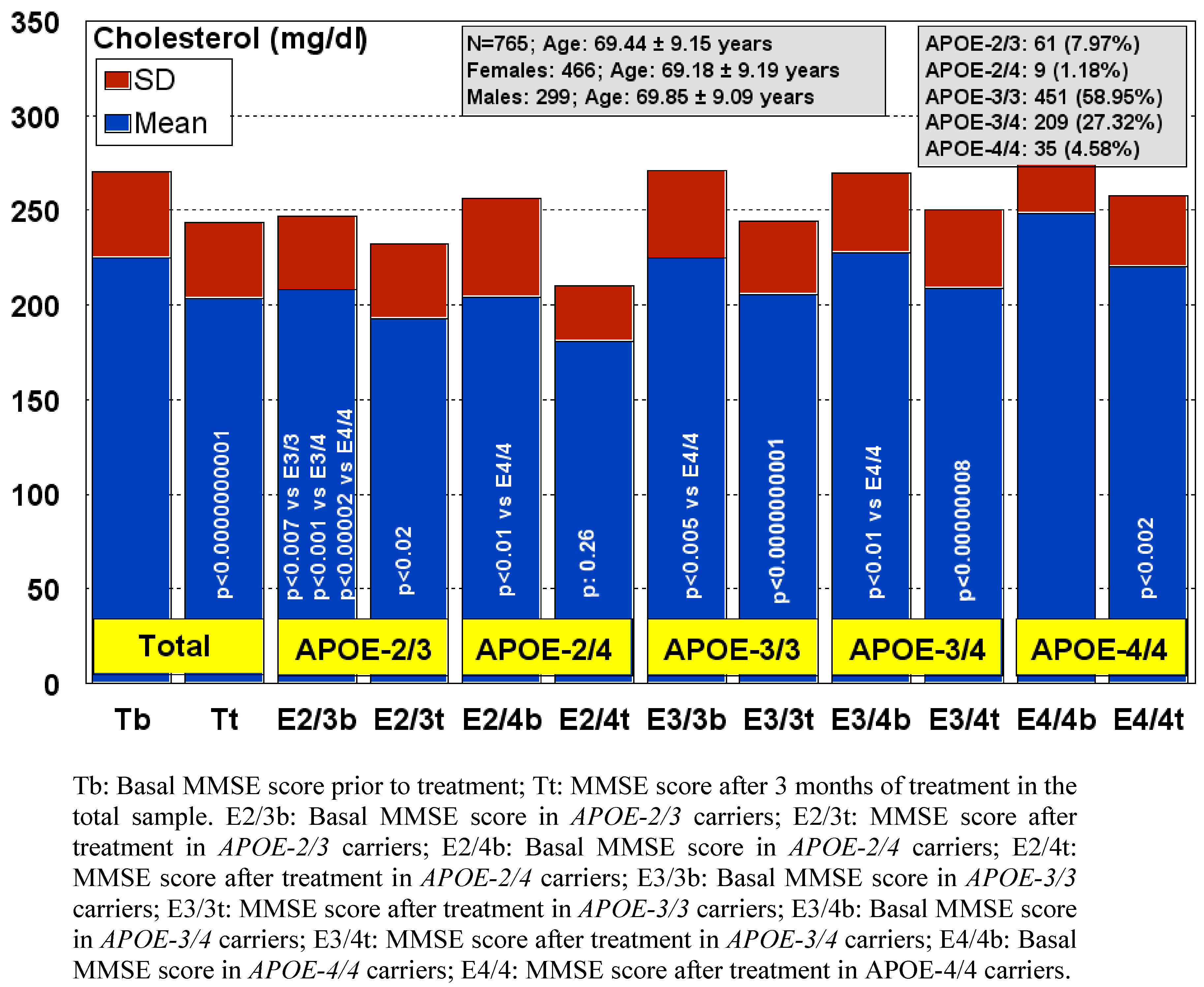 Figure 1
Share & Cite This Article
MDPI and ACS Style
Cacabelos, R.; Fernández-Novoa, L.; Martínez-Bouza, R.; McKay, A.; Carril, J.C.; Lombardi, V.; Corzo, L.; Carrera, I.; Tellado, I.; Nebril, L.; Alcaraz, M.; Rodríguez, S.; Casas, Á.; Couceiro, V.; Álvarez, A. Future Trends in the Pharmacogenomics of Brain Disorders and Dementia: Influence of APOE and CYP2D6 Variants. Pharmaceuticals 2010, 3, 3040-3100.
Related Articles
Comments
[Return to top]