Insulin and Insulin-Sensitizing Drugs in Neurodegeneration: Mitochondria as Therapeutic Targets
1
Center for Neuroscience and Cell Biology, University of Coimbra, 3000-354 Coimbra, Portugal
2
Department of Life Sciences, Faculty of Sciences and Technology, University of Coimbra, 3000- 354 Coimbra, Portugal
3
Institute of Physiology, Faculty of Medicine, University of Coimbra, 3000-354 Coimbra, Portugal
4
School of Medicine, Case Western Reserve University, Cleveland, OH 44106, USA
5
College of Sciences, The University of Texas at San Antonio, TX 78249, USA
*
Author to whom correspondence should be addressed.
Received: 5 November 2009 / Revised: 21 December 2009 / Accepted: 22 December 2009 / Published: 23 December 2009
Abstract
Insulin, besides its glucose lowering effects, is involved in the modulation of lifespan, aging and memory and learning processes. As the population ages, neurodegenerative disorders become epidemic and a connection between insulin signaling dysregulation, cognitive decline and dementia has been established. Mitochondria are intracellular organelles that despite playing a critical role in cellular metabolism are also one of the major sources of reactive oxygen species. Mitochondrial dysfunction, oxidative stress and neuroinflammation, hallmarks of neurodegeneration, can result from impaired insulin signaling. Insulin-sensitizing drugs such as the thiazolidinediones are a new class of synthetic compounds that potentiate insulin action in the target tissues and act as specific agonists of the peroxisome proliferator-activated receptor gamma (PPAR-γ). Recently, several PPAR agonists have been proposed as novel and possible therapeutic agents for neurodegenerative disorders. Indeed, the literature shows that these agents are able to protect against mitochondrial dysfunction, oxidative damage, inflammation and apoptosis. This review discusses the role of mitochondria and insulin signaling in normal brain function and in neurodegeneration. Furthermore, the potential protective role of insulin and insulin sensitizers in Alzheimer´s, Parkinson´s and Huntington´s diseases and amyotrophic lateral sclerosis will be also discussed.
View Full-Text
►

▼

Figures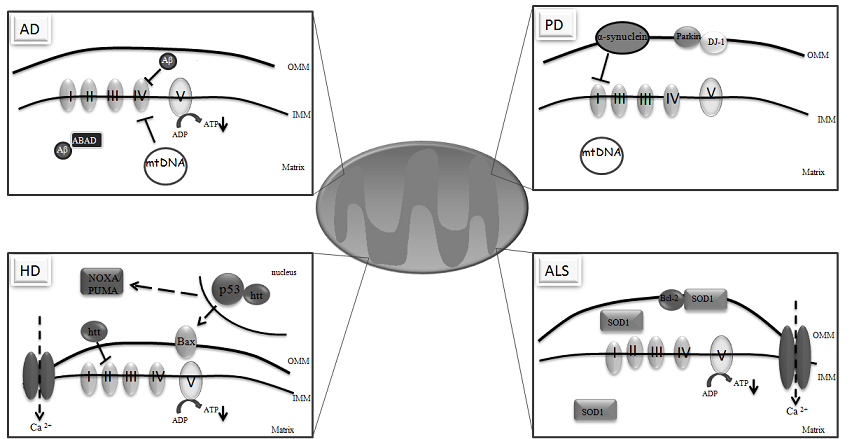 Share & Cite This Article
MDPI and ACS Style
Cardoso, S.; Santos, R.; Correia, S.; Carvalho, C.; Zhu, X.; Lee, H.-G.; Casadesus, G.; Smith, M.A.; Perry, G.; Moreira, P.I. Insulin and Insulin-Sensitizing Drugs in Neurodegeneration: Mitochondria as Therapeutic Targets. Pharmaceuticals 2009, 2, 250-286.
Related Articles
Comments
[Return to top]