Design and Synthesis of Non-Peptide Mimetics Mapping the Immunodominant Myelin Basic Protein (MBP83–96) Epitope to Function as T-Cell Receptor Antagonists
1
Department of Chemistry, University of Patras, 26504 Rion Patras, Greece
2
School of Chemistry, Cardiff University, Park Place, Cardiff CF103AT, Wales, UK
3
Laboratory of Immunohematology, Division of Hematology, Department of Internal Medicine, Medical School, University of Patras, Rion, 26500 Patras, Greece
4
Centre for Chronic Disease, College of Health and Biomedicine, Victoria University, St. Albans, VIC 3021, Australia
†
These authors contributed equally to this work.
*
Authors to whom correspondence should be addressed.
Academic Editor: Christoph Kleinschnitz
Received: 26 April 2017 / Revised: 2 June 2017 / Accepted: 2 June 2017 / Published: 8 June 2017
Abstract
Encephalitogenic T cells are heavily implicated in the pathogenesis of multiple sclerosis (MS), an autoimmune demyelinating disease of the central nervous system. Their stimulation is triggered by the formation of a trimolecular complex between the human leukocyte antigen (HLA), an immunodominant myelin basic protein (MBP) epitope, and the T cell receptor (TCR). We detail herein our studies directed towards the rational design and synthesis of non-peptide mimetic molecules, based on the immunodominant MBP
83–96
epitope that is recognized by the TCR in complex with HLA. We focused our attention on the inhibition of the trimolecular complex formation and consequently the inhibition of proliferation of activated T cells. A structure-based pharmacophore model was generated, in view of the interactions between the TCR and the HLA-MBP
83–96
complex. As a result, new candidate molecules were designed based on lead compounds obtained through the ZINC database. Moreover, semi-empirical and density functional theory methods were applied for the prediction of the binding energy between the proposed non-peptide mimetics and the TCR. We synthesized six molecules that were further evaluated in vitro as TCR antagonists. Analogues
15
and
16
were able to inhibit to some extent the stimulation of T cells by the immunodominant MBP
83–99
peptide from immunized mice. Inhibition was followed to a lesser degree by analogues
17
and
18
and then by analogue
19
. These studies show that lead compounds
15
and
16
may be used for immunotherapy against MS.
View Full-Text
►

▼

Figures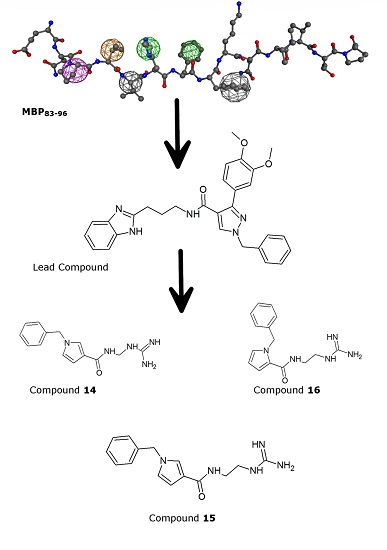 This is an open access article distributed under the
Creative Commons Attribution License
which permits unrestricted use, distribution, and reproduction in any medium, provided the original work is properly cited. (CC BY 4.0).
Share & Cite This Article
MDPI and ACS Style
Yannakakis, M.-P.; Simal, C.; Tzoupis, H.; Rodi, M.; Dargahi, N.; Prakash, M.; Mouzaki, A.; Platts, J.A.; Apostolopoulos, V.; Tselios, T.V. Design and Synthesis of Non-Peptide Mimetics Mapping the Immunodominant Myelin Basic Protein (MBP83–96) Epitope to Function as T-Cell Receptor Antagonists. Int. J. Mol. Sci. 2017, 18, 1215.
Note that from the first issue of 2016, MDPI journals use article numbers instead of page numbers. See further details here.
Related Articles
Comments
[Return to top]