Melatonin and Vitamin D Interfere with the Adipogenic Fate of Adipose-Derived Stem Cells
1
Department of Biomedical Sciences, University of Sassari, Viale San Pietro 43/B, 07100 Sassari, Italy
2
Laboratory of Molecular Biology and Stem Cell Engineering, National Institute of Biostructures and Biosystems, Via Massarenti, 40138 Bologna, Italy
3
Department of Biotechnology, University of Natural Resources and Life Sciences Vienna, Muthgasse 18, A-1190 Vienna, Austria
4
Clinical and Experimental Medicine Department, University of Sassari, Viale San Pietro 8, 07100 Sassari, Italy
5
Azienda Ospedaliero-Universitaria di Sassari, Viale San Pietro 8, 07100 Sassari, Italy
6
Center for Developmental Biology and Reprogramming (CEDEBIOR), Department of Biomedical Sciences, University of Sassari, Viale San Pietro 43/B, 07100 Sassari, Italy
7
Stem Wave Institute for Tissue Healing (SWITH), Gruppo VillaMaria and Ettore Sansavini Health Science Foundation, Via Provinciale per Cotignola 9, 48022 Lugo, Ravenna, Italy
8
Istituto di Ricerca Genetica e Biomedica, Consiglio Nazionale delle Ricerche (CNR), Monserrato, 09042 Cagliari, Italy
†
These authors contributed equally to this work.
*
Author to whom correspondence should be addressed.
Academic Editors: Russel J. Reiter and Maurizio Battino
Received: 7 April 2017 / Revised: 28 April 2017 / Accepted: 2 May 2017 / Published: 5 May 2017
Abstract
Adipose-derived stem cells (ADSCs) represent one of the cellular populations resident in adipose tissue. They can be recruited under certain stimuli and committed to become preadipocytes, and then mature adipocytes. Controlling stem cell differentiation towards the adipogenic phenotype could have a great impact on future drug development aimed at counteracting fat depots. Stem cell commitment can be influenced by different molecules, such as melatonin, which we have previously shown to be an osteogenic inducer. Here, we aimed at evaluating the effects elicited by melatonin, even in the presence of vitamin D, on ADSC adipogenesis assessed in a specific medium. The transcription of specific adipogenesis orchestrating genes, such as
aP2
, peroxisome proliferator-activated receptor γ (
PPAR-γ
), and that of adipocyte-specific genes, including lipoprotein lipase (
LPL
) and acyl-CoA thioesterase 2 (
ACOT2
), was significantly inhibited in cells that had been treated in the presence of melatonin and vitamin D, alone or in combination. Protein content and lipid accumulation confirmed a reduction in adipogenesis in ADSCs that had been grown in adipogenic conditions, but in the presence of melatonin and/or vitamin D. Our findings indicate the role of melatonin and vitamin D in deciding stem cell fate, and disclose novel therapeutic approaches against fat depots.
View Full-Text
►

▼

Figures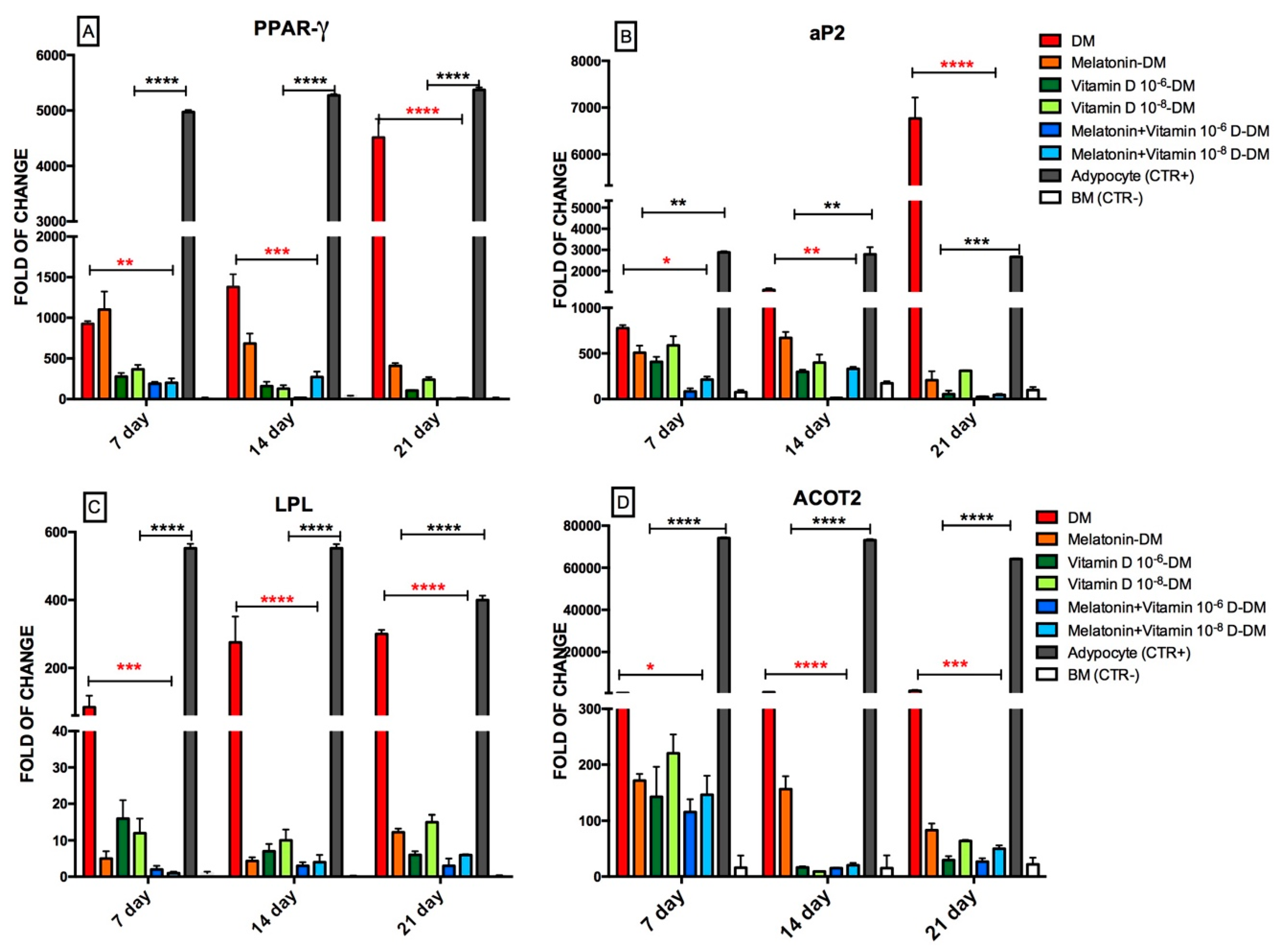 Figure 1
This is an open access article distributed under the
Creative Commons Attribution License
which permits unrestricted use, distribution, and reproduction in any medium, provided the original work is properly cited. (CC BY 4.0).
Share & Cite This Article
MDPI and ACS Style
Basoli, V.; Santaniello, S.; Cruciani, S.; Ginesu, G.C.; Cossu, M.L.; Delitala, A.P.; Serra, P.A.; Ventura, C.; Maioli, M. Melatonin and Vitamin D Interfere with the Adipogenic Fate of Adipose-Derived Stem Cells. Int. J. Mol. Sci. 2017, 18, 981.
Note that from the first issue of 2016, MDPI journals use article numbers instead of page numbers. See further details here.
Related Articles
Comments
[Return to top]