Hydrostatic Pressure Regulates MicroRNA Expression Levels in Osteoarthritic Chondrocyte Cultures via the Wnt/β-Catenin Pathway
1
Department of Medicine, Surgery and Neuroscience, Rheumatology Unit, University of Siena, Policlinico Le Scotte, Viale Bracci 1, 53100 Siena, Italy
2
Department of Medical Biotechnologies, University of Siena, Policlinico Le Scotte, Viale Bracci 1, 53100 Siena, Italy
3
Department of Life Sciences and Biotechnology, University of Ferrara, Via Borsari, 44121 Ferrara, Italy
4
Child Neuropsychiatry Unit, University Hospital, AOUS, Viale Bracci, 53100 Siena, Italy
5
Plants for Human Health Institute, Department of Animal Sciences, NC State University, NC Research Campus, 600 Laureate Way, Kannapolis, NC 2808, USA
6
Department of Medicine, Surgery and Neurosciences, Orthopaedic Section, University of Siena, Policlinico Le Scotte, Viale Bracci 1, 53100 Siena, Italy
*
Author to whom correspondence should be addressed.
Academic Editor: Cory J. Xian
Received: 25 November 2016 / Revised: 23 December 2016 / Accepted: 4 January 2017 / Published: 12 January 2017
Abstract
Mechanical loading and hydrostatic pressure (HP) regulate chondrocytes' metabolism; however, how mechanical stimulation acts remain unclear. MicroRNAs (miRNAs) play an important role in cartilage homeostasis, mechanotransduction, and in the pathogenesis of osteoarthritis (OA). This study investigated the effects of a cyclic HP (1–5 MPa), in both normal and OA human chondrocytes, on the expression of
miR-27a/b
,
miR-140
,
miR-146a/b
, and
miR-365
, and of their target genes (
MMP-13
,
ADAMTS-5
,
IGFBP-5
, and
HDAC-4
). Furthermore, we assessed the possible involvement of Wnt/β-catenin pathway in response to HP. Chondrocytes were exposed to HP for 3h and the evaluations were performed immediately after pressurization, and following 12, 24, and 48 h. Total RNA was extracted and used for real-time PCR. β-catenin was detected by Western blotting analysis and immunofluorescence. In OA chondrocytes, HP induced a significant increase (
p
< 0.01) of the expression levels of
miR-27a/b
,
miR-140
, and
miR-146a
, and a significant reduction (
p
< 0.01) of
miR-365
at all analyzed time points.
MMP-13
,
ADAMTS-5
, and
HDAC-4
were significantly downregulated following HP, while no significant modification was found for
IGFBP-5
. β-catenin levels were significantly increased (
p
< 0.001) in OA chondrocytes at basal conditions and significantly reduced (
p
< 0.01) by HP. Pressurization did not cause any significant modification in normal cells. In conclusion, in OA chondrocytes, HP restores the expression levels of some miRNAs, downregulates MMP-13, ADAMTS-5, and HDAC-4, and modulates the Wnt/β-catenin pathway activation.
View Full-Text
►

▼

Figures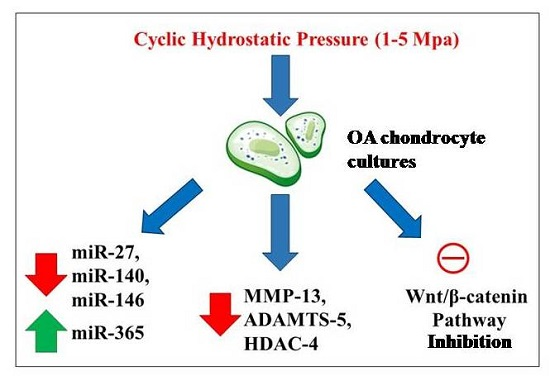 This is an open access article distributed under the
Creative Commons Attribution License
which permits unrestricted use, distribution, and reproduction in any medium, provided the original work is properly cited. (CC BY 4.0).
Share & Cite This Article
MDPI and ACS Style
Cheleschi, S.; De Palma, A.; Pecorelli, A.; Pascarelli, N.A.; Valacchi, G.; Belmonte, G.; Carta, S.; Galeazzi, M.; Fioravanti, A. Hydrostatic Pressure Regulates MicroRNA Expression Levels in Osteoarthritic Chondrocyte Cultures via the Wnt/β-Catenin Pathway. Int. J. Mol. Sci. 2017, 18, 133.
Note that from the first issue of 2016, MDPI journals use article numbers instead of page numbers. See further details here.
Related Articles
Comments
[Return to top]