SOX2 Promotes the Epithelial to Mesenchymal Transition of Esophageal Squamous Cells by Modulating Slug Expression through the Activation of STAT3/HIF-α Signaling
1
Department of Pharmacology, Medical College Qingdao University, Qingdao 266071, China
2
Department of Gastroenterology, Qingdao Hiser Medical Center, Qingdao 266033, China
3
Department of Paediatrics, the Affiliated Hospital of Medical College Qingdao University, Qingdao 266003, China
4
College of Life Sciences, Chongqing Normal University, Chongqing 401331, China
†
These authors contributed equally to this work.
*
Authors to whom correspondence should be addressed.
Academic Editor: William Chi-shing Cho
Received: 15 July 2015 / Revised: 29 August 2015 / Accepted: 1 September 2015 / Published: 8 September 2015
Abstract
The transcription factor sex determining region (Y SRY)-box 2 (SOX2) is known to play a crucial role in the maintenance of self renewal or pluripotency of undifferentiated embryonic and neuronal stem cells. An elevated expression of SOX2 has been correlated with poor prognosis of esophageal squamous cell carcinoma (ESCC). We sought to investigate the mechanism(s) by which SOX2 modulates the ESCC metastasis. The SOX2 coding DNA sequence was inserted into pCMV vector and stably transfected in ESCC cells (Eca-109). The effect of SOX2 over expression was evaluated on cell migration, invasion and epithelial to mesenchymal transition (EMT). We also measured the expression of Slug to explore if this transcription factor is involved in SOX2-mediated regulation of cell migration/invasion and EMT. In addition, we determined the role of STAT3/HIF-1α to further probe the mechanism of SOX2-mediated metastasis via Slug. Our results demonstrated that SOX2 over expressing Eca-109 cells showed an enhanced cell migration/invasion. Moreover, these cells exhibited the EMT characteristics, that is, a significantly suppressed expression of the epithelial cells marker with a concomitant enhancement of those of the mesenchymal markers. An increased expression of Slug in SOX2 over expressing cells suggested the involvement of this transcription factor in SOX2-regulated metastasis. Whereas the expressions of STAT3/HIF-1α were found to be up-regulated in SOX2 expressing cells, blockade of these transcription factors resulted in the inhibition of Slug expression at both protein and mRNA levels. Conclusion: These results suggest that SOX2 promoted the metastasis of ESCC, at least in part, by modulating Slug expression through the activation of STAT3/HIF-1α signaling.
View Full-Text
►

▼

Figures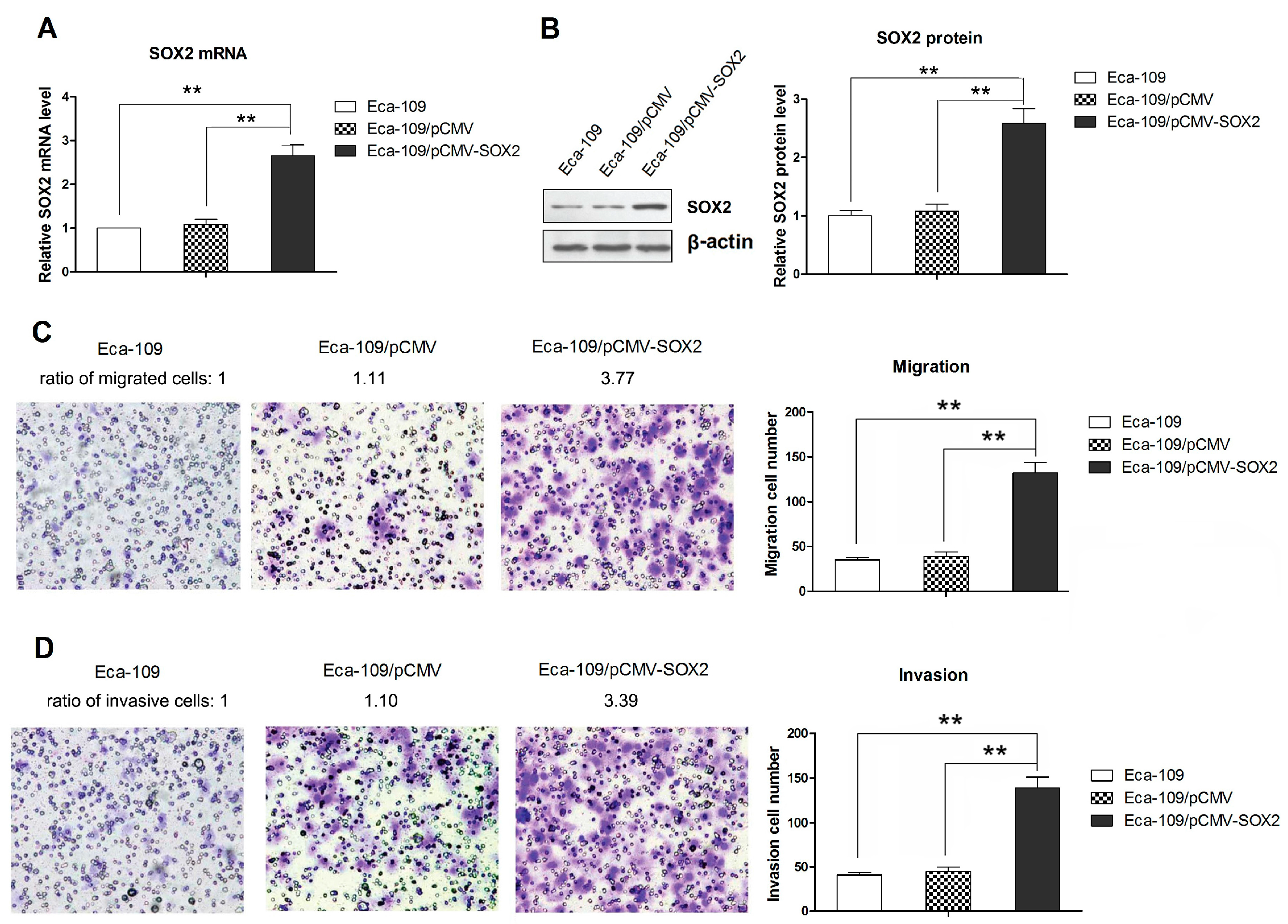 Figure 1
This is an open access article distributed under the
Creative Commons Attribution License
which permits unrestricted use, distribution, and reproduction in any medium, provided the original work is properly cited. (CC BY 4.0).
Share & Cite This Article
MDPI and ACS Style
Gao, H.; Teng, C.; Huang, W.; Peng, J.; Wang, C. SOX2 Promotes the Epithelial to Mesenchymal Transition of Esophageal Squamous Cells by Modulating Slug Expression through the Activation of STAT3/HIF-α Signaling. Int. J. Mol. Sci. 2015, 16, 21643-21657.
Related Articles
Comments
[Return to top]