Protective Effects of Resveratrol against UVA-Induced Damage in ARPE19 Cells
1
School of Medicine, Fu Jen Catholic University, New Taipei City 24205, Taiwan
2
Department of Ophthalmology, Cardinal Tien Hospital, Hsiendian, New Taipei City 23148, Taiwan
3
Department of Internal Medicine, Cathay General Hospital, Taipei 10630, Taiwan
4
Department of Chemstry, Fu Jen Catholic University, New Taipei City 24205, Taiwan
5
Department of Nutrition and Health Sciences, Chang Gung University of Science and Technology, Kweishan, Taoyuan 33303, Taiwan
6
Research center for Industry of Human Ecology, Chang Gung University of Science and Technology, Kweishan, Taoyuan 33303, Taiwan
7
Graduate Institute of Applied Science and Engineering, Fu Jen Catholic University, New Taipei City 24205, Taiwan
8
Department of Internal Medicine, Cardinal Tien Hospital, Hsiendian, New Taipei City 23148, Taiwan
9
Slone Epidemiology Center, Boston University, Boston, MA 02215, USA
†
These authors contributed equally to this work.
*
Author to whom correspondence should be addressed.
Academic Editor: Terrence Piva
Received: 15 January 2015 / Revised: 25 February 2015 / Accepted: 4 March 2015 / Published: 12 March 2015
Abstract
Ultraviolet radiation, especially UVA, can penetrate the lens, reach the retina, and induce oxidative stress to retinal pigment epithelial (RPE) cells. Even though it is weakly absorbed by protein and DNA, it may trigger the production of reactive oxygen species (ROS) and generate oxidative injury; oxidative injury to the retinal pigment epithelium has been implicated to play a contributory role in age-related macular degeneration (AMD). Studies showed that resveratrol, an abundant and active component of red grapes, can protect several cell types from oxidative stress. In this study, adult RPE cells being treated with different concentrations of resveratrol were used to evaluate the protective effect of resveratrol on RPE cells against UVA-induced damage. Cell viability assay showed that resveratrol reduced the UVA-induced decrease in RPE cell viability. Through flow cytometry analysis, we found that the generation of intracellular H
2
O
2
induced by UVA irradiation in RPE cells could be suppressed by resveratrol in a concentration-dependent manner. Results of Western blot analysis demonstrated that resveratrol lowered the activation of UVA-induced extracellular signal-regulated kinase, c-jun-NH
2
terminal kinase and p38 kinase in RPE cells. In addition, there was also a reduction in UVA-induced cyclooxygenase-2 (COX-2) expression in RPE cells pretreated with resveratrol. Our observations suggest that resveratrol is effective in preventing RPE cells from being damaged by UVA radiation, and is worth considering for further development as a chemoprotective agent for the prevention of early AMD.
View Full-Text
►

▼

Figures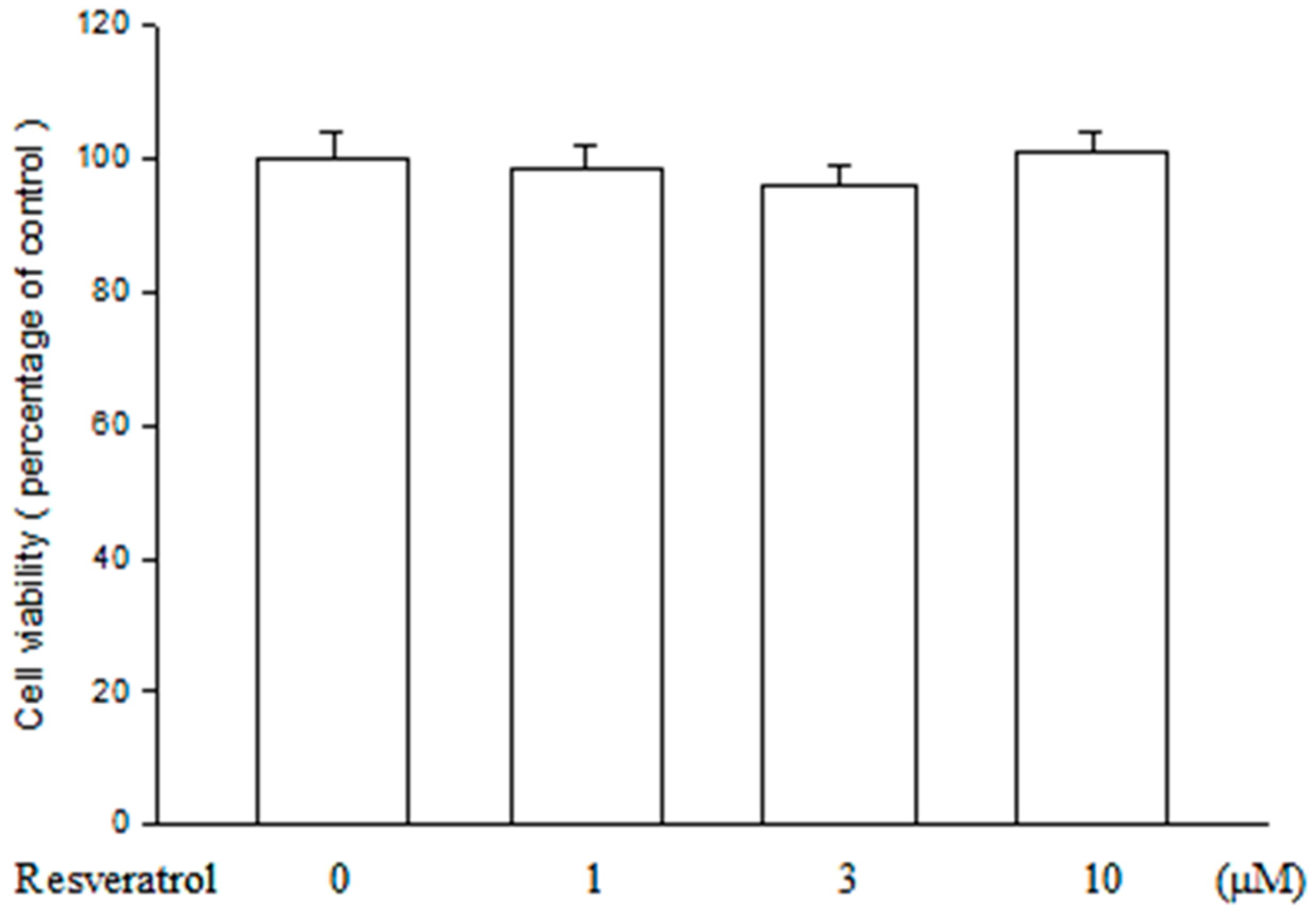 Figure 1
This is an open access article distributed under the
Creative Commons Attribution License
which permits unrestricted use, distribution, and reproduction in any medium, provided the original work is properly cited. (CC BY 4.0).
Share & Cite This Article
MDPI and ACS Style
Chan, C.-M.; Huang, C.-H.; Li, H.-J.; Hsiao, C.-Y.; Su, C.-C.; Lee, P.-L.; Hung, C.-F. Protective Effects of Resveratrol against UVA-Induced Damage in ARPE19 Cells. Int. J. Mol. Sci. 2015, 16, 5789-5802.
Related Articles
Comments
[Return to top]