Tumor Progression Locus 2 (Tpl2) Kinase as a Novel Therapeutic Target for Cancer: Double-Sided Effects of Tpl2 on Cancer
1
Department of Neurosurgery, Samsung Medical Center, Sungkyunkwan University School of Medicine, 135-710 Seoul, Korea
2
Department of Urology, Samsung Medical Center, Sungkyunkwan University School of Medicine, 135-710 Seoul, Korea
3
Department of Health Sciences and Technology, SAIHST, Sungkyunkwan University, 135-710 Seoul, Korea
4
Department of Anatomy and Cell Biology, Samsung Medical Center, Sungkyunkwan University School of Medicine, 135-710 Seoul, Korea
*
Authors to whom correspondence should be addressed.
Academic Editor: William Chi-shing Cho
Received: 29 December 2014 / Revised: 15 February 2015 / Accepted: 15 February 2015 / Published: 25 February 2015
Abstract
Tumor progression locus 2 (Tpl2) is a mitogen-activated protein kinase (MAPK) kinase kinase (MAP3K) that conveys various intra- and extra-cellular stimuli to effector proteins of cells provoking adequate adoptive responses. Recent studies have elucidated that Tpl2 is an indispensable signal transducer as an MAP3K family member in diverse signaling pathways that regulate cell proliferation, survival, and death. Since tumorigenesis results from dysregulation of cellular proliferation, differentiation, and apoptosis, Tpl2 participates in many decisive molecular processes of tumor development and progression. Moreover, Tpl2 is closely associated with cytokine release of inflammatory cells, which has crucial effects on not only tumor cells but also tumor microenvironments. These critical roles of Tpl2 in human cancers make it an attractive anti-cancer therapeutic target. However, Tpl2 contradictorily works as a tumor suppressor in some cancers. The double-sided effects of Tpl2 originate from the specific upstream and downstream signaling environment of each tumor, since Tpl2 interacts with various signaling components. This review summarizes recent studies concerning the possible roles of Tpl2 in human cancers and considers its possibility as a therapeutic target, against which novel anti-cancer agents could be developed.
View Full-Text
►

▼

Figures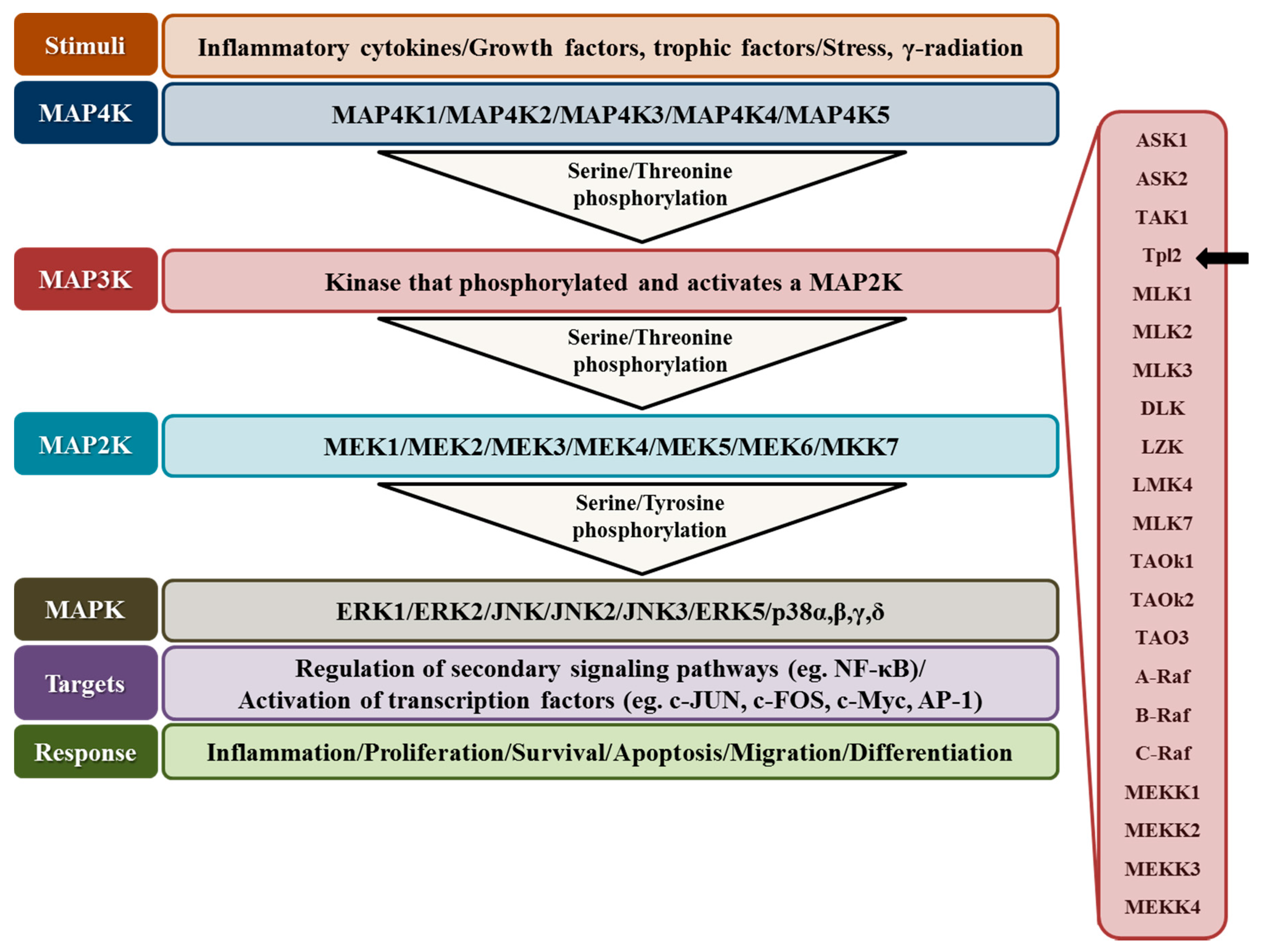 Figure 1
This is an open access article distributed under the
Creative Commons Attribution License
which permits unrestricted use, distribution, and reproduction in any medium, provided the original work is properly cited. (CC BY 4.0).
Share & Cite This Article
MDPI and ACS Style
Lee, H.W.; Choi, H.Y.; Joo, K.M.; Nam, D.-H. Tumor Progression Locus 2 (Tpl2) Kinase as a Novel Therapeutic Target for Cancer: Double-Sided Effects of Tpl2 on Cancer. Int. J. Mol. Sci. 2015, 16, 4471-4491.
Related Articles
Comments
[Return to top]