The 15q11.2 BP1–BP2 Microdeletion Syndrome: A Review
Departments of Psychiatry & Behavioral Sciences, University of Kansas Medical Center, 3901 Rainbow Boulevard, MS 4015, Kansas City, KS 66160, USA
†
These authors contributed equally to this work.
*
Author to whom correspondence should be addressed.
Academic Editor: Cesar Borlongan
Received: 5 January 2015 / Revised: 3 February 2015 / Accepted: 10 February 2015 / Published: 13 February 2015
Abstract
Patients with the 15q11.2 BP1–BP2 microdeletion can present with developmental and language delay, neurobehavioral disturbances and psychiatric problems. Autism, seizures, schizophrenia and mild dysmorphic features are less commonly seen. The 15q11.2 BP1–BP2 microdeletion involving four genes (
i.e.
,
TUBGCP5
,
CYFIP1
,
NIPA1
,
NIPA2
) is emerging as a recognized syndrome with a prevalence ranging from 0.57%–1.27% of patients presenting for microarray analysis which is a two to four fold increase compared with controls. Review of clinical features from about 200 individuals were grouped into five categories and included developmental (73%) and speech (67%) delays; dysmorphic ears (46%) and palatal anomalies (46%); writing (60%) and reading (57%) difficulties, memory problems (60%) and verbal IQ scores ≤75 (50%); general behavioral problems, unspecified (55%) and abnormal brain imaging (43%). Other clinical features noted but not considered as common were seizures/epilepsy (26%), autism spectrum disorder (27%), attention deficit disorder (ADD)/attention deficit hyperactivity disorder (ADHD) (35%), schizophrenia/paranoid psychosis (20%) and motor delay (42%). Not all individuals with the deletion are clinically affected, yet the collection of findings appear to share biological pathways and presumed genetic mechanisms. Neuropsychiatric and behavior disturbances and mild dysmorphic features are associated with genomic imbalances of the 15q11.2 BP1–BP2 region, including microdeletions, but with an apparent incomplete penetrance and variable expressivity.
View Full-Text
►

▼

Figures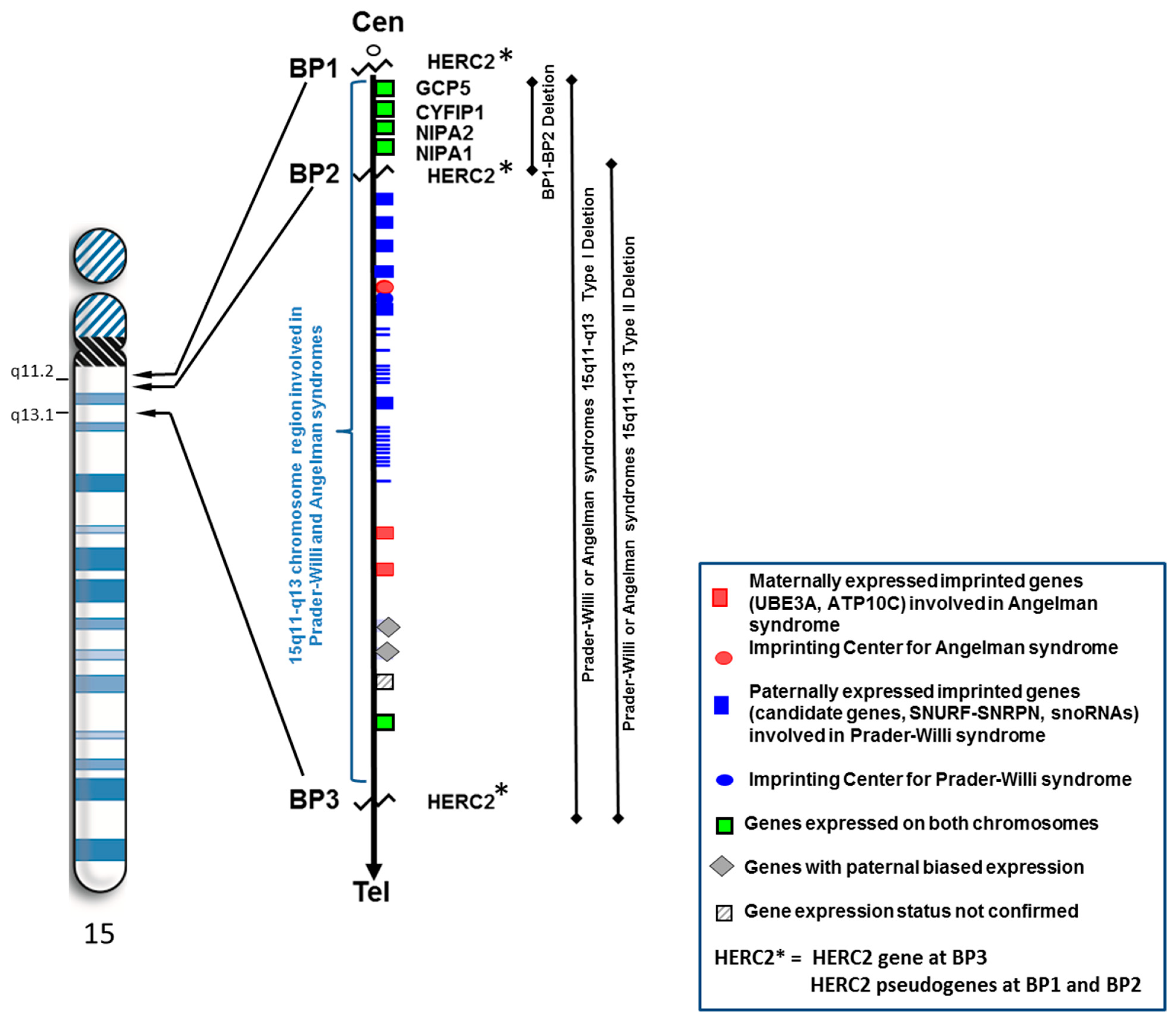 Figure 1
This is an open access article distributed under the
Creative Commons Attribution License
which permits unrestricted use, distribution, and reproduction in any medium, provided the original work is properly cited. (CC BY 4.0).
Share & Cite This Article
MDPI and ACS Style
Cox, D.M.; Butler, M.G. The 15q11.2 BP1–BP2 Microdeletion Syndrome: A Review. Int. J. Mol. Sci. 2015, 16, 4068-4082.
Related Articles
Comments
[Return to top]