Overcoming Hypoxic-Resistance of Tumor Cells to TRAIL-Induced Apoptosis through Melatonin
Biosafety Research Institute, College of Veterinary Medicine, Chonbuk National University, Jeonju, Jeonbuk 561-756, Korea
*
Author to whom correspondence should be addressed.
Received: 7 May 2014 / Revised: 13 June 2014 / Accepted: 18 June 2014 / Published: 4 July 2014
Abstract
A solid tumor is often exposed to hypoxic or anoxic conditions; thus, tumor cell responses to hypoxia are important for tumor progression as well as tumor therapy. Our previous studies indicated that tumor cells are resistant to tumor necrosis factor-related apoptosis-inducing ligand (TRAIL)-induced cell apoptosis under hypoxic conditions. Melatonin inhibits cell proliferation in many cancer types and induces apoptosis in some particular cancer types. Here, we examined the effects of melatonin on hypoxic resistant cells against TRAIL-induced apoptosis and the possible mechanisms of melatonin in the hypoxic response. Melatonin treatment increased TRAIL-induced A549 cell death under hypoxic conditions, although hypoxia inhibited TRAIL-mediated cell apoptosis. In a mechanistic study, hypoxia inducible factor-1α and prolyl-hydroxylase 2 proteins, which increase following exposure to hypoxia, were dose-dependently down-regulated by melatonin treatment. Melatonin also blocked the hypoxic responses that reduced pro-apoptotic proteins and increased anti-apoptotic proteins including Bcl-2 and Bcl-xL. Furthermore, melatonin treatment reduced TRAIL resistance by regulating the mitochondrial transmembrane potential and Bax translocation. Our results first demonstrated that melatonin treatment induces apoptosis in TRAIL-resistant hypoxic tumor cells by diminishing the anti-apoptotic signals mediated by hypoxia and also suggest that melatonin could be a tumor therapeutic tool by combining with other apoptotic ligands including TRAIL, particularly in solid tumor cells exposed to hypoxia.
View Full-Text
►

▼

Figures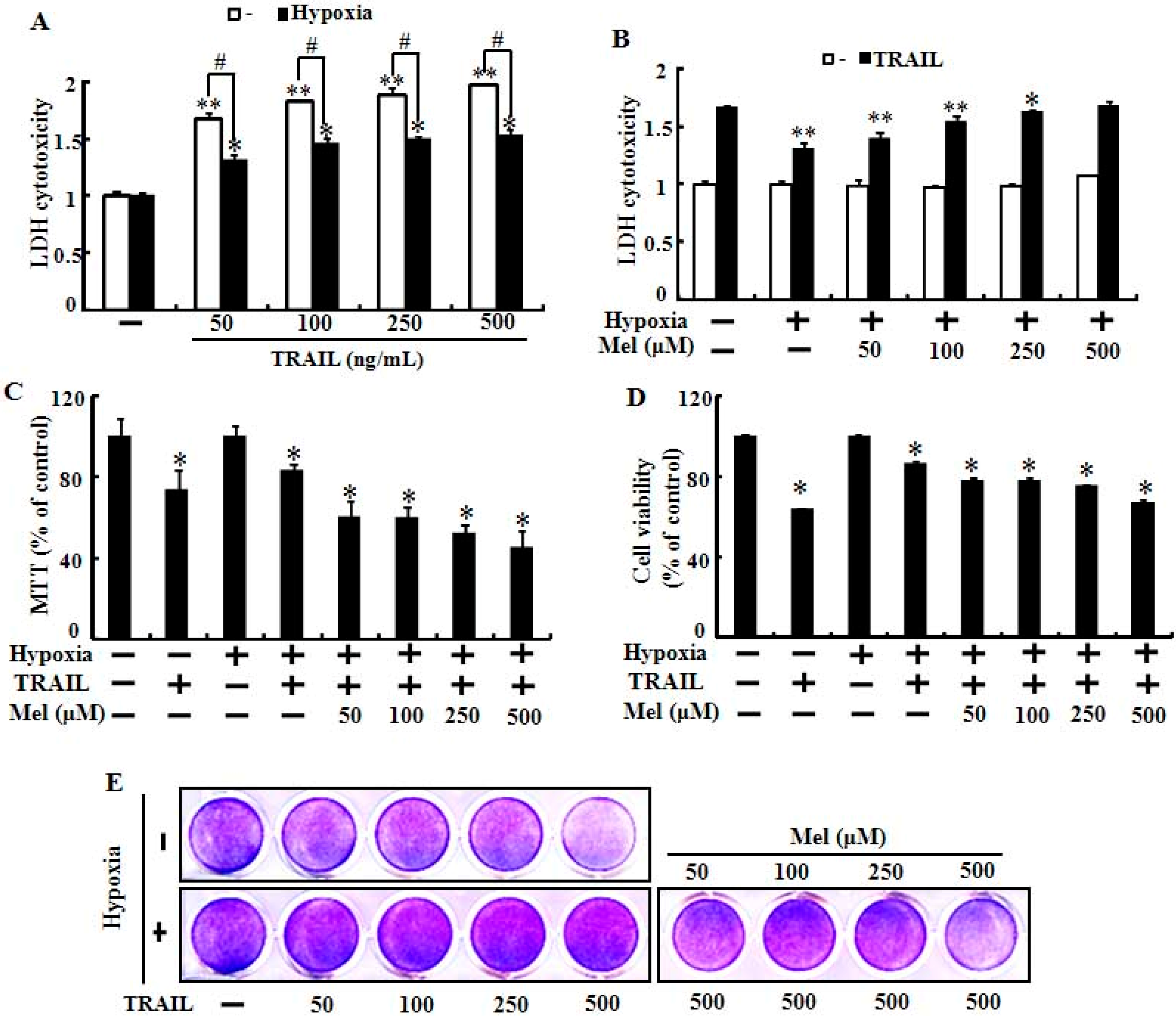 Figure 1
Share & Cite This Article
MDPI and ACS Style
Lee, Y.-J.; Lee, J.-H.; Moon, J.-H.; Park, S.-Y. Overcoming Hypoxic-Resistance of Tumor Cells to TRAIL-Induced Apoptosis through Melatonin. Int. J. Mol. Sci. 2014, 15, 11941-11956.
Related Articles
Comments
[Return to top]