Open Access This article is
freely available
re-usable
Technical Note
A Cautionary Note on the Use of Split-YFP/BiFC in Plant Protein-Protein Interaction Studies
1
Plant Research International, Droevendaalsesteeg 1, 6708 PB Wageningen, The Netherlands
2
Physiology of Flower Bulbs, Department of Plant Physiology, Wageningen University, Droevendaalsesteeg 1, 6708 PB Wageningen, The Netherlands
*
Author to whom correspondence should be addressed; Tel.: +31-6-13168407; Fax: +31-317-418094.
Received: 3 April 2014; in revised form: 17 April 2014 / Accepted: 20 May 2014 / Published: 30 May 2014
Abstract
: Since its introduction in plants 10 years ago, the bimolecular fluorescence complementation (BiFC) method, or split-YFP (yellow fluorescent protein), has gained popularity within the plant biology field as a method to study protein-protein interactions. BiFC is based on the restoration of fluorescence after the two non-fluorescent halves of a fluorescent protein are brought together by a protein-protein interaction event. The major drawback of BiFC is that the fluorescent protein halves are prone to self-assembly independent of a protein-protein interaction event. To circumvent this problem, several modifications of the technique have been suggested, but these modifications have not lead to improvements in plant BiFC protocols. Therefore, it remains crucial to include appropriate internal controls. Our literature survey of recent BiFC studies in plants shows that most studies use inappropriate controls, and a qualitative rather than quantitative read-out of fluorescence. Therefore, we provide a cautionary note and beginner's guideline for the setup of BiFC experiments, discussing each step of the protocol, including vector choice, plant expression systems, negative controls, and signal detection. In addition, we present our experience with BiFC with respect to self-assembly, peptide linkers, and incubation temperature. With this note, we aim to provide a guideline that will improve the quality of plant BiFC experiments.
Keywords:
protein-protein interaction; split-YFP (yellow fluorescent protein); bimolecular fluorescence complementation (BiFC); protein complementation assay (PCA);
in planta
; fluorescence microscopy
1. Introduction
The vast majority of proteins encoded by a genome function in multi-protein complexes [1]. Identifying these protein-protein interactions can provide insight into the functions of individual proteins, as well as the biological processes they control. A large variety of high-throughput technologies have been developed in the past 20 years to identify protein-protein interactions, including a toolbox of techniques to detect or confirm putative interactions in vivo under physiologically relevant conditions [1,2]. The bimolecular fluorescence complementation (BiFC) assay, also referred to as "split-fluorescent protein" technology (e.g., split-YFP), is one of the most popular and frequently used methods in the plant field to study protein-protein interactions in vivo (reviewed in [3]). BiFC is based on the in vivo reconstitution of fluorescence after two non-fluorescent halves of a fluorescent protein (FP) are brought together by a protein-protein interaction event (Figure 1). As such, BiFC not only provides information on whether two proteins interact, but can also be used to determine the cellular and sub-cellular site of a protein-protein interaction event. The possibility to split a FP into two halves and to use these for the detection of interactions between ijms was first described in 2000 for the GREEN FLUORESCENT PROTEIN (GFP) [4]. Shortly thereafter, this method was used to detect in vivo protein-protein interactions in COS-1, NIH3T3, and HeLa cells [5], and later in plants [6,7]. The ease of implementation of the technology without the need for sophisticated equipment to detect the fluorescence signal has made BiFC a popular technology. In many cases, BiFC is the first method of choice for testing potential protein-protein interactions in planta and to confirm the outcomes of large-scale yeast-based or in vitro protein-protein interaction studies. The popularity of BiFC inspired researchers to optimize and modify the method to make it suitable for additional applications, including the development of multicolor BiFC for studying competition between interacting protein pairs or to simultaneously visualize multiple interactions in the same cell [8,9,10], and BiFC-FRET (Fluorescence Resonance Energy Transfer) for the detection of higher-order protein complex formation [11,12]. In the majority of plant studies, the split YFP-tagged proteins are overexpressed transiently or stably in isolated cells (protoplasts) or cell cultures; however, the BiFC method was recently used to study protein-protein interactions in intact plant tissues using native promoters to drive expression of the tagged proteins [13].

Figure 1.
Schematic representation of the split-YFP (yellow fluorescent protein)/BiFC (bimolecular fluorescence complementation) method based on the YFP. YFP is split into two non-fluorescent "halves", an
N
-terminal part/half of the protein (YFP
N
) and a
C
-terminal part/half of the protein (YFP
C
), which are then fused to the proteins of interest (P1 and P2). The YFP molecule is reconstituted upon interaction between P1 and P2, resulting in yellow fluorescence when the ijms are excited with the correct wavelength.

Despite its widespread use, the BiFC method does have a number of shortcomings for the detection and visualization of protein-protein interactions. The major drawback of the system is the ability of the two FP halves to reassemble in the absence of a bona fide protein-protein interaction. This so-called "self-assembly" of the FP halves can result in a high background signal, leading to a false-positive BiFC signal for a protein-protein interaction. To address this and other problems, a myriad of technical modifications have been implemented, including changing the split position in eYFP or YFP Venus from amino acid (AA) 155 to AA173 or AA210 [14], introduction of point mutations to suppress self-assembly of the two FP halves [15,16], and the use of negative controls, including point-mutated versions of the proteins under study [17]. Based on these observations, standard protocols have been developed [3,17,18] and additional optimization steps have been proposed to generate a more reliable and robust assay. Unfortunately, none of the proposed changes to improve the robustness and reliability of the method appear to be generally applicable in plants [3]. Similarly, improvements developed for a mammalian expression system did not result in a more reliable read-out in Xenopus [19].
We performed an inventory of the recent literature in the plant BiFC field and conclude that despite the awareness of shortcomings in the BiFC technology, the majority of researchers fail to include the correct internal controls and also incorrectly evaluate the results. Therefore, we present a guideline for BiFC use in plants, highlighting the most critical steps in the protocol and providing practical considerations for each individual step.
2. Results and Discussion
2.1. Inventory of BiFC (Bimolecular Fluorescence Complementation) Use in Plant Studies
Ten years ago, the first publications appeared showing the potential of the BiFC method for the detection and confirmation of protein-protein interactions in living plant cells [6,7]. Since then, a range of novel vectors and proposed improved protocols, mainly based on studies in mammalian cells, has been developed, with the goal to reduce the false-discovery rate and to improve the robustness of this technique. We performed a literature survey to determine which vectors, internal controls, and expression systems are used by the plant scientific community. A PubMed [20] search was performed in February 2014 using the terms "BiFC" and "plant" and the 100 most recent experimental papers were selected for analysis. From these studies, we extracted information about how the BiFC assay was performed (Table S1). Analysis of this dataset revealed that the majority of recent BiFC studies were carried out using the original vectors or using home-made vectors with the split position in the YFP molecule around amino acid 155 (AA155) [6,7]. Our analysis revealed that the newly developed vectors for the mammalian field have not been implemented in the plant field. One of the reasons might be that for plant systems, these new vectors do not solve the problem of the high false-discovery rate, as discussed below in Section 2.2.1. Remarkably and more problematic, the majority of BiFC experiments were conducted without any or with inappropriate internal controls (Figure 2A, see discussion below in Section 2.2.3). Furthermore, we noticed that in more than 90% of the studies only qualitative measurements of fluorescence signal were performed (Figure 2B, see further discussion below in Section 2.2.5).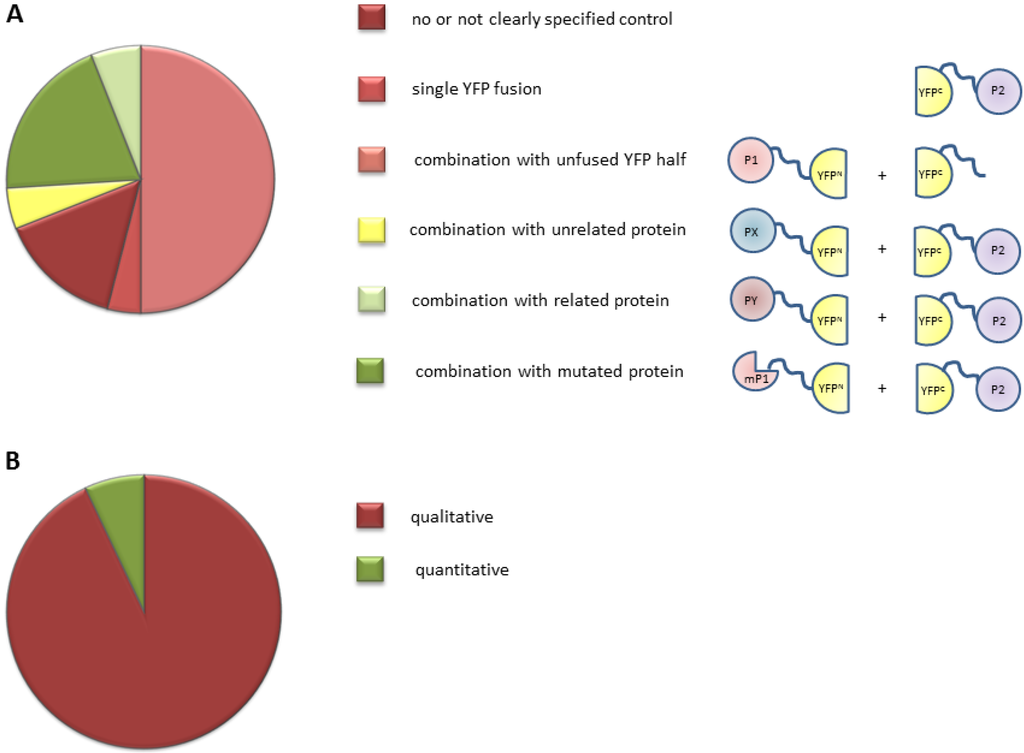 Figure 2. Survey of experimental set-up used in plant BiFC experiments. (A) Negative controls used in recent BiFC experiments. The suitability of a control is scaled using shading from dark red (the worst) to dark green (the best). The red classes indicate controls with a higher incidence of detecting false positives. The green classes represent suitable controls. The yellow class indicates a control of intermediate quality. Schematic representations of the controls are shown to the right. P1 and P2 represent the two proteins of interest, PX and PY indicate proteins that are related and unrelated, respectively to the protein of interest, and mP1 represents a mutant or truncated version of P1; (B) Percentage of BiFC experiments in which a qualitative (red) or quantitative (green) read-out of the fluorescence signal was measured.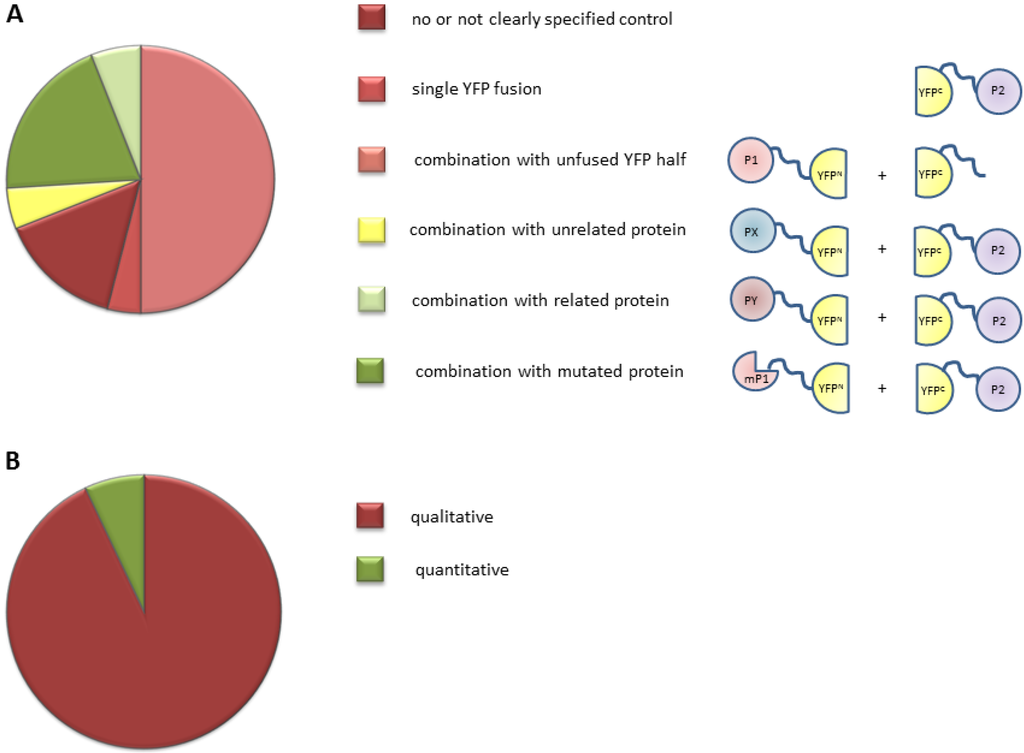 Based on this survey, we conclude that the BiFC method is generally not executed in the proper manner. We therefore provide a guideline that can be followed for the design of an optimal BiFC experiment. This guideline is not meant to replace existing protocols (e.g., [3,17,18]), but rather, to provide additional information and notes on critical points in the method, based on published experiments and unpublished studies from our lab. This guideline will help the plant community to perform high quality BiFC studies, with an ensuing improvement in the quality of protein-protein interaction data.
2.2. Overview of the BiFC Method
An overview of the BiFC method is presented in Figure 3. Prior to the start of a BiFC experiment, a number of choices have to be made, including the selection of vectors and negative and positive controls, and the expression system, each of which influences the outcome and quality of the experiment. In this section, we discuss the most important considerations for each individual step of the BiFC protocol.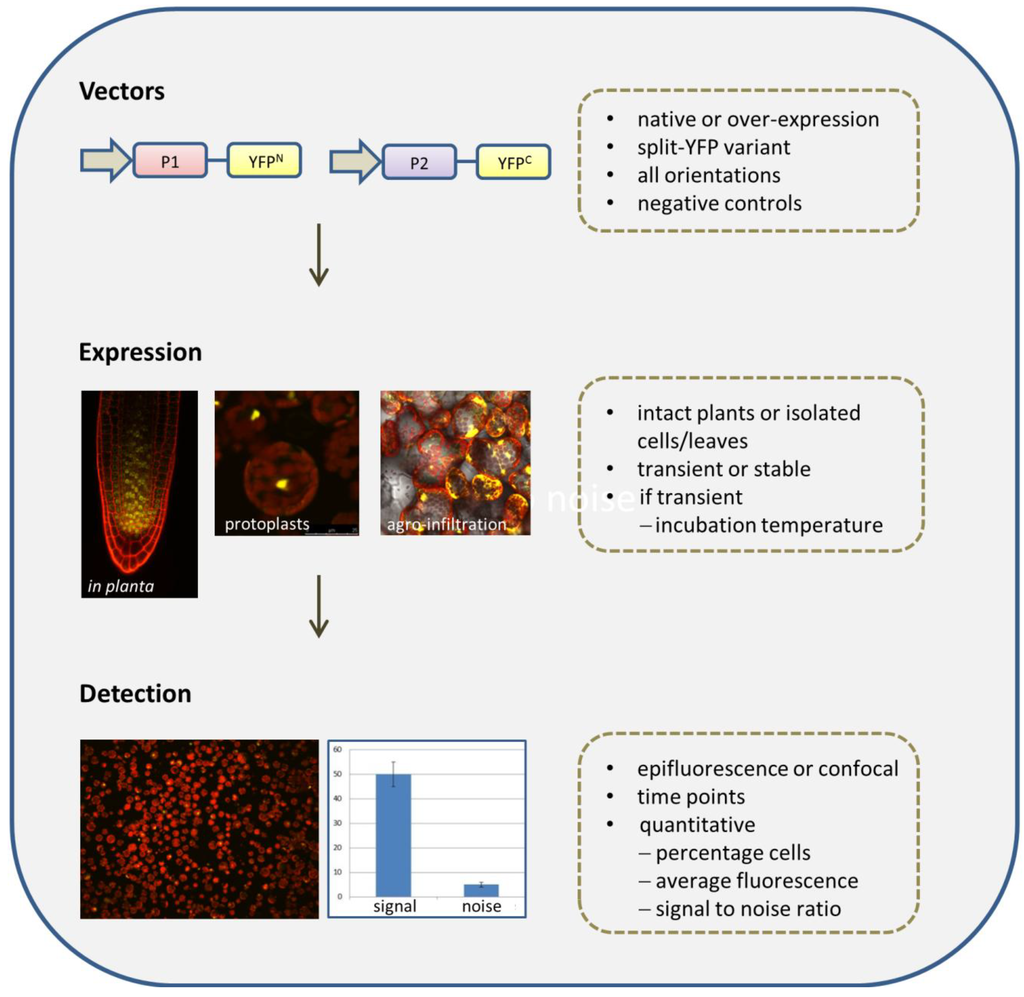 3. Experimental Section
3.1. Test of Different Peptide Linker Sequences
The effect of using different peptide linker sequences between the halves of YFP and the protein of interest was examined in petunia protoplasts. The interaction between the petunia MADS domain proteins FBP2 and FBP11 [36] was used as positive control. All vectors used for this experiment were based on the pUC vector backbone and are described in Table 1. Isolation and transfection of petunia W115 leaf protoplasts was performed as described previously [35,36]. After transfection, protoplasts were incubated overnight in the dark at 28 °C (according to the original protocol) or at 23 °C.
3.2. Self-Assembly Capacity of YFP (Yellow Fluorescent Protein) Halves
BBM [31] and TagRFP [30] cDNA entry clones (pDONR207) were used to generate the YFPN-BBM, TagRFP-YFPN, TagRFP-YFPC plasmids for Arabidopsis protoplast transfection. The plasmids were cloned using recombination into Gateway-compatible BiFC vectors [24]. Arabidopsis protoplast isolation followed the procedures described in [40], except that leaves of three to four week-old Col-0 seedlings were used. Protoplast transfections were carried out as described in [41], but with a transfection time of 10 min. Fluorescence was viewed 8 h after transfection by CLSM.
4. Conclusions
Split-YFP/BiFC is a widely used method for the detection and confirmation of protein-protein interactions in living plant cells. Nevertheless, the usefulness of this technology is overshadowed by self-assembly of the two halves of the FP, which results in the detection of fluorescent signal regardless of an interaction between the proteins of interest. Consequently, the introduction of control experiments is essential to obtain evidence for a potential protein-protein interaction event. However, a literature survey revealed that proper controls are missing in more than half of all analyzed studies. As discussed in Section 2.2.3, a negative control should be included for each tested protein-protein interaction, and the fluorescent signals should be measured quantitatively. Currently, images are presented of plant cells or tissues with a fluorescent signal, without providing a thorough quantification of the signal-to-noise ratio between the fluorescence signals from the proteins of interest and the negative controls. It is important to realize that the goal of a BiFC experiment is to obtain strong support of a protein-protein interaction and not just to obtain an image of a fluorescent cell.
The lack of reliability and robustness of the split-YFP/BiFC technology due to self-assembly of the FP halves was recognized shortly after the introduction of the method, and a plethora of modifications were suggested to overcome this problem, as discussed in Section 2.2.1. Various improvements have been suggested based on splitting the FP at different positions and the introduction of point mutations in the FP sequence, but these improvements only appeared to overcome the self-assembly problem for the tested protein combinations, or only under specific conditions. Therefore, we conclude that none of the currently used BiFC vectors is superior and that all can be used as long as the right controls are included and quantitative measurements are applied. Alternatively, methods based on complementation of other types of proteins, such as split-ubiquitin and split-luciferase (for review on these techniques, see [42]) can also be used. Self-assembly of protein halves is not an issue for these proteins; however, one drawback of using ubiquitin or luciferase is that due to the nature of the read-out in these systems, no information can be extracted about the subcellular position of a protein-protein interaction event. In this respect, FRET (Fluorescence Resonance Energy Transfer)-based methods are more informative than protein complementation assays, because information is obtained on both the localisation pattern of the individual proteins and of the protein-protein interaction [36,41], but these methods require sophisticated microspectroscopy equipment.
In conclusion, a low-tech, robust, and fully reliable system for the detection of protein-protein interactions in plant cells or tissues does not exist. Nonetheless, when implemented with caution split-YFP/BiFC remains a valuable tool for studying protein-protein interactions.
Supplementary Files
Supplementary File 1:
Acknowledgments
We thank Sander van der Krol for providing an image of an Agrobacterium infiltrated tobacco leaf shown in Figure 3.
Author Contributions
A.H. and I.A.T.N performed the experiments. R.G.H.I performed the literature study. R.G.H.I and K.B. contributed to the experimental design, and A.H., K.B. and R.G.H.I. wrote the manuscript.
Conflicts of Interest
The authors declare no conflict of interest.
© 2014 by the authors; licensee MDPI, Basel, Switzerland. This article is an open access article distributed under the terms and conditions of the Creative Commons Attribution license (http://creativecommons.org/licenses/by/3.0/).