Effects of Estradiol and Methoxychlor on Leydig Cell Regeneration in the Adult Rat Testis
1
Department of Pharmacy, School of Pharmacy of Wenzhou Medical University, Chashan District, Wenzhou 325000, Zhejiang, China
2
Research Academy of Reproductive Biomedicine, the 2nd Affiliated Hospital, Wenzhou Medical University, Wenzhou 325027, Zhejiang, China
3
Department of Anatomy, Physiology and Pharmacology, Auburn University, Auburn, AL 36948, USA
*
Author to whom correspondence should be addressed.
Received: 17 March 2014 / Revised: 19 April 2014 / Accepted: 28 April 2014 / Published: 6 May 2014
Abstract
The objective of the present study is to determine whether methoxychlor (MXC) exposure in adulthood affects rat Leydig cell regeneration and to compare its effects with estradiol (E2). Adult 90-day-old male Sprague-Dawley rats received ethane dimethane sulfonate (EDS) to eliminate the adult Leydig cell population. Subsequently, rats were randomly assigned to four groups and gavaged with corn oil (control), 0.25 mg/kg E2 and 10 or 100 mg/kg MXC daily from days 5 to 30 post-EDS treatment. The results showed that MXC and E2 reduced serum testosterone levels on day 58 post-EDS treatment. qPCR showed
Hsd17b3
mRNA levels were downregulated 7–15 fold by E2 and MXC, indicating that development of the new population of Leydig cells was arrested at the earlier stage. This observation was supported by the results of histochemical staining, which demonstrated that Leydig cells in MXC-treated testis on day 58 post-EDS treatment were mostly progenitor Leydig cells. However,
Pdgfb
mRNA levels were downregulated, while
Lif
transcript levels were increased by MXC. In contrast, E2 did not affect gene expression for these growth factors. In conclusion, our findings indicated that both MXC and E2 delayed rat Leydig cell regeneration in the EDS-treated model, presumably acting by different mechanisms.
View Full-Text
►

▼

Figures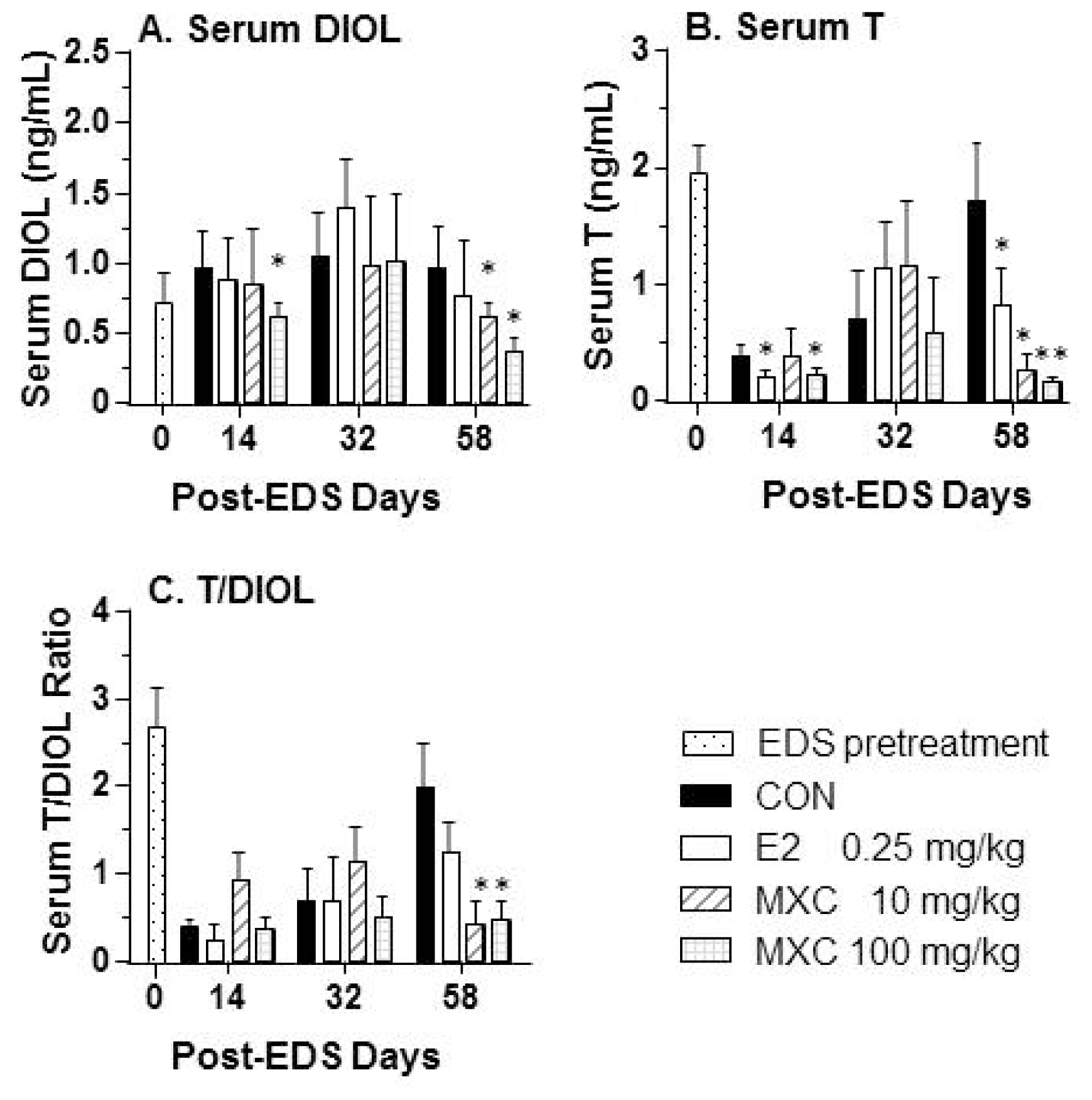 Share & Cite This Article
MDPI and ACS Style
Chen, B.; Chen, D.; Jiang, Z.; Li, J.; Liu, S.; Dong, Y.; Yao, W.; Akingbemi, B.; Ge, R.; Li, X. Effects of Estradiol and Methoxychlor on Leydig Cell Regeneration in the Adult Rat Testis. Int. J. Mol. Sci. 2014, 15, 7812-7826.
Related Articles
Comments
[Return to top]