Identification of the Novel Interacting Partners of the Mammalian Target of Rapamycin Complex 1 in Human CCRF-CEM and HEK293 Cells
1
Institute for Clinical Chemistry/UMG-Laboratories, University Medical Centre, Robert-Koch-Str. 40, Goettingen 37075, Germany
2
Department of Microbiology, Kohat University of Science and Technology, Kohat 26000, Pakistan
*
Author to whom correspondence should be addressed.
Received: 26 January 2014 / Revised: 5 March 2014 / Accepted: 6 March 2014 / Published: 18 March 2014
Abstract
The present study was undertaken to identify proteins that interact with the mammalian target of rapamycin complex 1 (mTORC1) to enable it to carry out its crucial cell signaling functions. Endogenous and myc-tag mTORC1 was purified, in-gel tryptic digested and then identified by nano-LC ESI Q-TOF MS/MS analysis. A total of nine novel interacting proteins were identified in both endogenous and myc-tag mTORC1 purifications. These new mTORC1 interacting partners include heterogeneous nuclear ribonucleoproteins A2/B1, enhancer of mRNA decapping protein 4, 60S acidic ribosomal protein, P0, nucleolin, dynamin 2, glyceraldehyde 3 phosphate dehydrogenase, 2-oxoglutarate dehydrogenase, glycosyl transferase 25 family member 1 and prohibitin 2. Furthermore hnRNP A2/B1 and dynamin 2 interaction with mTORC1 was confirmed on immunoblotting. The present study has for the first time identified novel interacting partners of mTORC1 in human T lymphoblasts (CCRF-CEM) and human embryonic kidney (HEK293) cells. These new interacting proteins may offer new targets for therapeutic interventions in human diseases caused by perturbed mTORC1 signaling.
View Full-Text
►

▼

Figures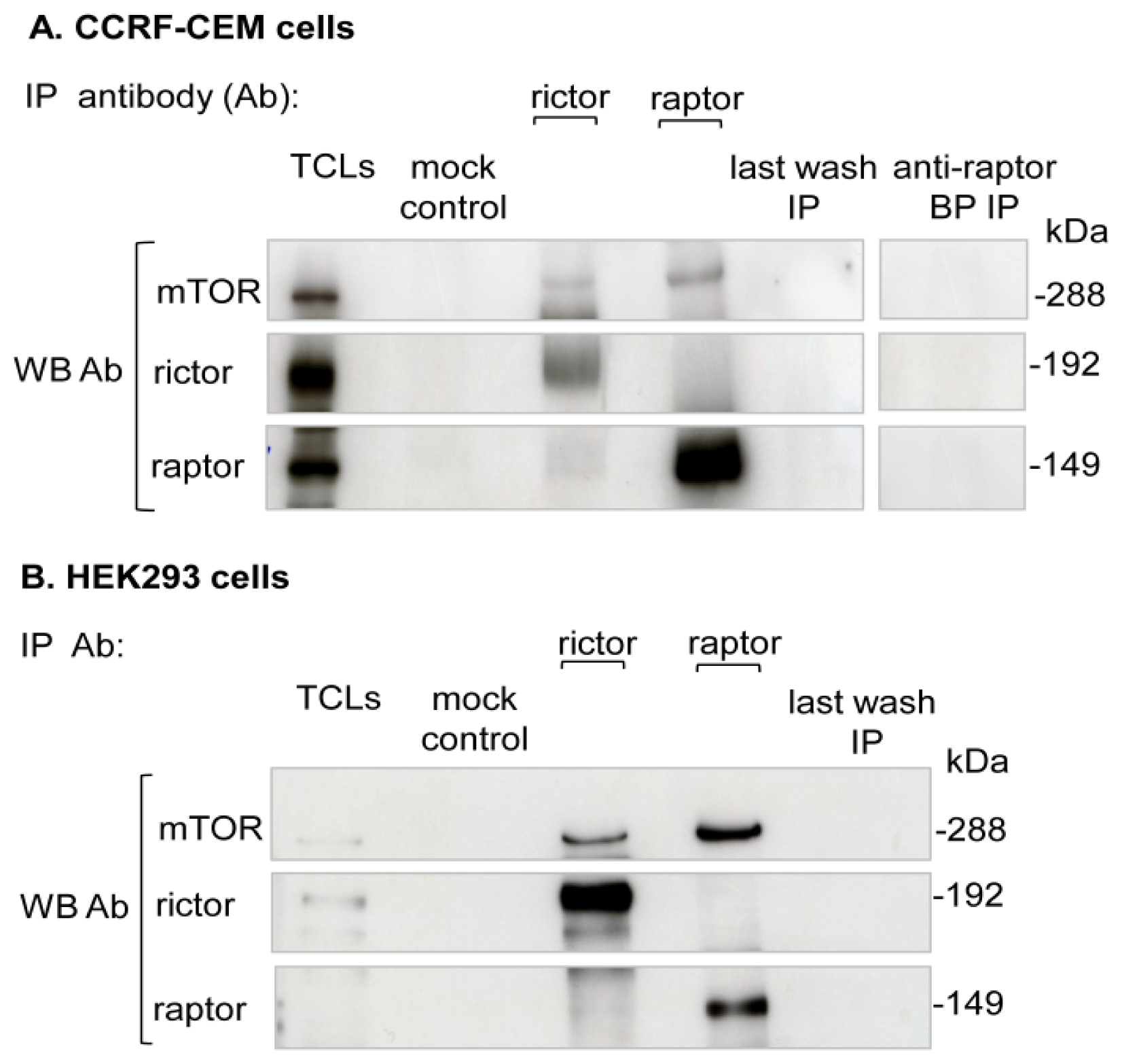 Share & Cite This Article
MDPI and ACS Style
Rahman, H.; Qasim, M.; Oellerich, M.; Asif, A.R. Identification of the Novel Interacting Partners of the Mammalian Target of Rapamycin Complex 1 in Human CCRF-CEM and HEK293 Cells. Int. J. Mol. Sci. 2014, 15, 4823-4836.
Related Articles
Comments
[Return to top]