Transplanted Neural Stem Cells Modulate Regulatory T, γδ T Cells and Corresponding Cytokines after Intracerebral Hemorrhage in Rats
1
Department of Neurosurgery, First Affiliated Hospital, Wenzhou Medical University, Wenzhou 325000, Zhejiang, China
2
Zhejiang Provincial Key Laboratory of Aging and Neurological Disorder Research, First Affiliated Hospital, Wenzhou Medical University, Wenzhou 325000, Zhejiang, China
3
Department of Pharmacology and Neuroscience, University of North Texas Health Science Center, Fort Worth, TX 76107, USA 
*
Author to whom correspondence should be addressed.
Received: 5 February 2014 / Revised: 27 February 2014 / Accepted: 28 February 2014 / Published: 13 March 2014
Abstract
The immune system, particularly T lymphocytes and cytokines, has been implicated in the progression of brain injury after intracerebral hemorrhage (ICH). Although studies have shown that transplanted neural stem cells (NSCs) protect the central nervous system (CNS) from inflammatory damage, their effects on subpopulations of T lymphocytes and their corresponding cytokines are largely unexplored. Here, rats were subjected to ICH and NSCs were intracerebrally injected at 3 h after ICH. The profiles of subpopulations of T cells in the brain and peripheral blood were analyzed by flow cytometry. We found that regulatory T (Treg) cells in the brain and peripheral blood were increased, but γδT cells (gamma delta T cells) were decreased, along with increased anti-inflammatory cytokines (IL-4, IL-10 and TGF-β) and decreased pro-inflammatory cytokines (IL-6, and IFN-γ), compared to the vehicle-treated control. Our data suggest that transplanted NSCs protect brain injury after ICH via modulation of Treg and γδT cell infiltration and anti- and pro-inflammatory cytokine release.
View Full-Text
►

▼

Figures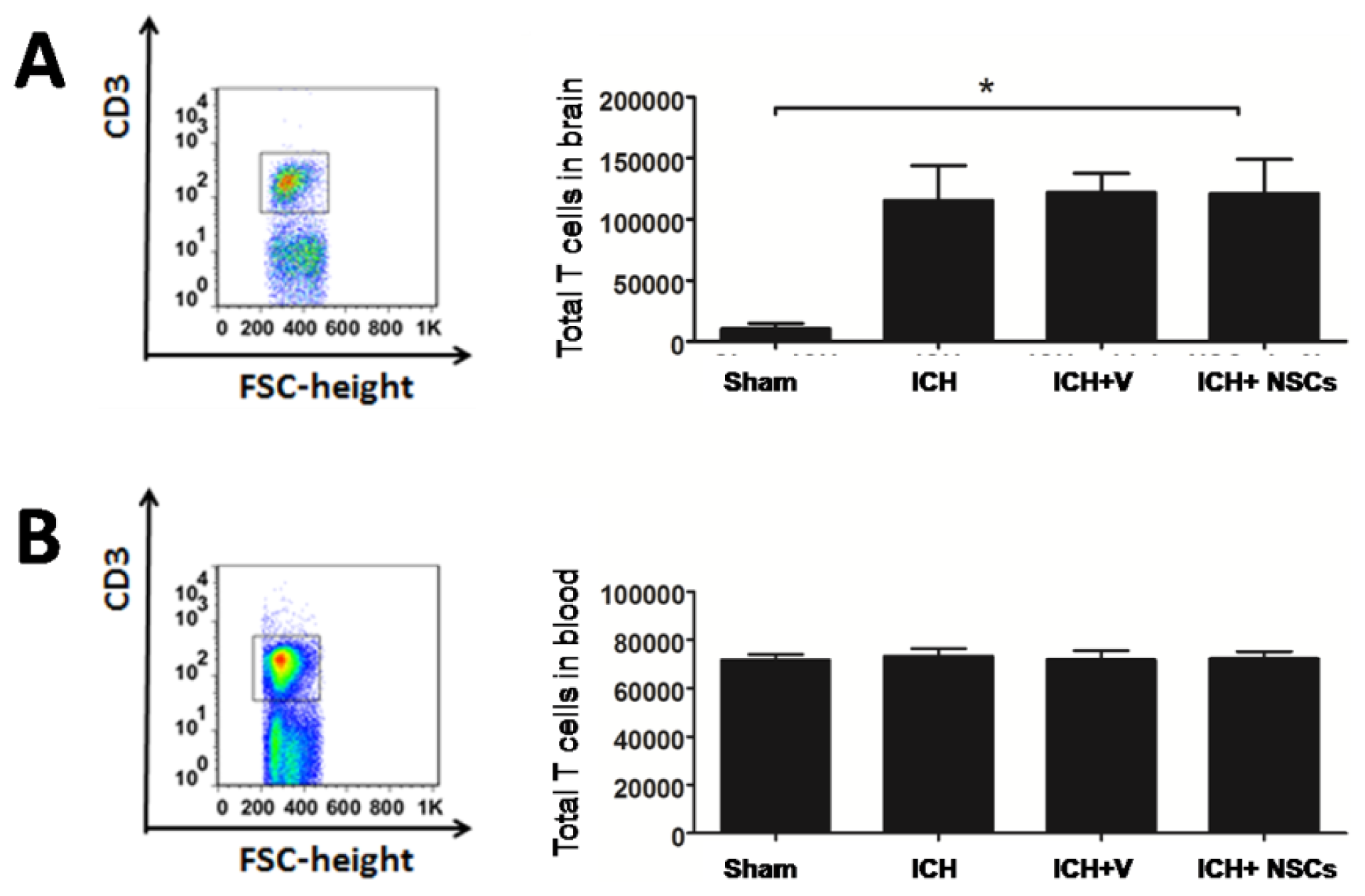 Share & Cite This Article
MDPI and ACS Style
Gao, L.; Lu, Q.; Huang, L.-J.; Ruan, L.-H.; Yang, J.-J.; Huang, W.-L.; ZhuGe, W.-S.; Zhang, Y.-L.; Fu, B.; Jin, K.-L.; ZhuGe, Q.-C. Transplanted Neural Stem Cells Modulate Regulatory T, γδ T Cells and Corresponding Cytokines after Intracerebral Hemorrhage in Rats. Int. J. Mol. Sci. 2014, 15, 4431-4441.
Related Articles
Comments
[Return to top]