HuR and TIA1/TIAL1 Are Involved in Regulation of Alternative Splicing of SIRT1 Pre-mRNA
1
Department of Neurobiology, Shanxi Medical University, 56# Xin Jian South Road, Taiyuan 030001, Shanxi, China
2
School of Forensic Medicine, Shanxi Medical University, 56# Xin Jian South Road, Taiyuan 030001, Shanxi, China
*
Authors to whom correspondence should be addressed.
Received: 19 November 2013 / Revised: 19 January 2014 / Accepted: 10 February 2014 / Published: 20 February 2014
Abstract
SIRT1 is a pleiotropic protein that plays critical and multifunctional roles in metabolism, senescence, longevity, stress-responses, and cancer, and has become an important therapeutic target across a range of diseases. Recent research demonstrated that SIRT1 pre-mRNA undergoes alternative splicing to produce different isoforms, such as SIRT1 full-length and SIRT1-∆Exon8 variants. Previous studies revealed these SIRT1 mRNA splice variants convey different characteristics and functions to the protein, which may in turn explain the multifunctional roles of SIRT1. However, the mechanisms underlying the regulation of SIRT1 alternative splicing remain to be elucidated. Our objective is to search for new pathways that regulate of SIRT1 alternative splicing. Here we describe experiments showing that HuR and TIA1/TIAL1, two kinds of RNA-binding proteins, were involved in the regulation of alternative splicing of SIRT1 pre-mRNA under normal and stress circumstances: HuR increased SIRT1-∆Exon8 by promoting SIRT1 exon 8 exclusion, whereas TIA1/TIAL1 inhibition of the exon 8 exclusion led to a decrease in SIRT1-∆Exon8 mRNA levels. This study provides novel insight into how the alternative splicing of SIRT1 pre-mRNA is regulated, which has fundamental implications for understanding the critical and multifunctional roles of SIRT1.
View Full-Text
►

▼

Figures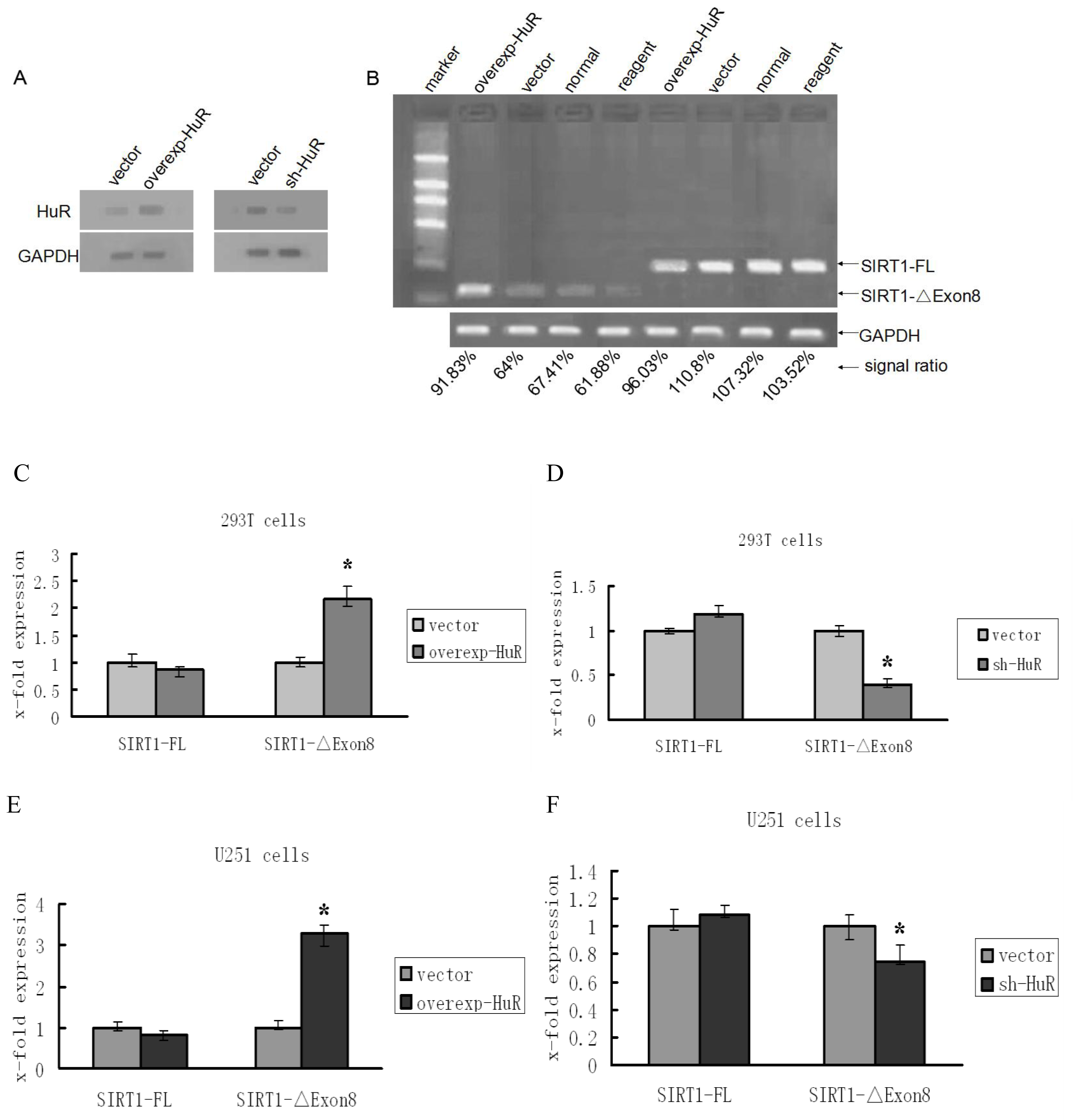 Share & Cite This Article
MDPI and ACS Style
Zhao, W.; Zhao, J.; Hou, M.; Wang, Y.; Zhang, Y.; Zhao, X.; Zhang, C.; Guo, D. HuR and TIA1/TIAL1 Are Involved in Regulation of Alternative Splicing of SIRT1 Pre-mRNA. Int. J. Mol. Sci. 2014, 15, 2946-2958.
Related Articles
Comments
[Return to top]