Hypoxic Conditioned Medium from Human Amniotic Fluid-Derived Mesenchymal Stem Cells Accelerates Skin Wound Healing through TGF-β/SMAD2 and PI3K/Akt Pathways
1
Laboratory of Cell Function Regulation, College of Life Sciences and Biotechnology, Korea University, Seoul 136-717, Korea
2
Department of Pathology, College of Medicine, Korea University Guro Hospital, Seoul 152-703, Korea
†
These authors contributed equally to this work.
*
Author to whom correspondence should be addressed.
Received: 12 November 2013 / Revised: 21 December 2013 / Accepted: 2 January 2014 / Published: 6 January 2014
Abstract
In a previous study, we isolated human amniotic fluid (AF)-derived mesenchymal stem cells (AF-MSCs) and utilized normoxic conditioned medium (AF-MSC-norCM) which has been shown to accelerate cutaneous wound healing. Because hypoxia enhances the wound healing function of mesenchymal stem cell-conditioned medium (MSC-CM), it is interesting to explore the mechanism responsible for the enhancement of wound healing function. In this work, hypoxia not only increased the proliferation of AF-MSCs but also maintained their constitutive characteristics (surface marker expression and differentiation potentials). Notably, more paracrine factors, VEGF and TGF-β1, were secreted into hypoxic conditioned medium from AF-MSCs (AF-MSC-hypoCM) compared to AF-MSC-norCM. Moreover, AF-MSC-hypoCM enhanced the proliferation and migration of human dermal fibroblasts
in vitro
,
and wound closure in a skin injury model, as compared to AF-MSC-norCM. However, the enhancement of migration of fibroblasts accelerated by AF-MSC-hypoCM was inhibited by SB505124 and LY294002, inhibitors of TGF-β/SMAD2 and PI3K/AKT, suggesting that AF-MSC-hypoCM-enhanced wound healing is mediated by the activation of TGF-β/SMAD2 and PI3K/AKT. Therefore, AF-MSC-hypoCM enhances wound healing through the increase of hypoxia-induced paracrine factors via activation of TGF-β/SMAD2 and PI3K/AKT pathways.
View Full-Text
►

▼

Figures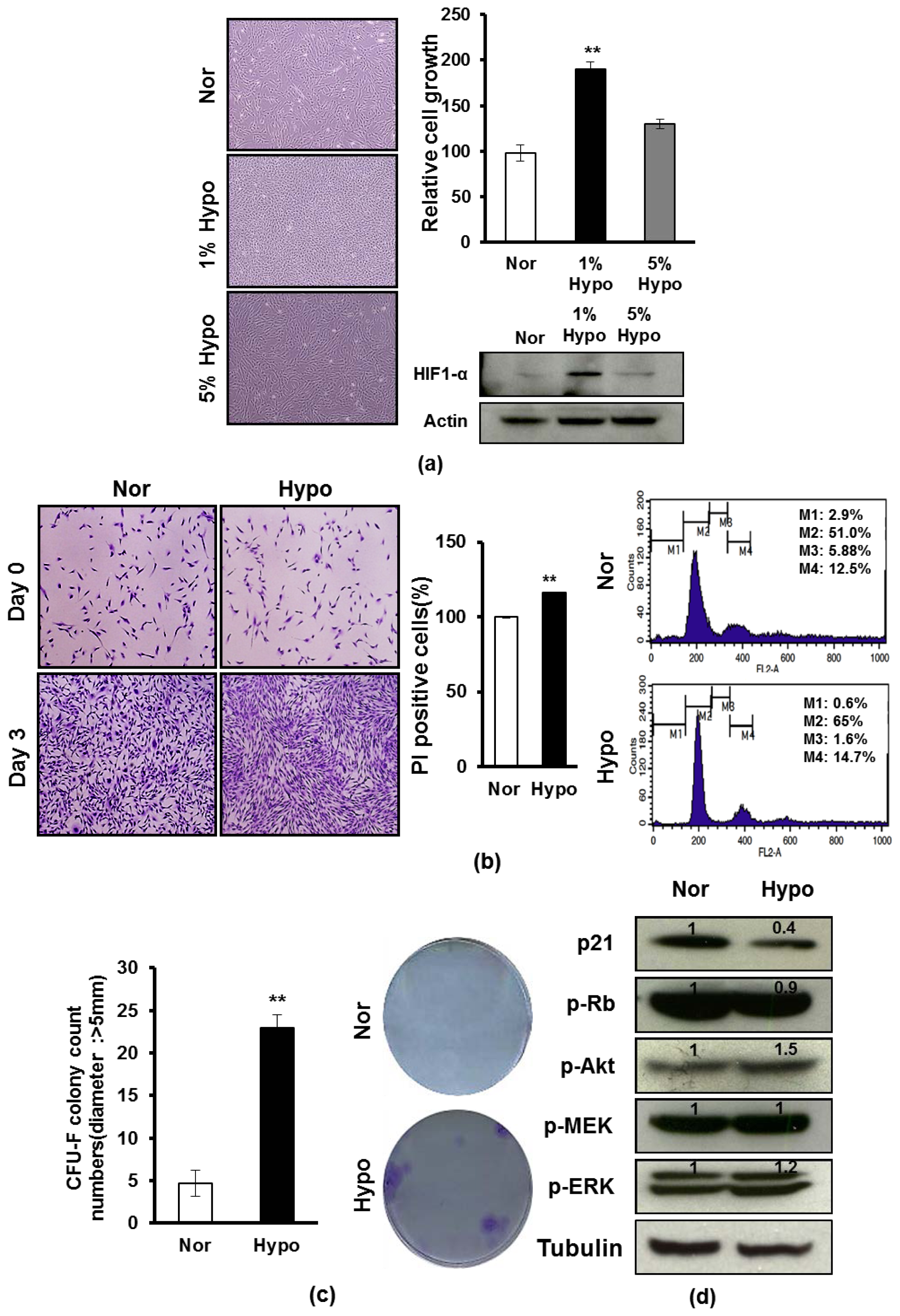 Share & Cite This Article
MDPI and ACS Style
Jun, E.K.; Zhang, Q.; Yoon, B.S.; Moon, J.-H.; Lee, G.; Park, G.; Kang, P.J.; Lee, J.H.; Kim, A.; You, S. Hypoxic Conditioned Medium from Human Amniotic Fluid-Derived Mesenchymal Stem Cells Accelerates Skin Wound Healing through TGF-β/SMAD2 and PI3K/Akt Pathways. Int. J. Mol. Sci. 2014, 15, 605-628.
Related Articles
Comments
[Return to top]