Lactoferrin Directly Scavenges Hydroxyl Radicals and Undergoes Oxidative Self-Degradation: A Possible Role in Protection against Oxidative DNA Damage
1
Department of Analytical Biochemistry, Meiji Pharmaceutical University, 2-522-1 Noshio, Kiyose, Tokyo 204-8588, Japan
2
Department of Hygienic Chemistry, Meiji Pharmaceutical University, 2-522-1 Noshio, Kiyose, Tokyo 204-8588, Japan
3
Food Science & Technology Institute, Morinaga Milk Industry Co., Ltd., 5-1-83 Higashihara, Zama, Kanagawa 252-8583, Japan
*
Author to whom correspondence should be addressed.
Received: 19 November 2013 / Revised: 24 December 2013 / Accepted: 9 January 2014 / Published: 14 January 2014
Abstract
In this study, we examined the protective effect of lactoferrin against DNA damage induced by various hydroxyl radical generation systems. Lactoferrin (LF) was examined with regard to its potential role as a scavenger against radical oxygen species using bovine milk LF. Native LF, iron-saturated LF (holo-LF), and apolactoferrin (apo-LF) effectively suppressed strand breaks in plasmid DNA due to hydroxyl radicals produced by the Fenton reaction. In addition, both native LF and holo-LF clearly protected calf thymus DNA from fragmentation due to ultraviolet irradiation in the presence of H
2
O
2
. We also demonstrated a protective effect of all three LF molecules against 8-hydroxydeoxyguanosine (8-OHdG) formation in calf thymus DNA following ultraviolet (UV) irradiation with H
2
O
2
. Our results clearly indicate that native LF has reactive oxygen species-scavenging ability, independent of its nature as a masking component for transient metals. We also demonstrated that the protective effect of LF against oxidative DNA damage is due to degradation of LF itself, which is more susceptible to degradation than other bovine milk proteins.
View Full-Text
►

▼

Figures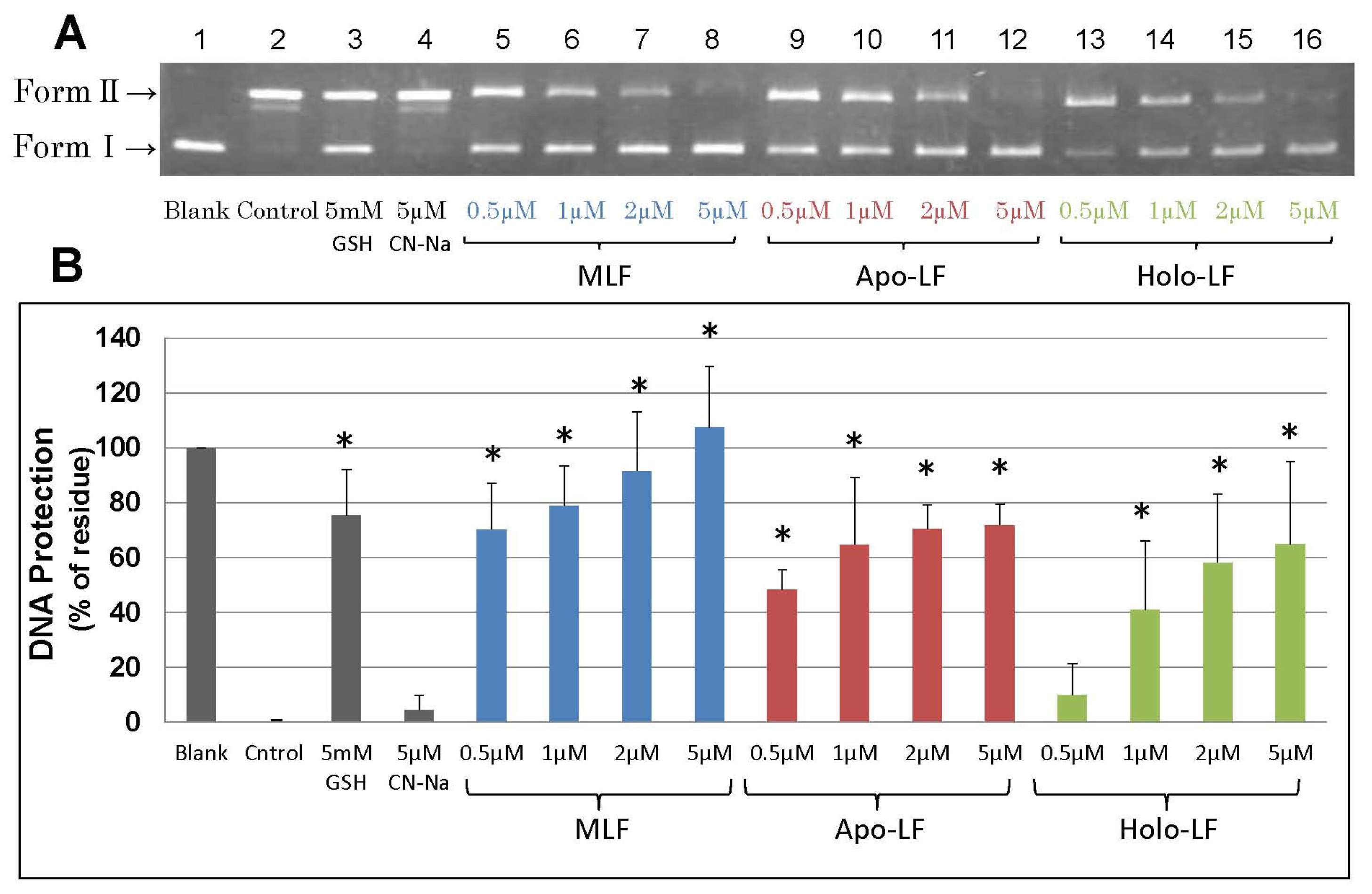 Share & Cite This Article
MDPI and ACS Style
Ogasawara, Y.; Imase, M.; Oda, H.; Wakabayashi, H.; Ishii, K. Lactoferrin Directly Scavenges Hydroxyl Radicals and Undergoes Oxidative Self-Degradation: A Possible Role in Protection against Oxidative DNA Damage. Int. J. Mol. Sci. 2014, 15, 1003-1013.
Related Articles
Comments
[Return to top]