Roles of Rho GTPases in Intracellular Transport and Cellular Transformation
1
College of Animal Science, Fujian Agriculture and Forestry University, Fuzhou 350002, China
2
CAS Key Laboratory of Pathogenic Microbiology and Immunology, Institute of Microbiology, Chinese Academy of Sciences (CAS), Beijing 100101, China
3
Department of Molecular Physiology and Biophysics, Roy J. and Lucille A. Carver College of Medicine, The University of Iowa, Iowa City, IA 52242, USA
*
Author to whom correspondence should be addressed.
Received: 21 February 2013 / Revised: 4 March 2013 / Accepted: 12 March 2013 / Published: 28 March 2013
Abstract
Rho family GTPases belong to the Ras GTPase superfamily and transduce intracellular signals known to regulate a variety of cellular processes, including cell polarity, morphogenesis, migration, apoptosis, vesicle trafficking, viral transport and cellular transformation. The three best-characterized Rho family members are Cdc42, RhoA and Rac1. Cdc42 regulates endocytosis, the transport between the endoplasmic reticulum and Golgi apparatus, post-Golgi transport and exocytosis. Cdc42 influences trafficking through interaction with Wiskott-Aldrich syndrome protein (N-WASP) and the Arp2/3 complex, leading to changes in actin dynamics. Rac1 mediates endocytic and exocytic vesicle trafficking by interaction with its effectors, PI3kinase, synaptojanin 2, IQGAP1 and phospholipase D1. RhoA participates in the regulation of endocytosis through controlling its downstream target, Rho kinase. Interestingly, these GTPases play important roles at different stages of viral protein and genome transport in infected host cells. Importantly, dysregulation of Cdc42, Rac1 and RhoA leads to numerous disorders, including malignant transformation. In some cases, hyperactivation of Rho GTPases is required for cellular transformation. In this article, we review a number of findings related to Rho GTPase function in intracellular transport and cellular transformation.
View Full-Text
►

▼

Figures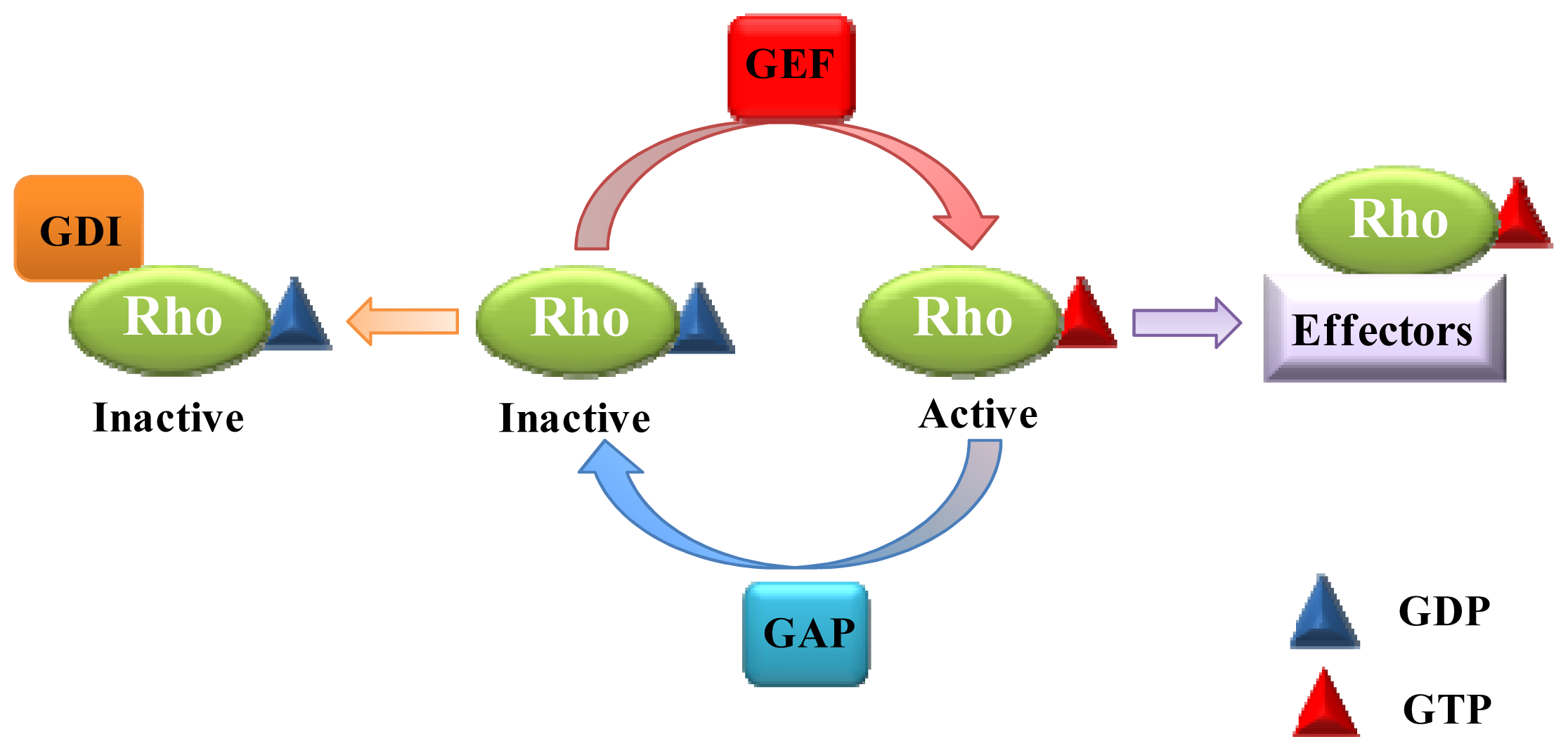 Share & Cite This Article
MDPI and ACS Style
Chi, X.; Wang, S.; Huang, Y.; Stamnes, M.; Chen, J.-L. Roles of Rho GTPases in Intracellular Transport and Cellular Transformation. Int. J. Mol. Sci. 2013, 14, 7089-7108.
Related Articles
Comments
[Return to top]