Up-Regulation of mRNA Ventricular PRNP Prion Protein Gene Expression in Air Pollution Highly Exposed Young Urbanites: Endoplasmic Reticulum Stress, Glucose Regulated Protein 78, and Nanosized Particles
1
Davidson Honors College, University of Montana, Missoula, MT 59812, USA
2
Hospital Central Militar, Secretaria de la Defensa Nacional, Mexico City 11649, Mexico
3
Instituto Nacional de Pediatria, Mexico City 04320, Mexico
4
The Center for Structural and Functional Neurosciences, the University of Montana, Missoula, MT 59812, USA
5
Visiting Student, Ministry of Education of Brazil, Rio de Janeiro 20000-000, Brazil
6
Division of Biological Sciences, the University of Montana, Missoula, MT 59812, USA
7
Department of Biostatistics, Gillings School of Global Public Health, University of North Carolina, Chapel Hill, NC 27599, USA
8
Centro de Ciencias de la Atmosfera, Universidad Nacional Autonoma de Mexico, Mexico City 04510, Mexico
9
Instituto de Medicina Forense, Universidad Veracruzana, Boca del Rio 94297, Mexico
10
Core Laboratory for Neuromolecular Production, the University of Montana, Missoula, MT 59812, USA
*
Author to whom correspondence should be addressed.
Received: 5 September 2013 / Revised: 8 November 2013 / Accepted: 13 November 2013 / Published: 28 November 2013
Abstract
Mexico City Metropolitan Area children and young adults exposed to high concentrations of air pollutants including fine and ultrafine particulate matter (PM)
vs.
clean air controls, exhibit myocardial inflammation and inflammasome activation with a differential right and left ventricular expression of key inflammatory genes and inflammasomes. We investigated the mRNA expression levels of the prion protein gene
PRNP
, which plays an important role in the protection against oxidative stress and metal toxicity, and the glucose regulated protein 78, a key protein in endoplasmic reticulum (ER) stress signaling, in ventricular autopsy samples from 30 children and young adults age 19.97 ± 6.8 years with a lifetime of low (
n
:4)
vs.
high (
n
:26) air pollution exposures. Light microscopy and transmission electron microscopy studies were carried out in human ventricles, and electron microscopy studies were also done in 5 young, highly exposed Mexico City dogs. There was significant left ventricular
PRNP
and bi-ventricular GRP78 mRNA up-regulation in Mexico City young urbanites
vs.
controls.
PRNP
up-regulation in the left ventricle was significantly different from the right,
p
< 0.0001, and there was a strong left ventricular
PRNP
and GRP78 correlation (
p
= 0.0005). Marked abnormalities in capillary endothelial cells, numerous nanosized particles in myocardial ER and in abnormal mitochondria characterized the highly exposed ventricles. Early and sustained cardiac ER stress could result in detrimental irreversible consequences in urban children, and while highly complex systems maintain myocardial homeostasis, failure to compensate for chronic myocardial inflammation, oxidative and ER stress, and particles damaging myocardial organelles may prime the development of pathophysiological cardiovascular states in young urbanites. Nanosized PM could play a key cardiac myocyte toxicity role.
View Full-Text
►

▼

Figures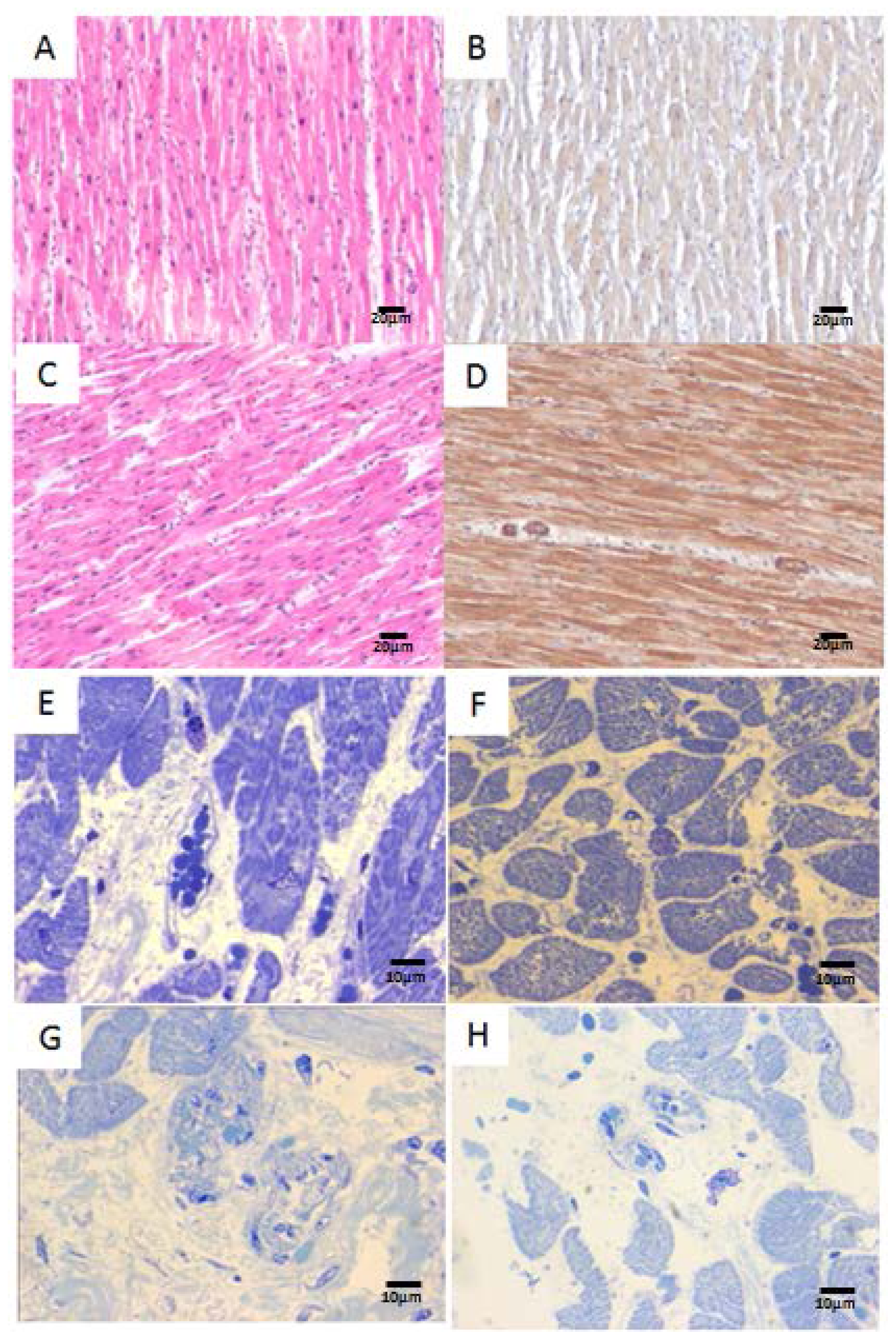 Share & Cite This Article
MDPI and ACS Style
Villarreal-Calderon, R.; Franco-Lira, M.; González-Maciel, A.; Reynoso-Robles, R.; Harritt, L.; Pérez-Guillé, B.; Ferreira-Azevedo, L.; Drecktrah, D.; Zhu, H.; Sun, Q.; Torres-Jardón, R.; Aragón-Flores, M.; Calderón-Garcidueñas, A.; Diaz, P.; Calderón-Garcidueñas, L. Up-Regulation of mRNA Ventricular PRNP Prion Protein Gene Expression in Air Pollution Highly Exposed Young Urbanites: Endoplasmic Reticulum Stress, Glucose Regulated Protein 78, and Nanosized Particles. Int. J. Mol. Sci. 2013, 14, 23471-23491.
Related Articles
Comments
[Return to top]