Ameliorating Effects of Exogenously Applied Proline on Seed Composition, Seed Oil Quality and Oil Antioxidant Activity of Maize (Zea mays L.) under Drought Stress
1
Department of Botany, Government College University, Faisalabad-38040, Pakistan
2
Department of Chemistry, University of Sargodha, Sargodha-40100, Pakistan
3
Department of Botany, University of Agriculture, Faisalabad-38040, Pakistan
4
Faculty of Food Science and Technology, Universiti Putra Malaysia, UPM-43400 Serdang, Selangor, Malaysia
5
Department of Physics, University of Agriculture, Faisalabad-38040, Pakistan
*
Authors to whom correspondence should be addressed.
Received: 20 September 2012 / Revised: 10 November 2012 / Accepted: 19 December 2012 / Published: 4 January 2013
Abstract
This study was carried out to appraise whether or not the exogenous application of a potential osmoprotectant, proline, could ameliorate the adverse effects of drought stress on maize seed and seed oil composition, as well as oil antioxidant activity. Water stress reduced the kernel sugar, oil, protein and moisture contents and most of the seed macro- and micro-elements analyzed in both maize cultivars but it increased the contents of seed fiber and ash. Water stress increased the oil oleic acid content with a subsequent decrease in the amount of linoleic acid, resulting in an increased oil oleic/linoleic ratio for both maize cultivars. However, no variation was observed in oil stearic and palmitic acids content due to water stress. A considerable drought induced an increase in seed oil α-, γ-, δ- and total tocopherols and flavonoids were observed in both maize cultivars. However, oil phenolic and carotenoid content as well as 1,1-diphenyl-2-picryl-hydrazyl (DPPH) free radical scavenging activity decreased. Foliar-applied proline significantly increased the content of seed sugar, oil, protein, moisture, fiber and ash in both maize cultivars under well irrigated and water deficit conditions. Furthermore, exogenous application of proline increased the oil oleic and linoleic acid contents. The concentrations of antioxidant compounds namely phenolics, carotenoids, flavonoids and tocopherols estimated in the seed oil increased due to foliar-applied proline under water deficit conditions that was positively correlated with the enhanced oil DPPH free radical scavenging activity. Moreover, the increase in the contents of these antioxidant compounds and oil antioxidant activity due to the foliar application of proline was noted to be more pronounced under water deficit conditions.
View Full-Text
►

▼

Figures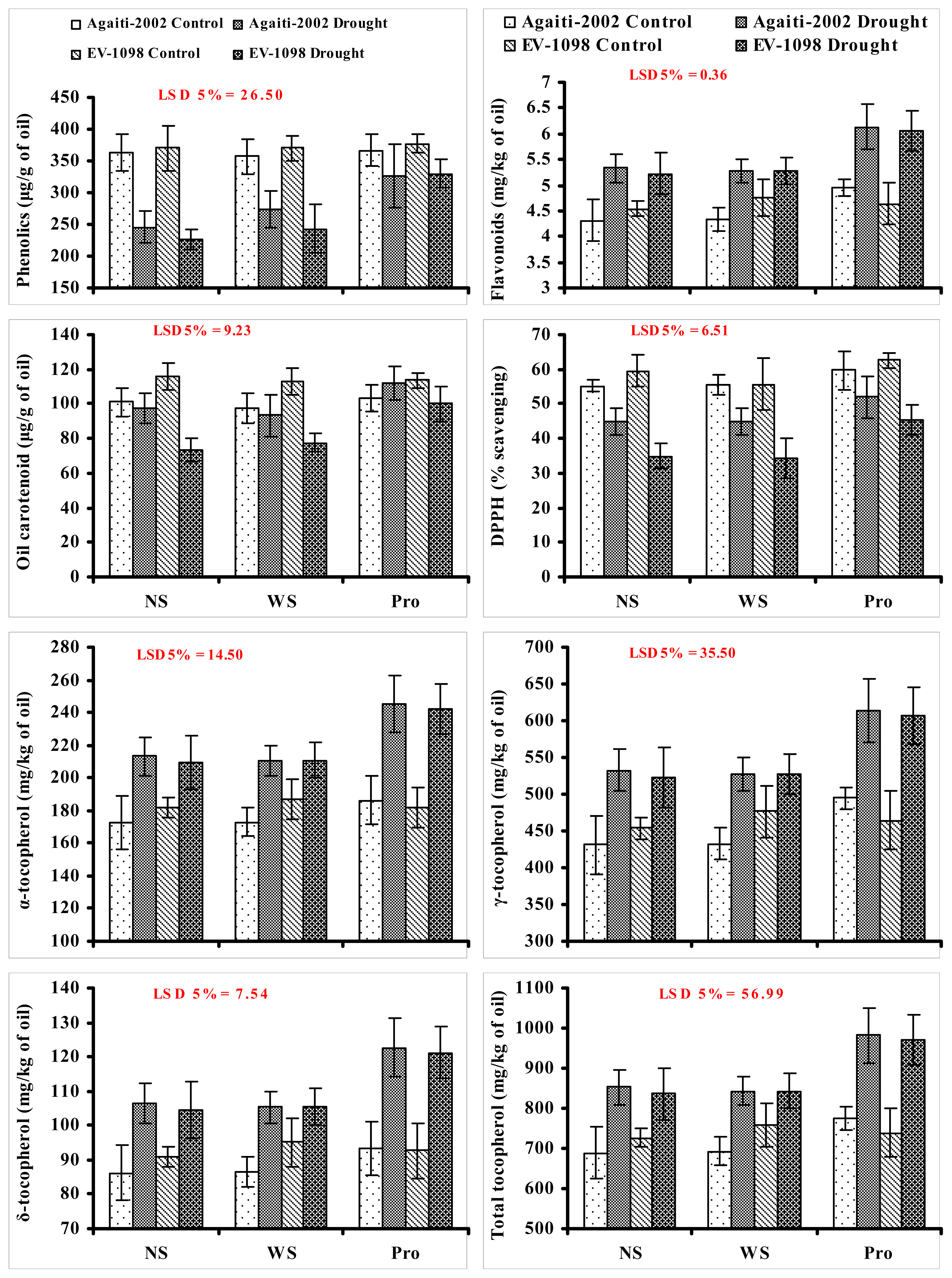 Share & Cite This Article
MDPI and ACS Style
Ali, Q.; Anwar, F.; Ashraf, M.; Saari, N.; Perveen, R. Ameliorating Effects of Exogenously Applied Proline on Seed Composition, Seed Oil Quality and Oil Antioxidant Activity of Maize (Zea mays L.) under Drought Stress. Int. J. Mol. Sci. 2013, 14, 818-835.
Related Articles
Comments
[Return to top]