Molecular Cloning and Functional Analysis of Three FLOWERING LOCUS T (FT) Homologous Genes from Chinese Cymbidium
1
Key Laboratory of South China Agricultural Plant Genetics and Breeding, South China Botanical Garden, The Chinese Academy of Sciences, Guangzhou 510650, China
2
Graduate University of the Chinese Academy of Sciences, Beijing 100049, China
3
Horticultural Research Institute of Guizhou Province, Guiyang 550006, China
4
Faculty of Agriculture and Graduate School of Agriculture, Kagawa University, Miki-cho, Kagawa 761-0795, Japan
*
Author to whom correspondence should be addressed.
Received: 6 July 2012 / Revised: 11 August 2012 / Accepted: 26 August 2012 / Published: 12 September 2012
Abstract
The
FLOWERING LOCUS T
(
FT
) gene plays crucial roles in regulating the transition from the vegetative to reproductive phase. To understand the molecular mechanism of reproduction, three homologous
FT
genes were isolated and characterized from
Cymbidium sinense
"Qi Jian Bai Mo",
Cymbidium goeringii
and
Cymbidium ensifolium
"Jin Si Ma Wei". The three genes
contained 618-bp nucleotides with a 531-bp open reading frame (ORF) of encoding 176 amino acids (AAs). Alignment of the AA sequences revealed that CsFT, CgFT and CeFT contain a conserved domain, which is characteristic of the
PEBP-RKIP superfamily, and which share high identity with FT of other plants in GenBank: 94% with OnFT
from
Oncidium
Gower Ramsey, 79% with Hd3a from
Oryza sativa
, and 74% with FT from
Arabidopsis thaliana
. qRT-PCR analysis showed a diurnal expression pattern of
CsFT
,
CgFT
and
CeFT
following both long day (LD, 16-h light/8-h dark) and short day (SD, 8-h light/16-h dark) treatment. While the transcripts of both
CsFT
and
CeFT
under LD were significantly higher than under SD, those of
CgFT
were
higher under SD. Ectopic expression of
CgFT
in transgenic
Arabidopsis
plants resulted in early flowering compared to wild-type plants and significant up-regulation of
APETALA1
(
AP1
) expression. Our data indicates that CgFT is a putative phosphatidylethanolamine-binding protein gene in
Cymbidium
that may regulate the vegetative to reproductive transition in flowers, similar to its
Arabidopsis
ortholog.
View Full-Text
►

▼

Figures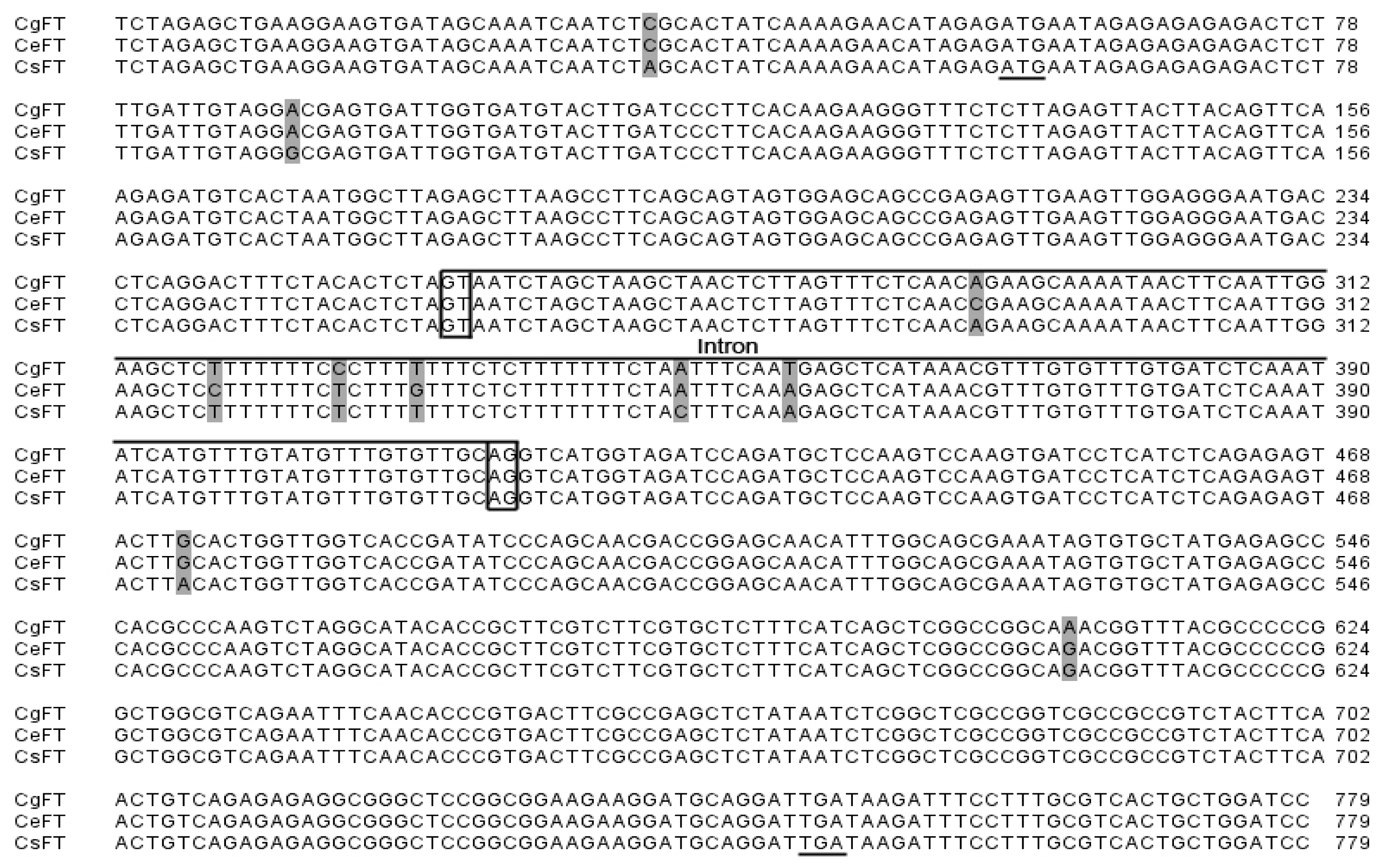 Share & Cite This Article
MDPI and ACS Style
Huang, W.; Fang, Z.; Zeng, S.; Zhang, J.; Wu, K.; Chen, Z.; Teixeira da Silva, J.A.; Duan, J. Molecular Cloning and Functional Analysis of Three FLOWERING LOCUS T (FT) Homologous Genes from Chinese Cymbidium. Int. J. Mol. Sci. 2012, 13, 11385-11398.
Related Articles
Comments
[Return to top]