Expression Patterns, Activities and Carbohydrate-Metabolizing Regulation of Sucrose Phosphate Synthase, Sucrose Synthase and Neutral Invertase in Pineapple Fruit during Development and Ripening
1
Key Laboratory of Tropical Fruit Biology, Ministry of Agriculture, South Subtropical Crop Research Institute, Chinese Academy of Tropical Agricultural Science (CATAS), Zhanjiang 524091, Guangdong, China
2
Department of Food Science, Lousiana State University, Baton Rouge, LA 70803, USA
3
Laboratory of Plant Genetic & Breeding, Anhui Agricultural University School of Life Science, 130 Changjiang West Road, Hefei 230036, Anhui, China
†
These authors contributed equally to this work.
*
Author to whom correspondence should be addressed.
Received: 12 June 2012 / Revised: 14 July 2012 / Accepted: 19 July 2012 / Published: 26 July 2012
Abstract
Differences in carbohydrate contents and metabolizing-enzyme activities were monitored in apical, medial, basal and core sections of pineapple (
Ananas comosus
cv. Comte de paris) during fruit development and ripening. Fructose and glucose of various sections in nearly equal amounts were the predominant sugars in the fruitlets, and had obvious differences until the fruit matured. The large rise of sucrose/hexose was accompanied by dramatic changes in sucrose phosphate synthase (SPS) and sucrose synthase (SuSy) activities. By contrast, neutral invertase (NI) activity may provide a mechanism to increase fruit sink strength by increasing hexose concentrations. Furthermore, two cDNAs of
Ac-sps
(accession no. GQ996582) and
Ac-ni
(accession no. GQ996581) were first isolated from pineapple fruits utilizing conserved amino-acid sequences. Homology alignment reveals that the amino acid sequences contain some conserved function domains. Transcription expression analysis of
Ac-sps
,
Ac-susy
and
Ac-ni
also indicated distinct patterns related to sugar accumulation and composition of pineapple fruits. It suggests that differential expressions of multiple gene families are necessary for sugar metabolism in various parts and developmental stages of pineapple fruit. A cycle of sucrose breakdown in the cytosol of sink tissues could be mediated through both Ac-SuSy and Ac-NI, and Ac-NI could be involved in regulating crucial steps by generating sugar signals to the cells in a temporally and spatially restricted fashion.
View Full-Text
►

▼

Figures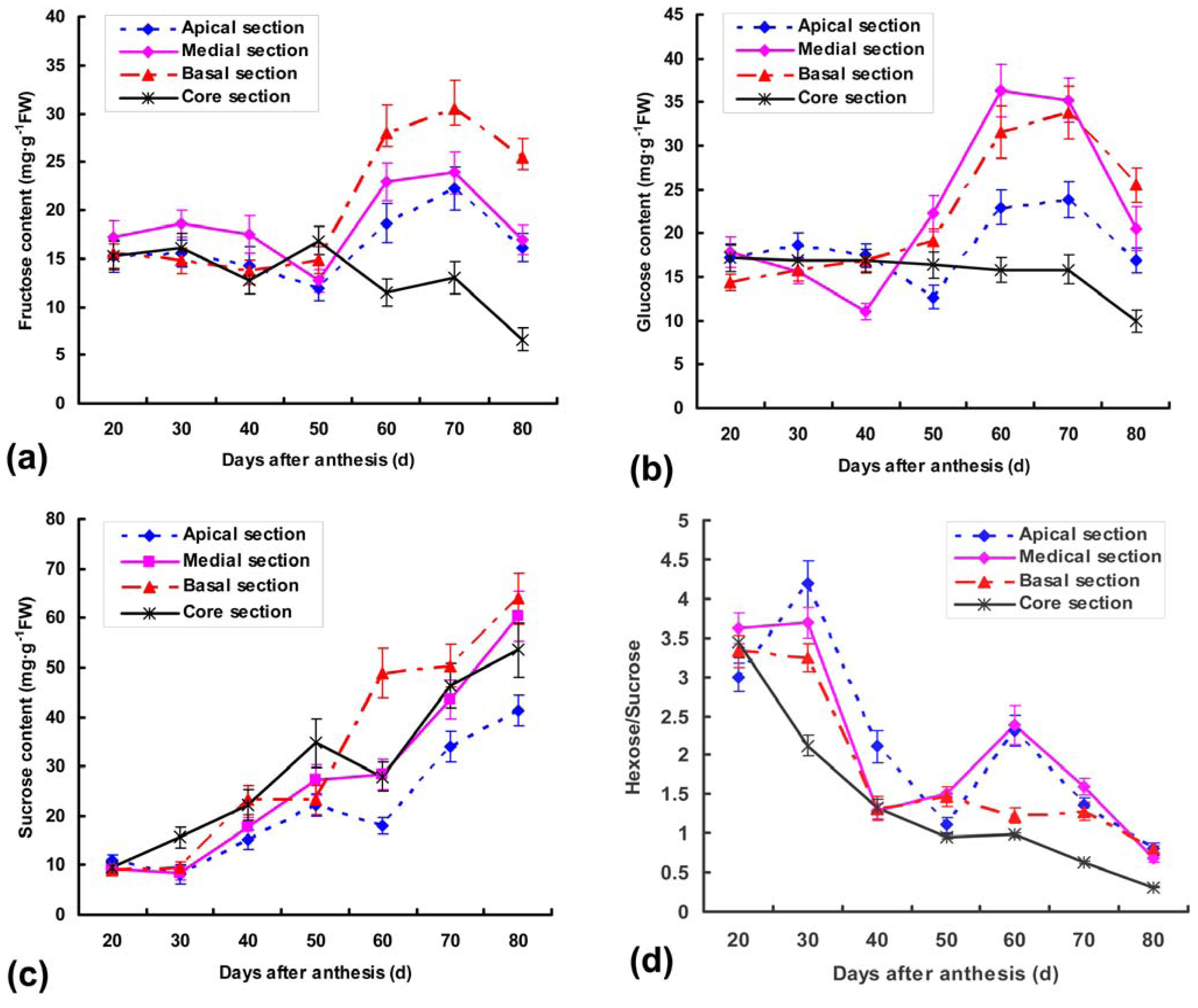 Share & Cite This Article
MDPI and ACS Style
Zhang, X.-M.; Wang, W.; Du, L.-Q.; Xie, J.-H.; Yao, Y.-L.; Sun, G.-M. Expression Patterns, Activities and Carbohydrate-Metabolizing Regulation of Sucrose Phosphate Synthase, Sucrose Synthase and Neutral Invertase in Pineapple Fruit during Development and Ripening. Int. J. Mol. Sci. 2012, 13, 9460-9477.
Related Articles
Comments
[Return to top]