Open Access This article is
freely available
re-usable
Review
Base Excision Repair in Physiology and Pathology of the Central Nervous System
Institute for Veterinary Biochemistry and Molecular Biology, University of Zürich-Irchel, Winterthurerstrasse 190, 8057 Zürich, Switzerland
*
Author to whom correspondence should be addressed; Tel.: +41-446-355-467; Fax: +41-446-356-840.
†
These authors contributed equally to this work.
Received: 21 September 2012; in revised form: 6 November 2012 / Accepted: 12 November 2012 / Published: 30 November 2012
Abstract
: Relatively low levels of antioxidant enzymes and high oxygen metabolism result in formation of numerous oxidized DNA lesions in the tissues of the central nervous system. Accumulation of damage in the DNA, due to continuous genotoxic stress, has been linked to both aging and the development of various neurodegenerative disorders. Different DNA repair pathways have evolved to successfully act on damaged DNA and prevent genomic instability. The predominant and essential DNA repair pathway for the removal of small DNA base lesions is base excision repair (BER). In this review we will discuss the current knowledge on the involvement of BER proteins in the maintenance of genetic stability in different brain regions and how changes in the levels of these proteins contribute to aging and the onset of neurodegenerative disorders.
Keywords:
brain; neurodegeneration; reactive oxygen species; DNA damage; base excision repair
1. Introduction
Our genome is under constant genotoxic stress. Endogenous agents, such as reactive oxygen species (ROS) produced during physiological cellular metabolism, have the potential to attack the DNA molecules, thus generating various oxidized lesions (reviewed in [1,2]). Additional sources of DNA damage represent exogenous insults, like ionizing radiation and UV-light exposure. As the maintenance of genomic integrity is of highest priority, living organisms have evolved multiple molecular mechanisms to repair damaged DNA. An inability to remove various types of DNA damages results in a broad spectrum of pathologies, such as neuronal deficits, immunodeficiencies, premature aging and cancer (reviewed in [3]).
Post-mitotic cells, like neurons of the central nervous system (CNS) possess a limited selection of the canonical DNA repair pathways, which makes them particularly sensitive to further DNA damage response (DDR) deficiencies [4]. A functional and efficient DDR is therefore of crucial importance to ensure their survival. Since neurons that are lost are generally not replaced, DNA repair is essential to sustain brain homeostasis. Given the high oxygen metabolism of the brain and the relatively low levels of antioxidant enzymes, ROS-induced oxidized DNA lesions represent a major type of neuronal DNA damage (reviewed in [5,6]). 7,8-dihydro-8-oxo-guanine (8-oxo-G) is one of the most frequently generated oxidized DNA lesions and thus often used as a marker of oxidative stress and ROS-damage. The predominant DNA repair pathway enabling efficient removal of small base damages due to ROS, alkylating agents or spontaneous decay, is base excision repair (BER) (Figure 1). This pathway is carried out through either short-patch (SP-) or long-patch BER (LP-BER) subpathways. The SP-BER (Figure 1A) is initiated by one of the eleven lesion-specific DNA glycosylases, grouped in three classes (monofunctional, bifunctional, endonuclease VIII (Nei)-like proteins (NEIL)) [7], which recognize and excise the damaged base from the DNA by hydrolyzing the N-glycosidic bond. In the case of monofunctional glycosylases (such as uracil N-glycosylase (UNG), single-strand-specific monofunctional uracil DNA glycosylase 1 (SMUG1), methyl-CpG binding domain protein (MBD4), thymine DNA glycosylase (TDG), MutY glycosylase homologue (MUTYH) and alkyladenine DNA glycosylase (AAG)), upon hydrolysis of the N-glycosidic bond an abasic (AP) site is generated and the DNA backbone is subsequently cleaved by the apurinic/apyrimidinic endonuclease 1 (APE1), producing a single nucleotide (1 nt) gap with 3′-hydroxyl (3′-OH) and a 5′-deoxyribose phosphate (5′-dRP) moiety, respectively. In addition to the N-glycosidic hydrolysis, bifunctional glycosylases (like 8-oxoguanine DNA glycosylase (OGG1) and Endonuclease III-like 1 (NTHL1)) cleave the phosphodiester backbone by β-elimination, through the AP lyase activity, giving rise to a 3′ terminal sugar phosphate (3′-ddR5P) and a 5′-phosphate residue. The 3′-ddR5P is further processed by APE1, resulting in a 1nt gap with 3′-OH terminus. In case the repair is initiated by NEIL1/2/3 glycosylases, after N-glycosidic hydrolysis, processing of the termini by β,δ-elimination is catalyzed, resulting in 3′- and 5′-phosphate residues, respectively. The 3′-phosphate is thereafter cleaved by polynucleotide kinase (PNK), producing a 1nt gap with 3′-OH terminus. In all situations the 1nt gap, created during SP-BER, will be filled by DNA polymerase (Pol) β through incorporation of one nucleotide. If the repair was initiated by monofunctional glycosylases, a polymerisation step is followed by Pol β 5′-dRP lyase activity. A newly synthetized product contains 3′-OH and 5′-phosphate termini that can be ligated by the X-ray repair cross complementing 1 protein (XRCC1)/DNA ligase III complex. If Pol β dRP lyase activity can not process the 5′ terminus created through glycosylase independent APE1 directed incision of natural AP sites (AP) or 2′-deoxyribonolactone (2′-dRL) residues, as well as oxidation or reduction of 5′-deoxyribose fragment, LP-BER subpathway (Figure 1B) will take place. Removal of such a blocking 5′ moiety can occur either through: (i) strand-displacement DNA synthesis where a switch to Pols δ or ɛ takes place after incorporation of first nucleotide by Pol β [8–11], or (ii) the Hit-and-Run mechanism by alternating flap endonuclease 1 (FEN1) cleavage and Pols β synthesis (reviewed in [2,12]). Extension by Pol δ/ɛ is mediated through displacement of the downstream strand, generating a 5′-flap that can be recognized and cleaved by FEN1. The resulting 3′-OH and 5′-phosphate termini are finally ligated by DNA ligase I.
Numerous studies in the past decades strongly associate the accumulation of DNA lesions, induced by DNA repair deficiencies, with a broad spectrum of progressive neurodegenerative disorders. Thus, the aim of this review is to summarize the current knowledge of the deficiencies in BER proteins associated with neurodegeneration and to illustrate the pivotal role of efficient oxidative DNA damage repair needed to protect the neurons of the CNS. We will present the findings gained from the various studies by following the proteins in the order they appear in the BER pathway (Table 1).
3. BER Proteins other than DNA Glycosylases
3.1. Apurinic/Apyrimidinic Endonuclease 1
APE1 is a multifunctional enzyme with a pivotal role in BER, by processing AP sites, and in the regulation of transcriptional activity by redox activation of transcription factors (such as Fos and Jun) ([168–176], and reviewed in [177]). Depletion of APE1 in cultured hippocampal and sensory neurons sensitized the cells markedly to oxidative DNA damage induced by H2O2, reflected in reduced cell viability, increased caspase-3 activity and histone H2AX phosphorylation (γH2AX) [178]. In contrast to depletion, APE1 overexpression was neuroprotective in dorsal root ganglion neurons exposed to cisplatin [179]. In addition, it has been shown that it is the DNA repair function of APE1 that is crucial for cell survival of post-mitotic cells exposed to oxidative stress [180]. Determining the APE1 activity in cortical astrocytic and neuronal extracts derived from young (7 days), adult (6 months) and old (2 years) rats revealed an age-dependent decrease in the activity in adult compared to the young animals [25]. This reduction remained with age and was therefore also apparent in old rats. Exposing young (3 months) and aged (30 months) rats to 100% oxygen, Edwards et al. showed in young animals a reflective increase of APE1 protein levels in the hippocampus and basal forebrain, whereas no significant changes were detected in aged rats, suggesting an impaired responsiveness to oxidative stress [181].
3.1.1. Alzheimer's Disease
A study of the APE1 hippocampal expression in human AD brains revealed elevated APE1 levels both in senile plaques, a histopathological hallmark of AD, and in injured neurons [182]. This increase was further found to be localized to the nuclear fractions of AD brains [183], which was confirmed in a immunohistochemical analysis of the cerebral cortex, where an intensive nuclear APE1 signal in all cortical layers was detected [184]. Aβ, a major contributor to AD development, is known to induce oxidative stress in neurons [185]. Tan et al. investigated the impact of various Aβ concentrations on APE1 levels and cell survival in isolated rat hippocampal neurons [186]. Interestingly, treatment with high concentrations of Aβ (5 μM) caused a reduction in cellular APE1 levels and activity, which correlated with extensive neuronal degeneration of the cultured hippocampal neurons. In contrast, lower concentrations of Aβ (1 μM) induced APE1 expression and activity, resulting in no substantial loss of the neurons [186]. The cyclin-dependent kinase 5 (Cdk5) was shown to regulate APE1 through phosphorylation, leading to a reduction of its endonuclease activity [187]. Subsequent accumulation of DNA damage, together with the finding that levels of phosphorylated APE1 were increased in brain tissue from AD and PD patients, might implicate Cdk5-mediated APE1 phosphorylation in the development of these neurodegenerative disorders. Independently of the endonuclease activity, but through its redox function, APE1 was found to mediate neuroprotection against Aβ and H2O2 via induction of the glial cell-derived neurotropic factor (GDNF) receptor α1 transcription, thereby increasing the GDNF responsiveness [188]. In a very recent proteomic study, where neuronal cells were challenged with an Aβ peptide fragment (25–35), novel interaction partners of APE1 were identified [189]. Among them, (i) tropomodulin 3, involved in the synaptic activity; (ii) heterogeneous nuclear ribonucleoprotein-H1, a regulator of alternative splicing and (iii) the pyruvate kinase 3 isoform 2, a key enzyme in the glycolysis; all of these factors might have a functional relevance for neuronal cell survival and Aβ resistance. In addition, a potential association between the APE1-D148E SNP and the onset of AD was investigated, however no significant correlation was found [190].
3.1.2. Involvement of APE1 in other Neurodegenerative Disorders
Decreased APE1 levels were found in patient cells affected by Ataxia with Oculomotor Apraxia Type 1 (AOA1) [191], a neurodegenerative disorder originating in mutations of the APTX gene [192,193], which results in a cellular aprataxin deficiency [194]. Comparable findings were also obtained in ALS patients, where frontal cortical APE1 levels, as well as activity were significantly reduced [195], and in some cases missense mutations within the APE gene were identified [196]. ALS manifests in the progressive loss of motor neurons [197] and appears in a sporadic as well as a familial form [198]. For the sporadic form, a significant association with the D148E APE1 polymorphism was shown [199]. In contrast to the analysis of frontal cortical levels, a study by Shaikh et al. indicated increased APE1 levels in the spinal cord and motor cortex of ALS patients and showed that protein extracts from this tissue samples were more proficient in in vitro processing of AP sites [200]. Hyperactivity of APE1 potentially also contributes to the genomic instability by resulting in an increased number of extremely harmful DNA breaks.
In a rat model where epileptic-like seizures were induced by the application of kainic acid (KA), a subsequent induction of APE1 expression was observed in KA-vulnerable brain regions (CA1, CA3 and hilar subregions of hippocampus, pyriform cortex, amygdala and thalamus) [201]. Furthermore, APE1 colocalized with the BER protein XRCC1, the oxidative DNA damage marker 8-oxo-G, the tumor suppressor p53 and also with fragmented DNA, as assessed by TUNEL staining [201]. These findings thus indicate that BER is activated but not sufficient to counteract excitotoxicity-mediated neuronal cell death.
3.1.3. Stroke/Ischemia/Hypoxia
A cold injury-induced brain trauma (CIBT) mouse model revealed an early post-traumatic decrease of APE1 levels within the lesion, which preceded later DNA fragmentation [202]. Similar observations were made after severe traumatic cortical brain injury [203]. However, the outer boundary area that survived CIBT showed a significant increase in APE1 immunoreactivity [202]. Transient focal cerebral ischemia (FCI) [204] or a defined hypoxic-ischemic insult [205] resulted in decreased APE1 protein levels, a reduction exclusively detected in the hippocampus. In addition, APE1 levels selectively decreased in the hippocampal CA1 neurons 2 days after transient global cerebral ischemia (GCI), which was followed by DNA fragmentation after 3 days [206]. Intra cerebral application of the pituitary adenylate cyclase-activating polypeptide (PACAP) in the context of transient GCI reversed the effect, by inducing APE1 expression in hippocampal CA1 neurons, which correlated with improved cell survival [207]. This neuroprotective effect of PACAP was dependent on the DNA repair activity of APE1, as was shown through a loss-of-function rescue attempt of APE1 deficient cells, by overexpressing DNA repair-incompetent APE1. Upon transient spinal cord ischemia, spinal APE1 levels decreased while oxidative DNA damage increased [208]. Interestingly, an ischemic tolerance could be established by sub-lethal ischemic preconditioning, which resulted in subsequent up-regulation of APE1 levels and other BER proteins and therefore better neuroprotection in the case of severe ischemia [63]. On the other hand, APE1 overexpression was shown to increase cell viability of cultured hippocampal and sensory neurons after ionizing radiation-induced DNA damage [209]. Glutamate-induced oxidative DNA damage was found to cause an increase in APE1 expression in rat cerebral cortical neurons via a pathway involving the cAMP-response element-binding protein, thereby improving the DNA repair activity of oxidized lesions [210].
In summary, the multifunctional enzyme APE1 is implicated in a broad spectrum of neuropathologies via both, its endonuclease and redox activity. However, the exact regulation of APE1 in this context and the underlying mechanisms remain to be investigated.
3.2. Polynucleotide Kinase
The polynucleotide kinase (PNK) is a bifunctional enzyme exhibiting a 5′-DNA kinase and a 3′-phosphatase activity [211]. The removal of 3′-phosphate groups renders DNA ends accessible for Pols, an important step for promoting BER upon base excision by either NEIL1, NEIL2 or NEIL3 (reviewed in [212]). Highest expression in human tissues of PNK was observed in the spleen, testis, heart and pancreas, whereas brain levels were rather low [211,213]. PNK is known to interact during DNA repair with the scaffold protein XRCC1 [214]. Disruption of this interaction impairs the DNA repair capacity following oxidative stress [215]. In order to rescue this phenotype, overexpression of 3′-phosphatase-proficient PNK was needed, indicating the 3′-phosphatse activity to be critical for efficient repair of oxidative DNA damage.
3.2.1. Involvement of PNK in Neurodegenerative Disorders
A recent study by Shen et al. linked four mutations in the PNKP gene to an autosomal recessive disease characterized by microcephaly, early-onset, severe seizures and developmental delay (MCSZ) [216]. The mutations were either frame-shift mutations (T424Gfs48X and exon15Δfs4X) due to small deletions or duplications within the kinase domain, resulting in truncated PNK proteins or point mutations (L176F and E326K) within the phosphatase domain. Assessing the DNA repair capacity by comet assay in patient-derived lymphocytes after H2O2 or camptothecin treatment, revealed a significant impairment in the case of MCSZ cells compare to healthy controls and in addition, PNK protein levels were found reduced in these patient cells[216]. Interestingly, a further study showed in vitro that PNKT424Gfs48X, PNKexon15Δfs4X and PNKL176F mutant proteins exhibit a markedly decreased 5′-DNA kinase activity [217]. However, a moderate reduction in the 3′-DNA phosphatase activity was only observed in the case of recombinant PNKL176F. Analysis of phosphatase and kinase activities in MCSZ patient cells with decreased mutant PNK levels [216], revealed an overall marked reduction [2,17]. Furthermore, alkaline comet assay analysis of cells from affected individuals exhibiting the PNKT424Gfs48X and PNKexon15Δfs4X mutations as well as of cells homozygous for PNKE326K, revealed inefficient repair of DNA strand breaks upon γ-irradiation, whereas camptothecin treatment only led to an accumulation of DNA damage in cells containing both, mutated PNKT424Gfs48X and PNKexon15Δfs4X[217]. Even though PNK appears to be crucial for proper neurodevelopment, further mechanistical studies will be needed to unravel the potential link between impaired DNA repair capacity and the development of MCSZ.
3.3. DNA Polymerase β
The DNA repair enzyme Pol β belongs to the X family of DNA Pols. In addition to the polymerase activity, exhibited particularly on short gaps, it also possesses a dRPlyase activity and associates with BER proteins such as XRCC1 and DNA ligase III [218–235]. Thereby, Pol β is considered to be the major BER Pol (reviewed in [236]). It is constitutively expressed in most tissues, with the highest levels found in testis and brain [237]. The generation of a Pol β ko mouse model revealed that, besides growth retardation and insufficient lung ventilation leading to immediate postnatal death, these mice also displayed altered neurogenesis [238]. The defect in neurogenesis was reflected in vast apoptotic cell death in the developing cortex, hindbrain and dorsal root ganglion. Additional ko of p53 in Pol β deficient mice (Pol β ko and p53 ko) abolished the neuronal cell death, thus proving the p53-dependency of this apoptotic pathway [239]. However, neonatal lethality remained even in the absence of p53. Ko of the DNA-dependent protein kinase catalytic subunit (DNA-PKcs), an enzyme involved in the non-homologous end-joining (NHEJ), in a Pol β deficient background exhibited even more pronounced growth retardation and neuronal apoptosis as well as earlier lethality compared to Pol β ko [240].
The fact that Pol β activity changes with aging was demonstrated in a study, where incubation of rat neuronal extracts from young, adult and old animals with synthetic 1 and 4 nucleotide gap constructs resulted in reduced BER capacity with age [241]. Though the gap repair activity was markedly impaired with age, complementation with rat liver Pol β rescued the activity. A further study by Cabelof et al. confirmed these findings by showing that Pol β activity, protein and mRNA levels decreased significantly in brain tissue with age by comparing young (4 months) and old (24 months) C57BL/6 mice [242]. The biological relevance of this age-associated decrease in Pol β was further underlined by the observed increased mutation frequency in old animals. Interestingly, caloric restriction was able to largely reverse this age-dependent decline [243].
3.3.1. Alzheimer's and Parkinson Disease
AD cell culture models demonstrated that the application of Aβ to cortical neurons induces cell cycle reentrance followed by DNA replication resulting in reflective apoptosis of these cells [244]. Pol β was shown to be a leading Pol mediating de novo DNA synthesis after Aβ-induced cell cycle reentrance and thereby to play a role in the neuronal loss [245]. Consequently, in Aβ-treated cortical neurons, Pol β was also found to co-immunoprecipitate with cell division cycle 45 (Cdc45) and the DNA primase in nucleoprotein fragments, implicating its association with the DNA replication fork [246]. Aβ treatment of neural progenitor cells induced Pol β expression, with the consequence of cell differentiation along the neuronal lineage [247]. However, Weissman et al. showed overall decreased Pol β protein levels in AD brain tissue accompanied by reduced single nucleotide gap-filling activity [154]. Cell cycle re-entry was also observed in cultured cerebellar granule cells treated with the neurotoxin 1-methyl-4-phenylpyridinium (MPP+), which is known to mimic PD by selective toxicity against dopaminergic neurons [248]. MPP+-mediated cell death was accompanied by increased Pol β expression. Interestingly, reduction of Pol β activity by either inhibition with dideoxycitidine or the expression of a dominant negative Pol β variant in these cells attenuated the neuronal loss [248].
3.3.2. Triplet Repeat Expansion Diseases
Several studies addressed the role of Pol β in the CAG triplet repeat expansion associated with HD. Kovtun et al. showed in an in vitro OGG1-initiated BER assay, that Pol β tends to perform strand displacement DNA synthesis within CAG repeats instead of single-nucleotide incorporation, resulting in longer DNA products [53]. Thus indicating that the initiation of BER by OGG1 in a CAG sequence contributes to the TNR expansion by Pol β-mediated strand displacement. Supporting this finding, a further study showed that multinucleotide incorporation by Pol β results in strand displacement and the formation of CAG hairpins that become stabilized and promote repeat expansion [249]. Pol β was also shown to accumulate along CAG repeats in the striatum of HD mice, the brain region most susceptible to degeneration in HD patients (for more details see Chapter 3.6.) [57]. Furthermore, Goula et al. recently determined the protein levels of the major BER proteins in the striatum, as well as the HD-spared cerebellum of HD transgenic mice [250]. While it was previously shown that Pol β protein levels were not significantly changed in these tissues, DNA ligase I, FEN1, APE1 and XRCC1 levels were increased by at least 2-fold in cerebellum [57,250]. In addition, in vitro repair of AP-sites with either (i) purified BER proteins in the striatum-specific stoichiometry or (ii) with wt and HD mice striatum extracts, was shown to be less proficient than cerebellar repair regardless of the sequence context [250]. The same study demonstrated that lesions within CAG repeats tend to be repaired via LP-BER and that this process is more efficient under cerebellar conditions compared to the striatal ones. Moreover, a lesion closer to the 3′ end of the repeat sequence was more efficiently repaired than a 5′ lesion, most probably due to the fact that the formation of stable hairpins becomes impaired the closer a lesion is to the 3′ end of the repeat tract [250]. Taken together these findings suggest a potentially important role of Pol β mediated repair in the onset of triplet repeat expansion diseases, such as HD.
3.3.3. Stroke/Ischemia/Hypoxia
Pol β activity was observed to be up-regulated in cerebral cortical neurons of newborn piglets exposed to hypoxia, and this was suggested to be beneficial to reduce hypoxia-induced DNA damage [251]. Upon transient FCI in rats, an increase in markers for oxidative DNA damage, namely 8-oxo-G and AP sites could be detected [252]. These lesions were efficiently repaired during reperfusion in the surviving cortex, which was proposed to be at least partially due to a protective long-lasting up-regulation of Pol β expression as well as its activity. As already described for APE1, ischemic preconditioning also elevated the protein levels of Pol β as well as XRCC1 and DNA ligase III [253]. This up-regulation in particular of SP-BER proteins was implicated to play a pivotal role in the neuroprotection observed in subsequent severe ischemic episodes.
Summarizing, Pol β was shown to be crucial for proper neurodevelopment, whereas later on Pol β levels decline in an age-dependent manner. In the context with AD, spurious de novo DNA synthesis contributes to neuronal loss. However, upon hypoxic insults, Pol β activity mediates neuroprotection.
3.4. DNA Polymerases δ and ɛ
The Pols δ and ɛ belong together with Pol α to the B-family of DNA Pols and are the main Pols involved in lagging and leading strand replication [254–257]. Due to this function as replicative Pols, their DNA synthesis accuracy is high on undamaged DNA templates (reviewed in [258]). Besides DNA replication, the role of Pol δ and ɛ in LP-BER is supposed to be the accurate elongation after repair synthesis initiated by Pol β [259].
Even though Pol β was for a long time assumed to be the only Pol present in the brain, Pol δ and ɛ activities were reported in developing as well as aging rat cerebral cortical neurons [260]. Analyzing TNR expansions in Saccharomyces cerevisiae revealed an involvement of yeast Pol δ together with the DNA helicase Srs2 in blocking TNR expansion [261]. Also, Pol δ has been found together with the DNA helicase Werner syndrome protein (WRN) to be important in resolving TNR-based hairpin structures in HeLa nuclear fractions complemented with recombinant proteins [262].
3.5. X-Ray Repair Cross Complementing 1 Protein
The XRCC1 protein represents a crucial scaffold protein in the BER [222,263]. Among other roles, its interaction with the Pol β and DNA ligase III contributes to the 1nt-gap filling reaction and subsequent DNA ligation especially in the context of SP-BER ([227,264–266], and reviewed in [267]).
In 1999, Fang-Kircher et al. analyzed for the first time mRNA levels of different DNA repair proteins in human brain tissue of deceased Down's syndrome patients [268]. Interestingly, a significant up-regulation of XRCC1 mRNA was found in the temporal, parietal and occipital lobes of these patients. Increased XRCC1 expression might be explained by the higher levels of ROS detected in Down's syndrome neurons [269]. However, frontal lobe and cerebellar levels of XRCC1 were equal or even significantly lower in comparison to those observed in control brains [268].
That XRCC1 is particularly important in differentiated neurons for the repair of oxidative DNA damage has been shown in differentiated human SH-SY5Y neuroblastoma cells [270]. SH-SY5Y XRCC1 kd cells displayed lower survival upon treatment with the oxidizing agents menadione or paraquat compared to control cells. No differences between proficient and deficient backgrounds were detected in dividing (non-differentiated) SH-SY5Y cells. In contrast, treatment of dividing SH-SY5Y XRCC1 kd cells with Hx, an additional inducer of oxidative damage by generating extracellular H2O2, resulted in increased sensitivity [270]. Taken together, these results support the general idea that requirements for the DNA repair proteins largely depend on the type of oxidative damaged that is induced. Consistent with these findings, XRCC1 heterozygous primary mouse cerebellar granule cells as well as XRCC1 kd human fetal brain neurons displayed a higher sensitivity towards menadione treatment [270].
Isolated granule cells from a neuronal-specific XRCC1 ko mouse model (XRCC1Nes−Cre) exhibited impaired DNA repair capacity after exposure to H2O2, as assessed by comet assay [271]. Furthermore, neurons in different brain regions of XRCC1Nes−Cre mice accumulated DNA damage in an age-dependent manner, shown by increased amounts of persistent γH2AX foci, a known marker of DNA double-strand breaks (DSB) and most likely DNA single-strand breaks (SSB). Interestingly, histological analysis of the cerebellum revealed a marked p53-dependent loss of basket, stellate and Golgi interneurons, all of which are important for fine-tuning of the cerebellar output [271]. Furthermore, accumulation of γH2AX foci associated with gliosis and increased c-Fos staining within distinct hippocampal regions indicated altered hippocampal homeostasis [271]. These features closely resemble the neuropathological characteristics found in temporal lobe epilepsy [272]. In a rat model where epileptic-like seizures were induced by KA, an induction of XRCC1 was observed after 16 h of seizure-onset in KA-vulnerable brain regions (CA1, CA3 and hilar subregions of hippocampus, pyriform cortex, amygdala and thalamus) [201]. As KA is known to cause oxidative stress [273], up-regulation of XRCC1 was thought to happen as a compensatory mechanism for the increased levels of DNA damage.
3.5.1. Alzheimer's and Parkinson Disease
The discovery of XRCC1 polymorphisms gave raise to studies investigating a potential predisposition to diseases [274]. AD belongs to the most common diagnosed age-related neurodegenerative disorders resulting in dementia and it is often histologically characterized by the presence of Aβ plaques, neurofibrillary tangles and severe neuronal loss (reviewed in [275]). Since the R194W XRCC1 polymorphism lies within a conserved amino acid residue sequence [274], its potential functional relevance for neurodegeneration was addressed in a case-control study focusing on the late-onset AD in a Turkish population [276]. An increased risk for late-onset AD in the presence of the R194W polymorphism was proposed [276]. However, the risk estimates did not reach a statistically significant level and were not confirmed in a later comparable study among Han Chinese people [277]. It therefore remains under debate, whether the R194W XRCC1 polymorphism promotes the onset of AD. The analysis of two additional XRCC1 polymorphisms, namely R280H and R399Q revealed no dependency between allele frequency and the onset of AD [190]. However, an increased risk was found for the development of PD in the presence of XRCC1 R399Q [278].
3.5.2. Stroke/Ischemia/Hypoxia
XRCC1 is not only implicated in chronic neurodegeneration, but also in neuronal loss after acute central nervous system injuries, including the cerebral ischemia-reperfusion phenomenon [279]. It is well established, that brain ischemia/reperfusion, a condition that resembles a stroke, goes along with an excessive production of ROS (reviewed [280,281]). In mice subjected to transient FCI by occlusion of the MCA, it was shown that XRCC1 levels decreased shortly after reperfusion and remained low until 24 h in the total MCA territory [279]. The loss of XRCC1 coincided with a positive TUNEL staining, corresponding to fragmented DNA arising 24 h later. A CIBT mouse model further supported this observation, where a similar early decline in XRCC1 levels within the injured region preceded later DNA fragmentation [282]. Thus, these studies indicated a potential role of the early XRCC1 decrease in the DNA damage-mediated neuronal cell death in traumatic brain regions [279,282].
Taken together, the scaffold protein XRCC1 was shown to be particularly important for DNA repair in post-mitotic neurons. Further association with the Down's syndrome, seizure episodes and ischemic insults render XRCC1 a critical player in CNS homeostasis.
3.6. Flap Endonuclease 1
The multifunctional enzyme FEN1 possesses a 5′→3′-exonuclease and a 5′-endonuclease activity [283–288]. The latter function is of special importance in the context of LP-BER, as FEN1 removes the arising 5′-flap structures after strand displacement DNA synthesis, thereby allowing subsequent DNA ligation (reviewed in [289]).
3.6.1. Triplet Repeat Expansion Diseases
In the severe neurodegenerative disorder HD, BER initiated by OGG1 has already been implicated to contribute to the CAG trinucleotide expansion in somatic cells, as discussed above [53]. In addition, a study in HD mice showed, that oxidative damage specifically accumulates along CAG repeats in a length-dependent manner [57]. This event is specifically taking place in the striatum, the brain region most prone to degeneration in HD patients, when compared to the disease-spared cerebellum. Even though gap-filling activity is reduced in the striatum several factors, such as: (i) pronounced accumulation of Pol β at CAG repeats; (ii) promoted Pol β-mediated strand displacement activity; and (iii) low 5′-flap endonuclease activity by FEN1, contribute to the somatic instability in the context of LP-BER [57]. This is further in line with model of HD which suggests that the Pol β generated displaced strand, when not efficiently removed by FEN1, forms a hairpin structure that can become stably integrated leading to trinucleotide expansion. The stoichiometry between BER proteins seems to be an important factor for tissue-specific trinucleotide expansion-vulnerability [57]. Elevated levels of FEN1 in the cerebellum were implicated to significantly contribute to the increased BER efficiency on CAG substrates observed by measuring the repair capacity with BER proteins in the cerebellar stoichiometry (discussed in more detail under 3.3.) [57,250]. This effect was not observed when BER efficiency was addressed under the striatum-specific conditions [250]. Liu et al. similarly reported that FEN1 might facilitate TNR expansion, however through a slightly different mechanism by alternate cleavage of hairpin structures arising during Pol β multinucleotide DNA synthesis and strand displacement during LP-BER [249]. As FEN1 is unable to process 3′ ends of stable hairpins, it rather tends to cleave lose 5′-flaps of the hairpin, thereby providing ligatable nicks and potential TNR expansion. A comprehensive overview of the FEN1 involvement in the TNR expansion is presented in a recent review by Liu and Wilson [290].
3.7. DNA Ligase I/III
The DNA ligase I in association with PCNA is targeted to the replication machinery where it is important for Okazaki fragment joining [291]. In the context of BER it acts in the final step of LP-BER by sealing nicked DNA (reviewed in [292]). The DNA ligase III, on the other hand, is mainly implicated in DNA ligation during SP-BER where it is in complex with the scaffold protein XRCC1 [265,266]. Both, the DNA ligase I and III are shown to be essential for proper embryonic development, as studied in mice (reviewed in [292]). Moderate expression of the DNA ligase I was found in the cerebellum, lateral ventricle and cerebral cortex, whereas levels in the hippocampus were rather low [137]. However, in comparison to cerebellar levels, DNA ligase I is markedly reduced in the striatum where it might be involved in the observed less efficient BER of lesions within CAG repeats, thus potentially contributing to TNR instability [250]. High levels of DNA ligase III were observed in the cerebellum and the cerebral cortex decreasing to moderate levels in the hippocampus and lateral ventricle [137]. A DNA ligase I deficiency described in a female patient was accompanied with continuous infections due to a compromised immune response, sensitivity towards sunlight, growth retardation and delayed development [292]. The neurodegenerative disorder spinocerebellar ataxia with axonal neuropathy-1 (SCAN1) originates from mutated tyrosyl phosphodiesterase 1 (TDP1), a protein involved in the repair of DNA SSB [293]. Interestingly, the DNA ligase III was found to directly interact with mutated TDP1 in SCAN1, forming a catalytically inactive complex, thereby potentially contributing to a defective SSB repair [294]. A further link between DNA ligases and neurodegeneration is given in the neurological disorder AOA1, where aprataxin, a protein important for the removal of adenylate groups at single-strand nicks [295], is mutated [192,193]. Therefore, deficiency in the processing of adenylate groups by aprataxin results in abortive ligation attempts by the DNA ligase III, which might result in the accumulation of DNA SSB [295].
3.7.1. Stroke/Ischemia/Hypoxia
As already observed for other BER proteins, ischemic preconditioning resulted in an induction of the DNA ligase III in neuronal and glial cells [253]. This up-regulation of the BER pathways was further reflected in the increased BER activity in nuclear brain extracts from preconditioned animals [253].
In summary, even though not much is known so far about DNA ligases in the physiology and pathology of the CNS, initial hints point towards an involvement in distinct neurodegenerative disorders.
4. Conclusions and Future Perspectives
As a consequence of high oxygen metabolism, an efficient BER pathway is needed to ensure genomic stability and brain homeostasis. The majority of BER proteins are highly expressed in the brain, however present data clearly indicate that the expression pattern is not homogenous and that it differs from one brain region to another. In addition, levels of BER proteins change with age, resulting in accumulation of DNA lesions and genomic instability. Tissue-specific and age-dependent expression of major BER proteins suggests the existence of a very complex and highly regulated DDR in the CNS. This complexity is most probably also a reason why studies addressing the role of BER proteins in brain physiology and pathology, using various different models, resulted in different and sometimes contradictory observations. However, changes in BER protein levels and the DNA repair capacity have been correlated with some of the most common neurodegenerative disorders (Table 1), thus indicating the importance of understanding the mechanisms that ensure tight regulation of BER protein expression and activity. Though numerous studies compared the BER status between different brain regions during development, as well as between tissues of healthy individuals and patients suffering from various neurodegenerative disorders; still very little is known about the means by which BER is regulated in the brain. By revealing pathways important for balancing BER, we might be able to understand how changes in the BER capacity during lifetime, as well as neurodegeneration, contribute to aging and disease onset/progression, respectively.
Acknowledgments
We thank Ulrich Hübscher for critical reading of the manuscript and constructive discussions. The work in the authors laboratory is supported by the MD-PhD grant of the Swiss National Science Foundation to MB, the Swiss National Science Foundation to EM and the University of Zürich to MB and BvL.
Conflict of Interest

The authors declare no conflict of interest.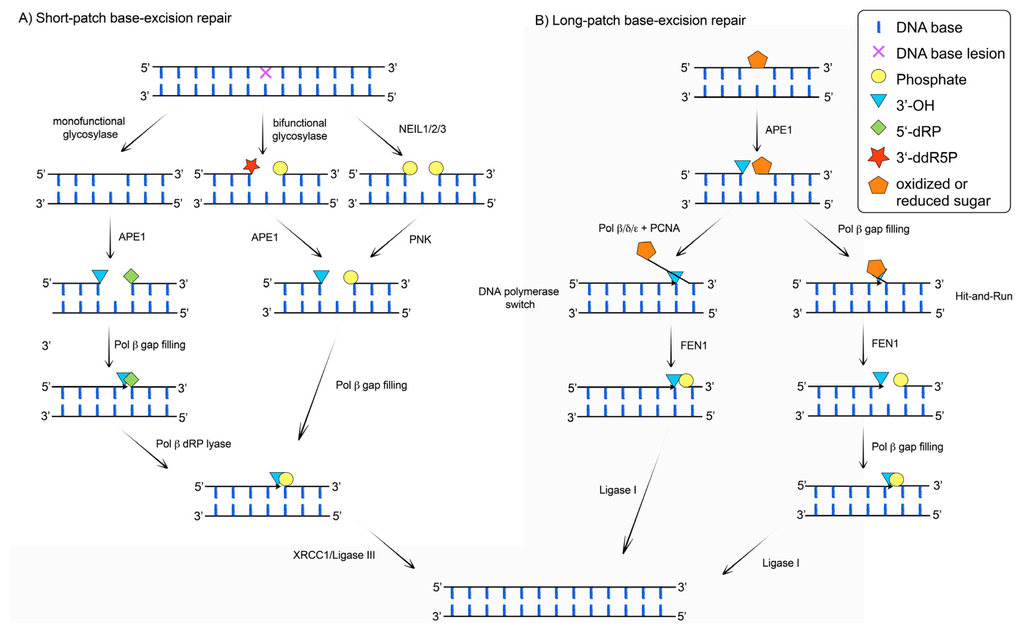 Figure 1. Short-patch (SP-) and long-patch base excision repair (LP-BER) sub-pathways. The damaged base is recognized and excised by a DNA glycosylase, resulting often in AP site formation, which is further processed by APE1. Subsequent end-processing generates 3′-OH and 5′-phosphate (5′-P) termini, enabling access of repair Pols. Depending on the number of newly incorporated nucleotides, the BER pathway divides into two sub-pathways: short-patch BER (SP-BER) and long-patch BER (LP-BER). (A) In SP-BER, a Pol β-mediated single nucleotide incorporation is followed by strand ligation, catalyzed by the XRCC1/DNA ligase III complex; (B) In contrast, LP-BER synthesizes a repair patch consisting of 2–12 nucleotides by: (i) the Hit-and-Run mechanism involving alternating FEN1 cleavage and Pols β synthesis; or (ii) the strand-displacement DNA synthesis concerted by Pols β and δ/ɛ. The 5′-flap, created during strand-displacement DNA synthesis, is removed by the FEN1 generating a nick. The FEN1 created nick is sealed by DNA ligase I. For more details see text.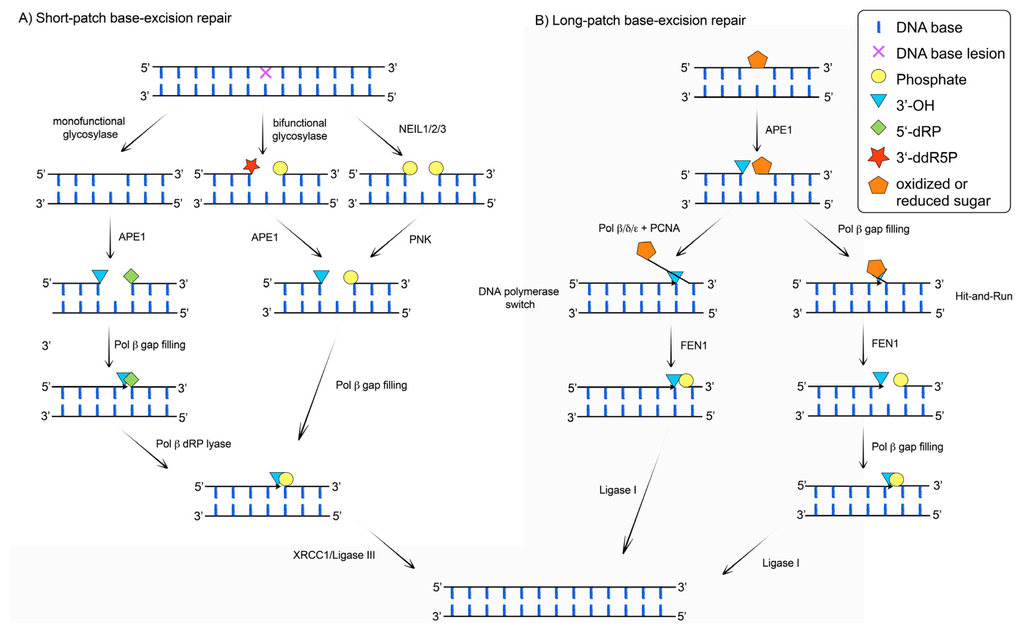 Table 1. Overview of BER proteins and their involvement in physiology and pathology of the brain. The information listed is an overview of the data presented in the manuscript text. ↑ stands for up-regulation or an increase, while ↓ signifies either down-regulation or decrease.
Table 1. Overview of BER proteins and their involvement in physiology and pathology of the brain. The information listed is an overview of the data presented in the manuscript text. ↑ stands for up-regulation or an increase, while ↓ signifies either down-regulation or decrease.
Protein
Physiological expression in brain
Expression changes induced by
Changes associated with neurodgenerative disorders
Brain specific effect of knockout/knockdown
Protein family
DNA glycosylases
Helix-hairpin-helix family
OGG1
- ↓ postnatal
- ↑ from 8 weeks
- ↓ age-dependently
↑
- cigarette smoke
- dieldrin-proliferating cells
- SIF in murine brains
PD
- ↑
- differentiation shiftneural to astrocytic lineage
- mild PD phenotype with age
- ↑ sensitivity to dopaminergic substances and ischemia-induced DNA damage
- combination with CSB kd—no effect on CS phenotype
ALS
- S326C increased risk
- ↑ in presymptomatic SOD1 mice
↓
- dieldrin-differentiated cells
- fenvalerate
HD
- OGG1 increases TNR instability, especially the S326C
- ↓ in striatum of HD mice
No change
- lead (Pb)
Stroke/Ischemia
- various effects depending on the model used
AD
- ↑ but also ↓ observed
MUTYH
- ↑ in neonate and adult brain
- ↓ with age
None reported
PD
- ↑
None reported
Stroke/Ischemia
- mainly ↑
Other disorders
- possibly ↓ in equine cerebellar abiotrophy
MBD4
None reported
None reported
Diverse disorders
- ↑ in schizophrenia and bipolar disorder patients
None reported
NTHL1
None reported
None reported
Diverse disorders
- no association with MS risk
None reported
Endonuclease VIII-like
NEIL1
- ↑ mid-age, during differentiation
- ↓ with age
- minor changes in hippocampal mitochondria over lifespan
None reported
Stroke/Ischemia
- no changes by OGD in hippocampal slice cultures, ↓ by hypothermia
- impaired memory and increased brain damage after ischemia/reperfusion in ko mice
NEIL2
- ↑ during differentiation
None reported
Stroke/Ischemia
- no changes after OGD
None reported
NEIL3
- stem cell rich regions, also in early embryos
- ↓ with age
None reported
Stroke/Ischemia
- ↓ in hypoxia
- ko with ↓ neuronal progenitors and NSC differentiation ability
AAG
- highly expressed in several brain regions
None reported
None reported
- ko results in suppression, while Tg in increase of toxicity induced by alkylating agents
UDG
UNG
- varying expression depending on brain region and age
None reported
AD/TNR disorders
- changed in tauopathies and ↓ in AD patients
- ko and Tg with neurodegeneration
- ko ↑ ischemic infarct size
TDG
None reported
None reported
None reported
- ko embryonic lethal
Endonucleases
APE1
- ↓ with age
↑
- 100% O2 in brains of young rats, but not in old ones
AD
- ↑ levels in patients, varying expression upon Aβ treatment
- ↑ levels of p-APE1 (less active)
- no significant correlation with D148E
None reported
PD
- ↑ levels of p-APE1 (less active)
HD
- 2-fold increase in cerebellum HD mice
Stroke/ischemia
- ↓ in several models of hypoxia, hypothermia, stroke and trauma
Other diseases
- ↓ in AOA patients
- both ↑ and ↓ in ALS patients detected
- association of missense mutations, D148E
- ↑ in epilepsia model
FEN1
None reported
None reported
HD
- implicated in TNR expansion, increased in cerebellum of HD mice
None reported
PNK
- low expression
None reported
MCSZ
- multiple mutations associated
None reported
DNA polymerases
Pol β
- constitutive expression
- ↓ activity with age
None reported
AD
- Aβ induced Pol β-mediated cell cycle reentrance, neuronal loss and differentiation of neural progenitors to neuronal lineage
- MPP + induces Pol ββ-mediated cell cycle reentrance and cell death
- neonatal lethal, altered neurogenesis in ko mice, which is p53 dependent and more pronounced in a DNA-PKcs ko background
HD
- Pol β accumulation along CAG repeats in striatum of HD mice
Stroke/ischemia
- ↑ in several models
Pol δ + Pol ε
None reported
None reported
HD
- Pol δ blocks TNR expansion together with Srs2 and resolves srs1 and resolves TNR-based hairpin structures together with WRN
None reported
Scaffolding
XRCC1
None reported
None reported
AD
- R194W and R399 ↑ risk, no effect by R280H/R399Q
- XRCC1nes−cre ko mice age-dependent accumulation of DNA damage, loss of certain neurons in the cerebellum and altered hippocampal homeostasis
HD
- 2-fold increase in cerebellum HD mice
Stroke/ischemia
- ↓ in several models of ischemia, hypothermia
Other diseases
- ↑ levels in some parts of the brains of Down's syndrome patients, and ↓ in others
- ↑ levels in a rat epilepsia model
DNA ligases
DNA ligase I
- moderate in cerebellum, lateral ventricle and cerebral cortex
- ↓ in hippocampus and striatum
HD
- 2-fold ↑ in cerebellum HD mice
- essential for embryonic development
DNA ligase III
- ↑ in cerebellum and cerebral cortex
- moderate in hippocampus and lateral ventricle
SCAN
- association due to interaction with TDP1?
- essential for embryonic development
AOA1
- association?
© 2012 by the authors; licensee Molecular Diversity Preservation International, Basel, Switzerland. This article is an open-access article distributed under the terms and conditions of the Creative Commons Attribution license (http://creativecommons.org/licenses/by/3.0/).