A New Strategy for Identification of Highly Conserved microRNAs in Non-Model Insect, Spodoptera litura
Laboratory of Insect Toxicology, South China Agricultural University, Guangzhou 510642, China
*
Author to whom correspondence should be addressed.
Received: 19 October 2011 / Revised: 23 November 2011 / Accepted: 28 December 2011 / Published: 9 January 2012
Abstract
The indigenous small non-coding RNAs, known as microRNAs (miRNAs), are important regulators of gene expression and many of them are evolutionarily conserved. Whether stem-loop RT-PCR, as a sensitive method, could be utilized to clone conserved miRNAs from non-model insects lacks information. Here, three miRNAs,
sli-miR-14
,
sli-miR-2a
and
sli-bantam
, were cloned from
Spodoptera litura
by stem-loop RT-PCR. Two groups of primers were designed, and one of them performed especially well and proved stable. The sequences of two highly conserved miRNAs,
sli-miR-14
and
sli-miR-2a
were identical to those in
Drosophila melanogaster.
To validate the reliability of this strategy,
pre-miR-14
and
pre-miR-2a
in
S. litura
as representatives were given as well; this shared high homology with those in
D. melanogaster
and
Bombyx mori
, and both mature sequences of
sli-miR-14
and
sli-mi
R-2a in their precursors shared 100% identity to the results shown by stem-loop RT-PCR. Moreover, expression patterns of these miRNAs were investigated by real-time quantitative
PCR.
Sli-miR-14
and
sli-miR-2a
could be detected successfully and their expression patterns showed similar characteristics with those in model insects, further suggesting stem-loop RT-PCR technology can be used for identification of highly conserved miRNAs in non-model insects. These results provide a simplified and efficient strategy for studying the structure and function of highly conserved miRNAs, especially some critical miRNAs in non-model insects.
View Full-Text
►

▼

Figures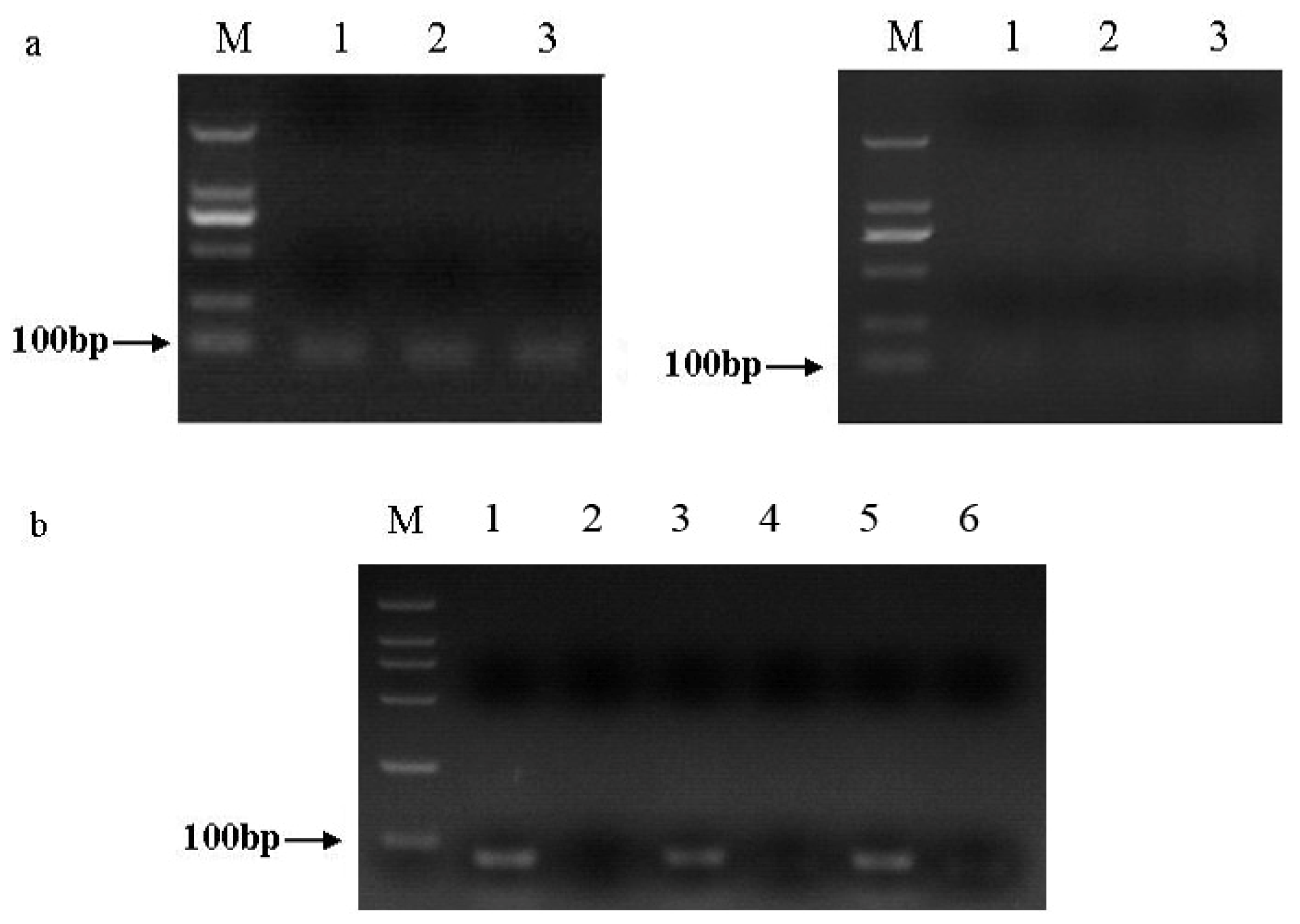 Share & Cite This Article
MDPI and ACS Style
Gao, L.; Zuo, H.; Liu, K.; Li, H.; Zhong, G. A New Strategy for Identification of Highly Conserved microRNAs in Non-Model Insect, Spodoptera litura. Int. J. Mol. Sci. 2012, 13, 612-627.
Related Articles
Comments
[Return to top]