Zeranol Down-Regulates p53 Expression in Primary Cultured Human Breast Cancer Epithelial Cells through Epigenetic Modification
1
Laboratory of Reproductive and Molecular Endocrinology, College of Veterinary Medicine, The Ohio State University, Columbus, OH 43210, USA
2
333 Goss Laboratory, 1925 Coffey Road, The Ohio State University Comprehensive Cancer Center, Columbus, OH 43210, USA
*
Author to whom correspondence should be addressed.
Received: 25 January 2011 / Revised: 30 January 2011 / Accepted: 12 February 2011 / Published: 25 February 2011
Abstract
Epidemiological studies have suggested that there are many risk factors associated with breast cancer. Silencing tumor suppressor genes through epigenetic alterations play critical roles in breast cancer initiation, promotion and progression. As a growth promoter, Zeranol (Z) has been approved by the FDA and is widely used to enhance the growth of beef cattle in the United States. However, the safety of Z use as a growth promoter is still under debate. In order to provide more evidence to clarify this critical health issue, the current study investigated the effect of Z on the proliferation of primary cultured human normal and cancerous breast epithelial cells (PCHNBECs and PCHBCECs, respectively) isolated from the same patient using MTS assay, RT-PCR and Western blot analysis. We also conducted an investigation regarding the mechanisms that might be involved. Our results show that Z is more potent to stimulate PCHBCEC growth than PCHNBEC growth. The stimulatory effects of Z on PCHBCECs and PCHBCECs may be mediated by its down-regulating expression of the tumor suppressor gene p53 at the mRNA and protein levels. Further investigation showed that the expression of DNA methylatransferase 1 mRNA and protein levels is up-regulated by treatment with Z in PCHBCECs as compared to PCHNBECs, which suggests a role of Z in epigenetic modification involved in the regulation of p53 gene expression in PCHBCECs. Our experimental results imply the potentially adverse health effect of Z in breast cancer development. Further study is continuing in our laboratory.
View Full-Text
►

▼

Figures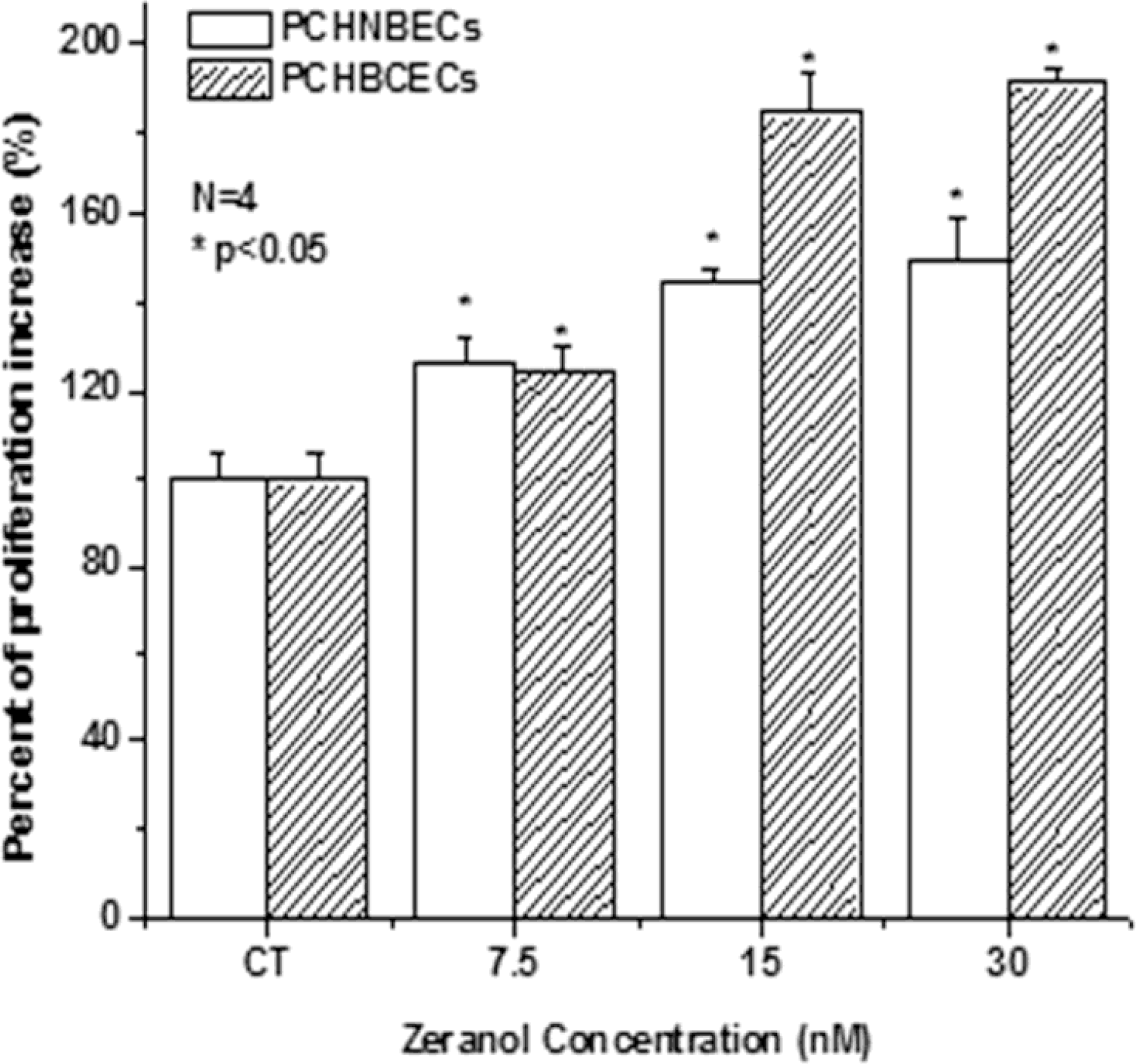 Share & Cite This Article
MDPI and ACS Style
Ye, W.; Xu, P.; Jen, R.; Feng, E.; Zhong, S.; Li, H.; Lin, S.-H.; Liu, J.-Y.; Lin, Y.C. Zeranol Down-Regulates p53 Expression in Primary Cultured Human Breast Cancer Epithelial Cells through Epigenetic Modification. Int. J. Mol. Sci. 2011, 12, 1519-1532.
Related Articles
Comments
[Return to top]