Antinociceptive and Anti-Inflammatory Activities of the Ethanol Extract of Annona muricata L. Leaves in Animal Models
1
Departamento Farmacêutico, Faculdade de Farmácia e Bioquímica, Universidade Federal de Juiz de Fora, Campus Universitário, Martelos, 36036-330, Juiz de Fora, MG, Brazil
2
Departamento de Análises Clínicas, Faculdade de Farmácia e Bioquímica, Universidade Federal de Juiz de Fora, Campus Universitário, Martelos, 36036-330, Juiz de Fora, MG, Brazil
*
Author to whom correspondence should be addressed.
Received: 2 April 2010 / Revised: 23 April 2010 / Accepted: 27 April 2010 / Published: 6 May 2010
Abstract
Antinociceptive and anti-inflammatory activities of the ethanol extract from
Annonamuricata
L. leaves were investigated in animal models. The extract delivered per oral route (p.o.) reduced the number of abdominal contortions by 14.42% (at a dose of 200 mg/kg) and 41.41% (400 mg/kg). Doses of 200 and 400 mg/kg (p.o) inhibited both phases of the time paw licking: firstphase (23.67% and 45.02%) and the secondphase (30.09% and 50.02%), respectively. The extract (p.o.) increased the reaction time on a hot plate at doses of 200 (30.77% and 37.04%) and 400 mg/kg (82.61% and 96.30%) after 60 and 90 minutes of treatment, respectively. The paw edema was reduced by the ethanol extract (p.o.) at doses of 200 (23.16% and 29.33%) and 400 mg/kg (29.50% and 37.33%) after 3 to 4 h of application of carrageenan, respectively. Doses of 200 and 400 mg/kg (p.o.), administered 4 h before the carrageenan injection, reduced the exudate volume (29.25 and 45.74%) and leukocyte migration (18.19 and 27.95%) significantly. These results suggest that
A. muricata
can be an active source of substances with antinociceptive and anti-inflammatory activities.
View Full-Text
►

▼

Figures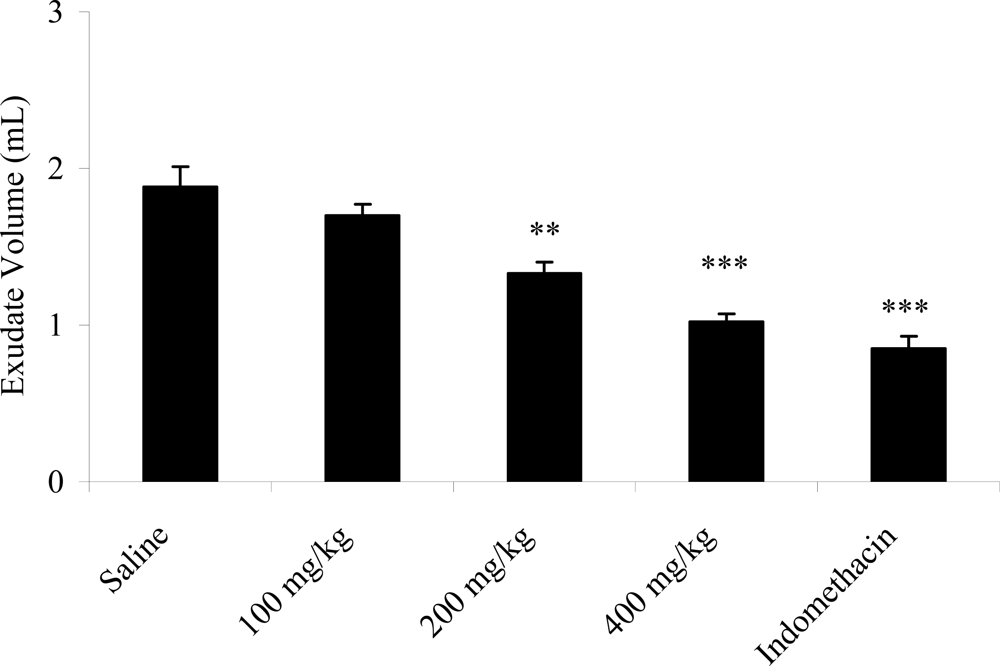 Share & Cite This Article
MDPI and ACS Style
De Sousa, O.V.; Vieira, G.-V.; De Pinho, J.J.R.G.; Yamamoto, C.H.; Alves, M.S. Antinociceptive and Anti-Inflammatory Activities of the Ethanol Extract of Annona muricata L. Leaves in Animal Models. Int. J. Mol. Sci. 2010, 11, 2067-2078.
Related Articles
Comments
[Return to top]