Open Access This article is
freely available
re-usable
Article
Characterization and Purification of Polydisperse Reconstituted Lipoproteins and Nanolipoprotein Particles
1
Chemistry, Materials, Earth, and Life Sciences; Lawrence Livermore National Laboratory; Livermore, CA 94550, USA
2
GWW School of Mechanical Engineering, Georgia Institute of Technology; Atlanta, GA 30332, USA
*
Authors to whom correspondence should be addressed; Tel. +1-404-385-1887; Fax: +1-404-894-8496; Tel. +1-925-423-9298; Fax: +1-925-422-2282
Received: 3 June 2009 / Accepted: 22 June 2009 / Published: 2 July 2009
Abstract
:
Heterogeneity is a fact that plagues the characterization and application of many self-assembled biological constructs. The importance of obtaining particle homogeneity in biological assemblies is a critical goal, as bulk analysis tools often require identical species for reliable interpretation of the results—indeed, important tools of analysis such as x-ray diffraction typically require over 90% purity for effectiveness. This issue bears particular importance in the case of lipoproteins. Lipid-binding proteins known as apolipoproteins can self assemble with liposomes to form reconstituted high density lipoproteins (rHDLs) or nanolipoprotein particles (NLPs) when used for biotechnology applications such as the solubilization of membrane proteins. Typically, the apolipoprotein and phospholipids reactants are self assembled and even with careful assembly protocols the product often contains heterogeneous particles. In fact, size polydispersity in rHDLs and NLPs published in the literature are frequently observed, which may confound the accurate use of analytical methods. In this article, we demonstrate a procedure for producing a pure, monodisperse NLP subpopulation from a polydisperse self-assembly using size exclusion chromatography (SEC) coupled with high resolution particle imaging by atomic force microscopy (AFM). In addition, NLPs have been shown to self assemble both in the presence and absence of detergents such as cholate, yet the effects of cholate on NLP polydispersity and separation has not been systematically examined. Therefore, we examined the separation properties of NLPs assembled in both the absence and presence of cholate using SEC and native gel electrophoresis. From this analysis, NLPs prepared with and without cholate showed particles with well defined diameters spanning a similar size range. However, cholate was shown to have a dramatic affect on NLP separation by SEC and native gel electrophoresis. Furthermore, under conditions where different sized NLPs were not sufficiently separated or purified by SEC, AFM was used to deconvolute the elution pattern of different sized NLPs. From this analysis we were able to purify an NLP subpopulation to 90% size homogeneity by taking extremely fine elutions from the SEC. With this purity, we generate high quality NLP crystals that were over 100 μm in size with little precipitate, which could not be obtained utilizing the traditional size exclusion techniques. This purification procedure and the methods for validation are broadly applicable to other lipoprotein particles.
Keywords:
apolipoproteins; nanolipoprotein particles; bilayer mimetic; nanobiotechnology; atomic force microscopy; size-exclusion chromatography; lipoprotein crystallization
Acknowledgments
The authors are grateful to Dr. Karl Weisgraber for helpful discussions and providing reagents and the anonymous reviewers who provided insightful comments. This work performed under the auspices of the U.S. Department of Energy by Lawrence Livermore National Laboratory under Contract DE-AC52-07NA27344 with support from Lawrence Livermore National Laboratory (LDRD 06-SI-003 awarded to PDH). UCRL-JRNL--235806.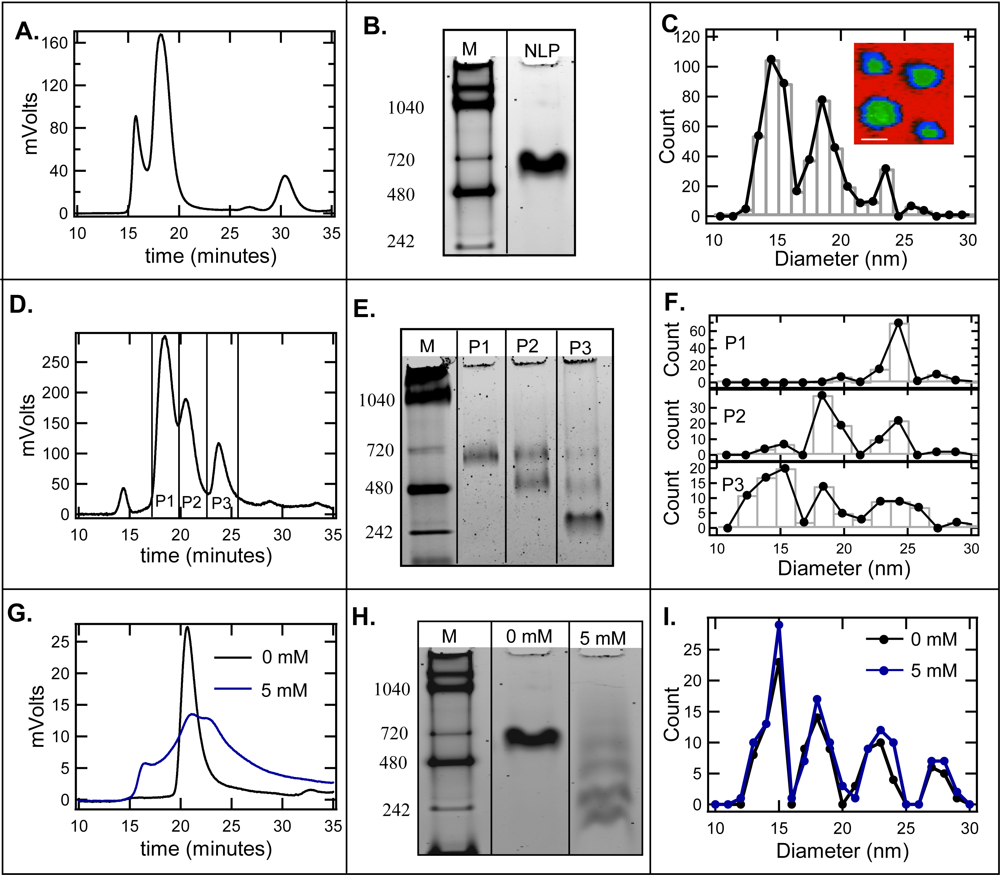 Figure 1. Effect of cholate on NLP size as characterized by SEC, Native gel electrophoresis, and AFM. A. SEC trace, B. Native gel electrophoresis and C. AFM image analysis of NLPs assembled using the cholate-free method. Inset AFM image of the four predominant NLP sizes. Scale bar 25 nm. D. SEC trace, E. Native gel electrophoresis, and F. AFM image analysis of NLPs assembled using the cholate-associated method. G. SEC trace, H. Native gel electrophoresis, and I. AFM image analysis of NLPs assembled using the cholate-associated method in the presence of 0 mM and 5 mM cholate. In G. and I. black line – 0 mM cholate, blue line – 5mM cholate.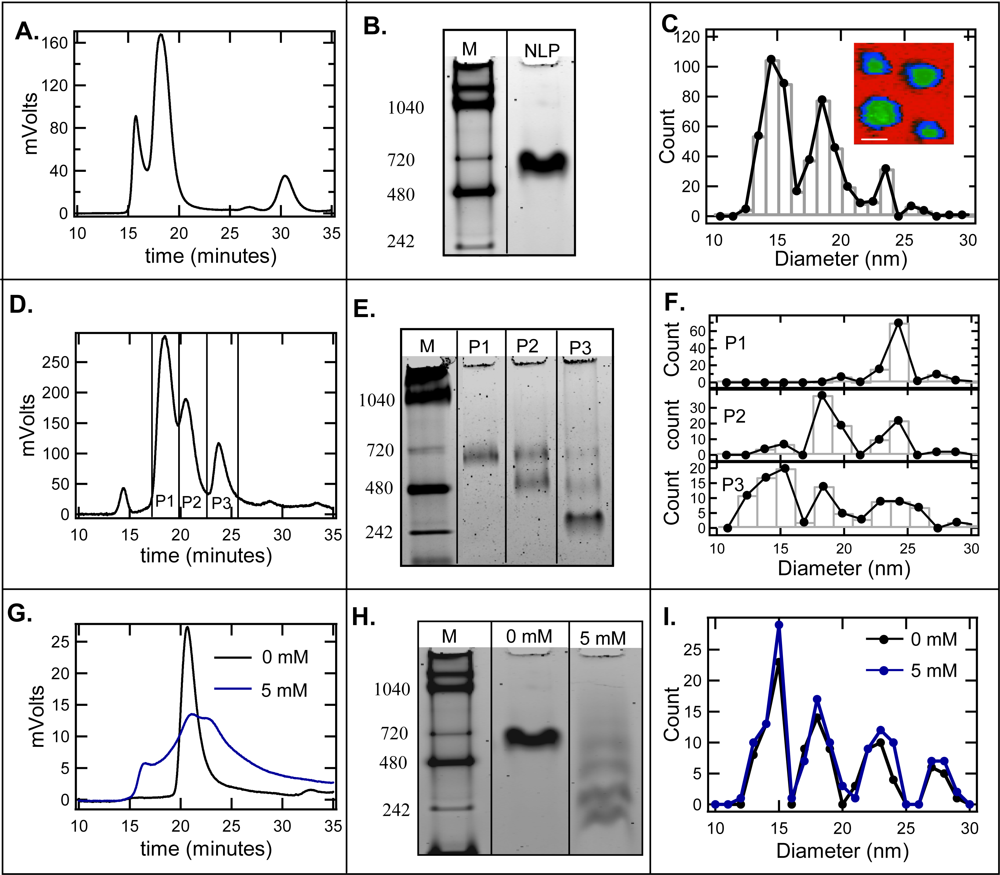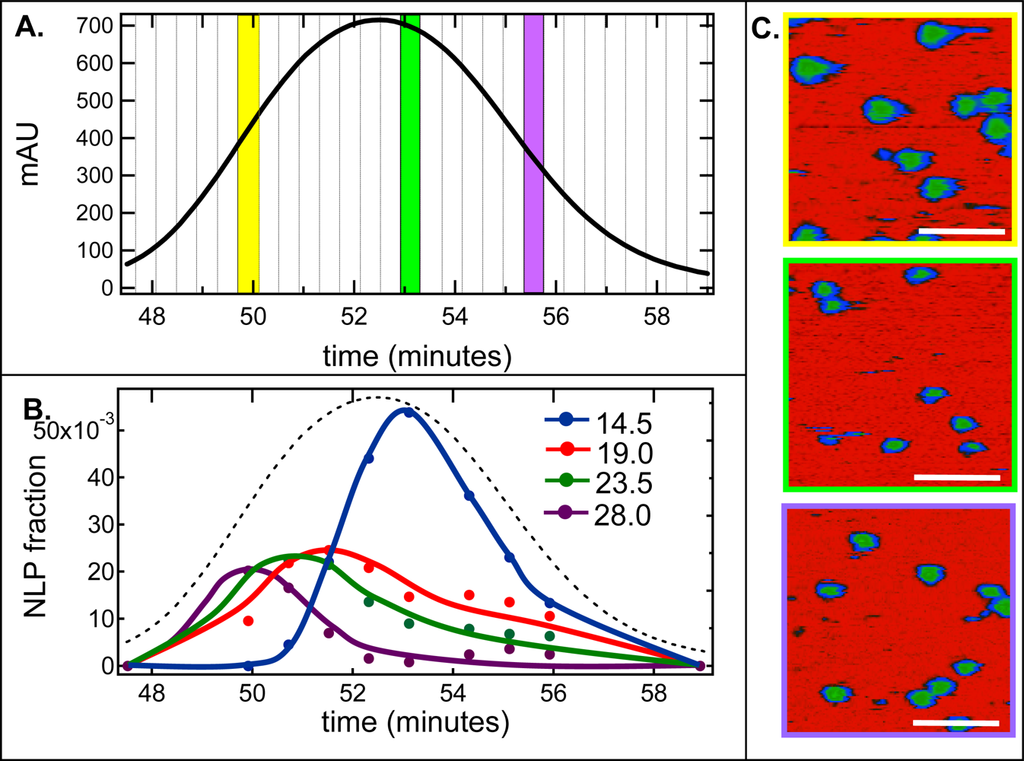 Figure 2. AFM analysis of SEC fine elution fractionation vs. volume purification. A. An expanded view of the NLP-rich peak under cholate-free assembly conditions. Dashed lines indicate the fractions in which elutions were collected. B. Relative proportion of the four different sized NLPs in the SEC fine elution fractions. Dashed line represents SEC trace. C. Representative AFM images from the fractions highlighted in A., highlighted color of the fraction correspond to the images with the same colored border. Scale bar 100 nm.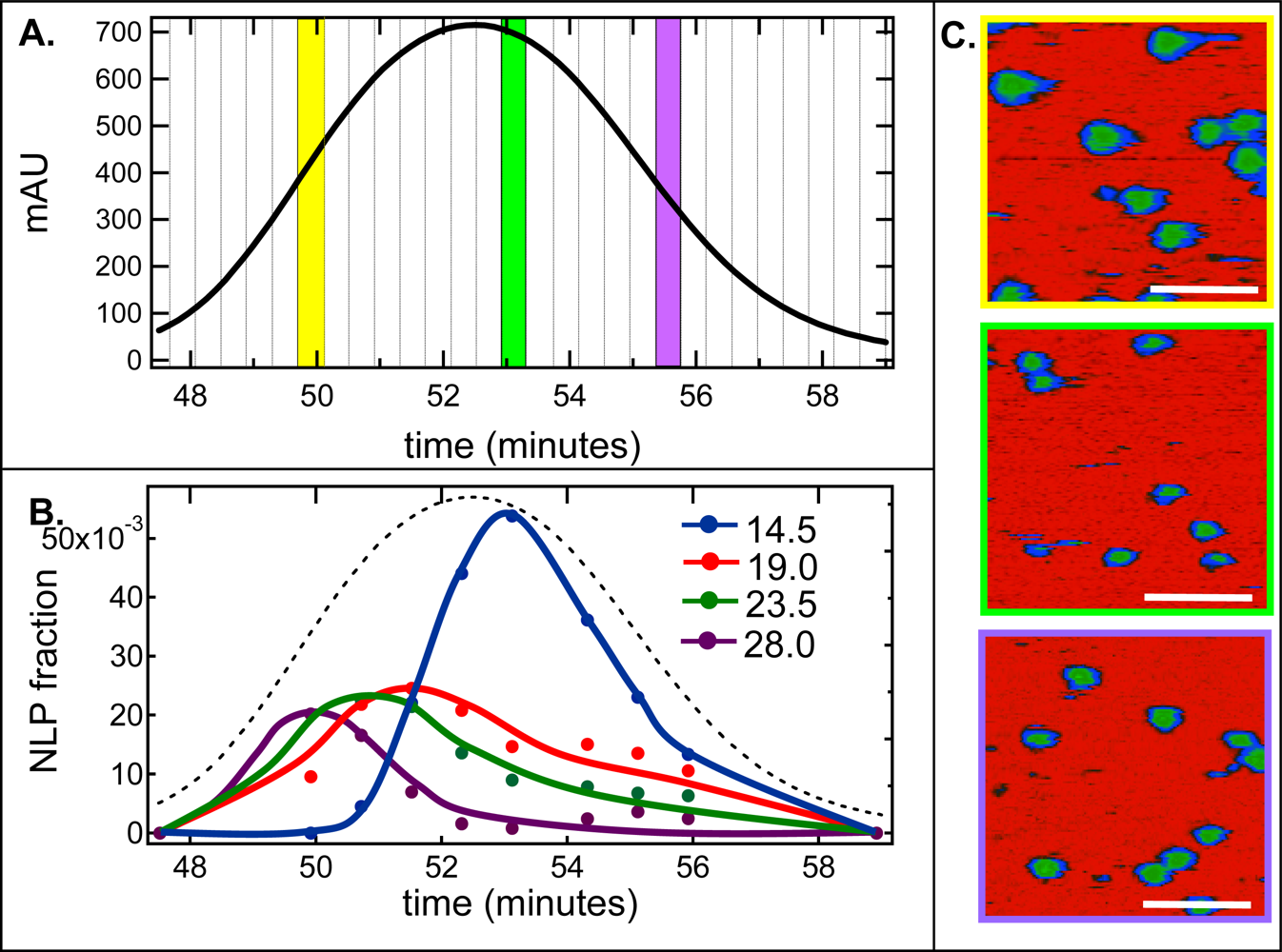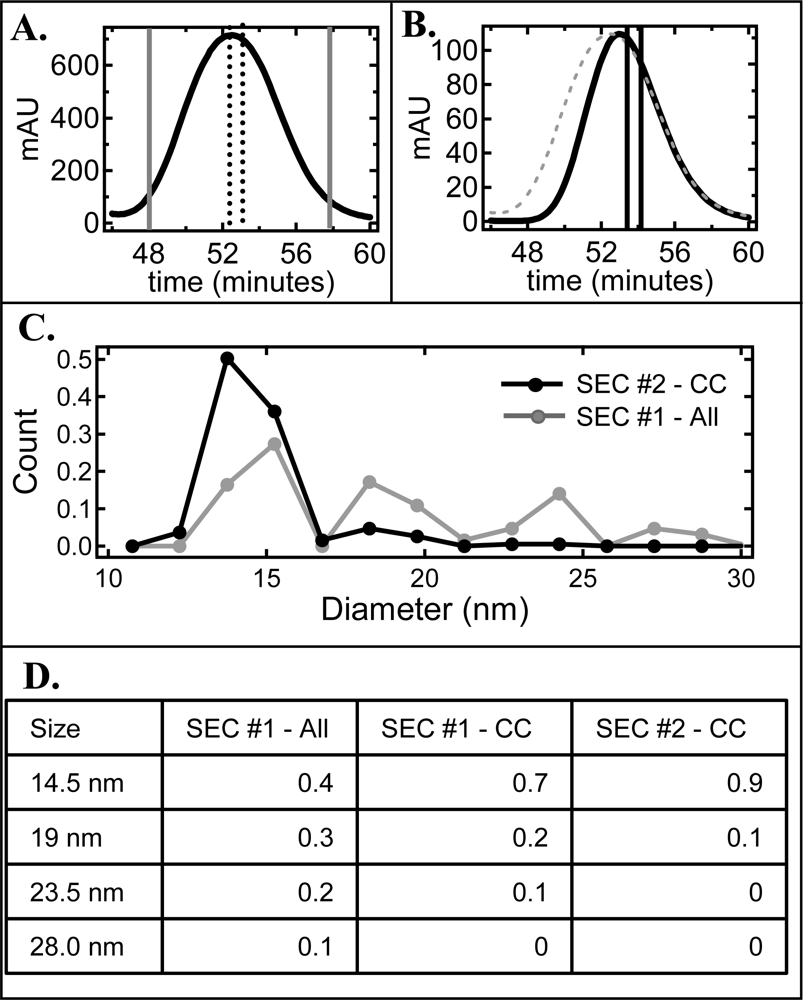 Figure 3. Center-cut SEC re-injection selectively purifies the smallest 14.5 nm NLPs. A. SEC trace of the first injection highlighting the NLP-rich peak (referred to as SEC #1). Dotted line indicates the center cut fraction that was subsequently re-injected (referred to as SEC #1 – CC). B. SEC trace of the second injection of the center cut material indicated in A., again highlighting the NLP-rich peak (referred to as SEC #2 - CC). Dashed SEC trace is the SEC #1 and black line represent the SEC fraction containing the most homogeneous NLP population (referred to as SEC #2 – CC). C. Histogram of diameter distributions for the pooled NLP peak from of SEC #1 (gray line) and the SEC #2 – CC fraction (black line). D. Table of the fraction of discrete NLP sizes (14.5, 19, 23.5, 28 nm) for three different SEC fractions, SEC #1 – All, SEC #1 - CC, and SEC #2 – CC.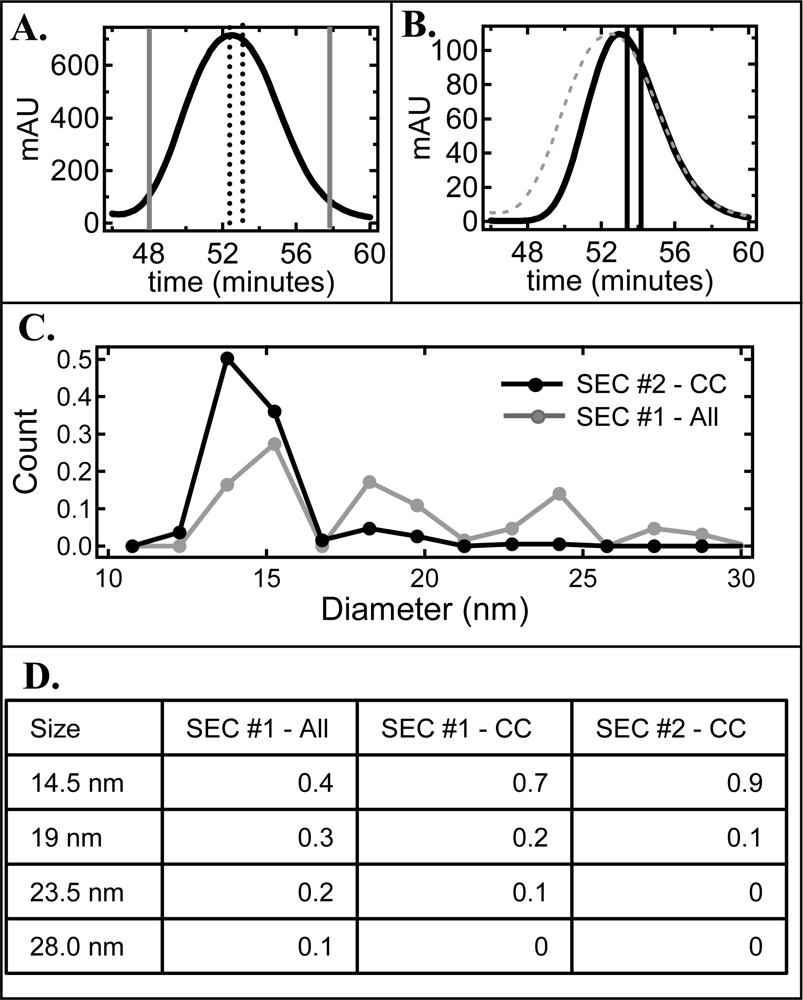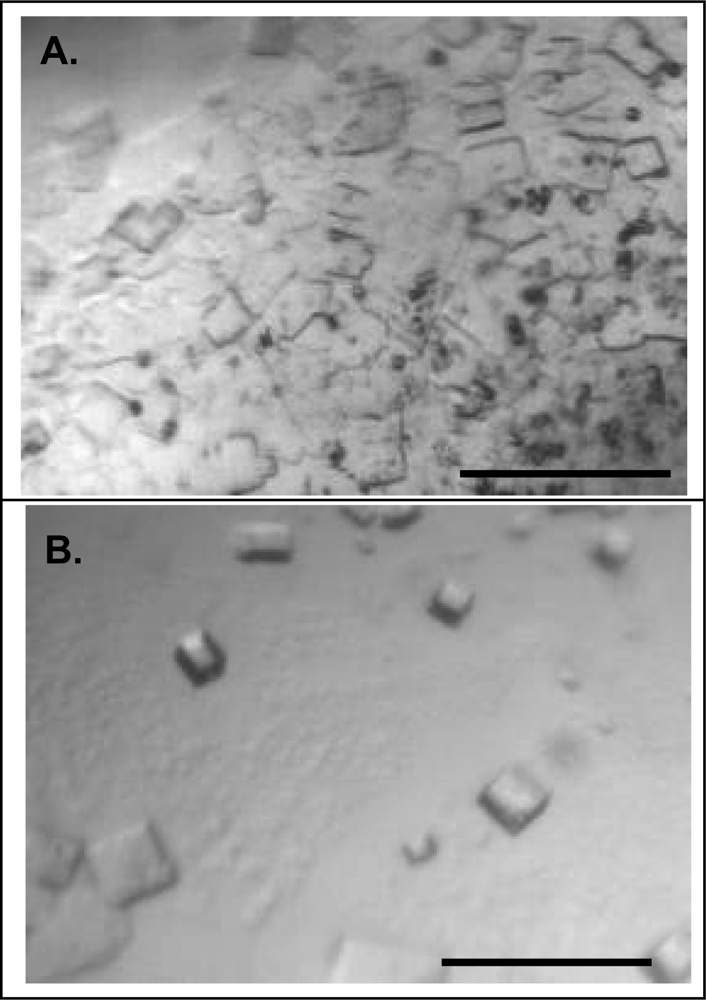 Figure 4. NLP crystal growth. A. Crystals grown from a polydisperse NLP sample (SEC #2 – CC). B. Crystals grown from a monodisperse NLP sample (SEC #1 – All). Scale bar 200 um.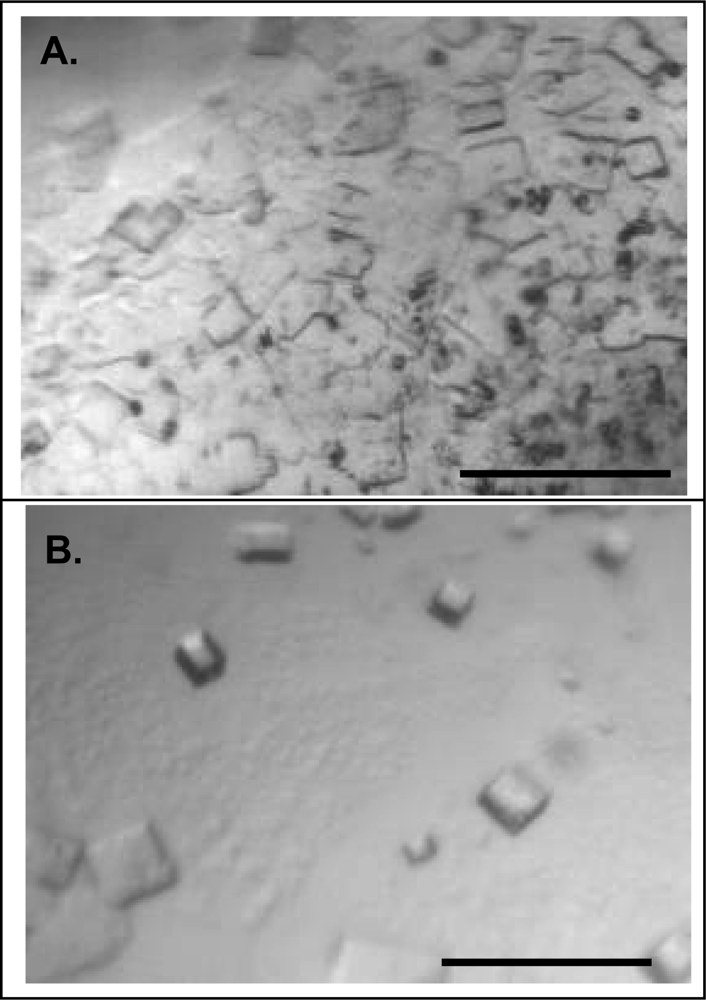 © 2009 by the authors; licensee Molecular Diversity Preservation International, Basel, Switzerland. This article is an open-access article distributed under the terms and conditions of the Creative Commons Attribution license (http://creativecommons.org/licenses/by/3.0/).