Electron-Induced (EI) Mass Fragmentation is Directed by Intra- molecular H-Bonding in Two Isomeric Benzodipyran Systems
1
Department of Pharmaceutical Sciences, Texas Tech University Health Sciences Center, School of Pharmacy, Amarillo, TX 79106, USA
2
School of Pharmacy, North West University, Potchefstroom 2520, South Africa
3
Research and Development, Lab Water Division, Millipore, St Quentin-Yvelines, France
*
Author to whom correspondence should be addressed.
Received: 30 March 2004 / Accepted: 29 July 2004 / Published: 30 September 2004
Abstract
The striking differences observed in the electron-induced (EI) mass fragmentationpathways of two isomeric benzodipyrans are attributable to hydrogen bonding in thesemolecules. In the "angular" isomer, 6-butyryl-5-hydroxy-2,2,8,8-tetramethyl-3,4,9,10-tetra-hydro-2H,8H-benzo[1,2-b:3,4-b
1
]dipyran (2), H-bonding occurs between the aromatic OHgroup and the alpha carbonyl moiety contained in the ortho-phenone group, whereas in the"linear" isomer, 10-butyryl-5-hydroxy-2,2,8,8-tetramethyl-3,4,6,7-tetrahydro-2H,8H-benzo-[1,2-b:5,4-b
1
]dipyran (3), the aromatic OH group is para to the phenone moiety, effectivelyprecluding any H-bonding. Semi-empirical molecular orbital calculations (AM1) were used tocompare predicted sites of ionization with associated fragmentation patterns. In bothmolecules, the highest occupied molecular orbital (HOMO) was located predominantly on thearomatic moiety. Similarly, in the radical cation species of both compounds, maximum spindensity was located over the aromatic rings. Neither the HOMO nor the spin density mapsprovided a rational explanation for the differences in fragmentation patterns of the twobenzodipyran isomers. The H-bonding favors EI alpha aromatic ring C-O bond cleavage in the"angular" benzodipyran and in 5,7-dihydroxy-2,2-dimethyl-8-butyryl chroman (1), a relatedmonochroman also containing a hydrogen proximal to the aromatic ring C-O bond. In contrast,fragmentation of the "linear" benzodipyran followed a different route, which was exhibited byits base peak resulting from the loss of a propyl group from the butyryl side-chain.
View Full-Text
►

▼

Figures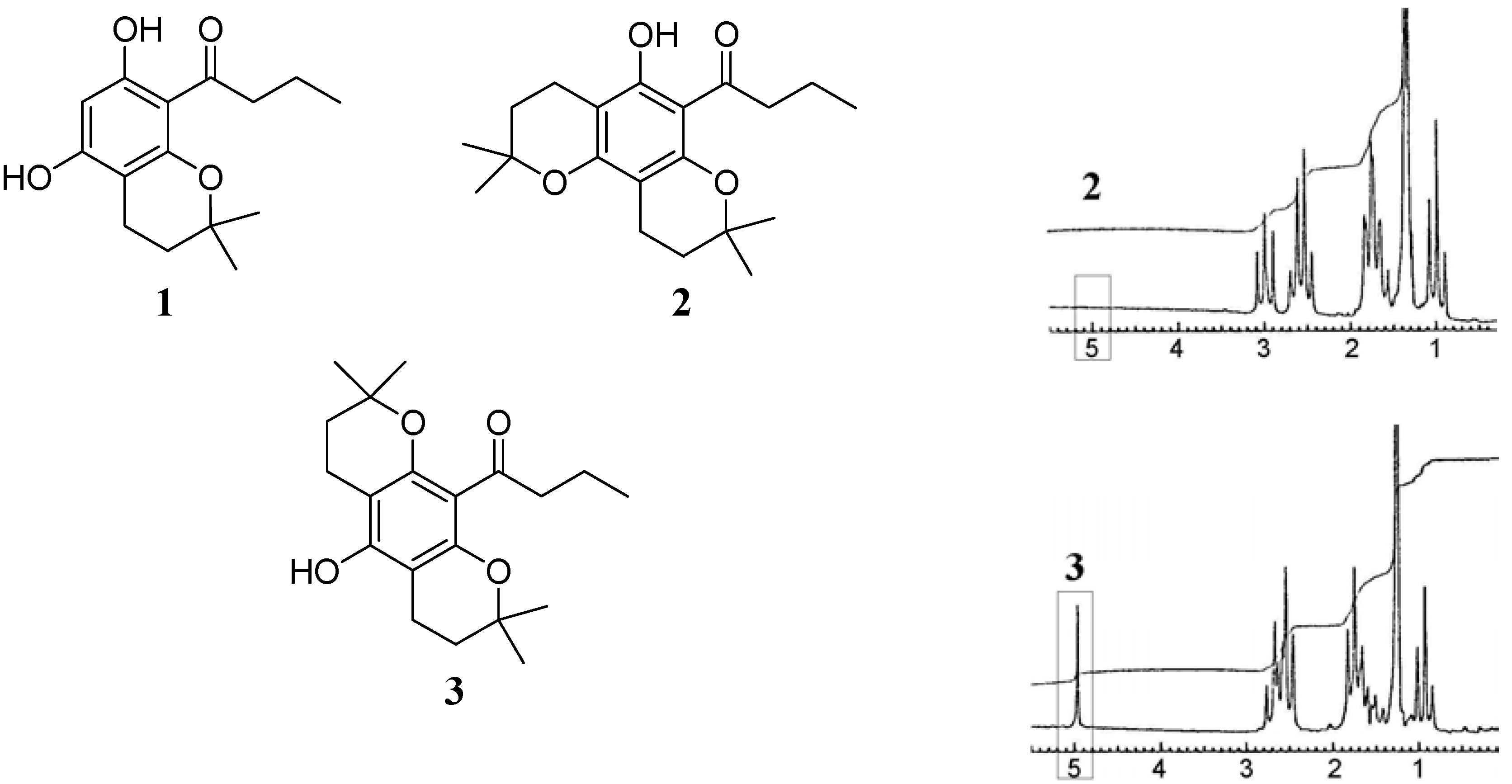 Figure 1
Scifeed alert for new publications
Never miss any articles
matching your research
from any publisher
Get alerts for new papers matching your research
Find out the new papers from selected authors
Updated daily for 49'000+ journals and 6000+ publishers
Share & Cite This Article
MDPI and ACS Style
Van der Schyf, C.J.; Mabic, S. Electron-Induced (EI) Mass Fragmentation is Directed by Intra- molecular H-Bonding in Two Isomeric Benzodipyran Systems. Molecules 2004, 9, 830-841.
Related Articles
Comments
[Return to top]