Synthesis and Antimicrobial Activities of Some Novel Quinoxalinone Derivatives
1
Department of Chemistry, Faculty of Science, Al-Azhar University, Nasr-City 11884, Cairo, Egypt
2
Department of Pharmaceutical Chemistry, Faculty of Pharmacy (Girl's), Al-Azhar University, Nasr-City, Cairo, Egypt
3
Department of Chemistry, Faculty of Science, Al-Azhar University at Assiut, Assiut 71524, Egypt
*
Author to whom correspondence should be addressed.
Received: 29 April 2000 / Accepted: 13 June 2000 / Published: 18 June 2000
Abstract
Condensation of 4-benzoyl-1,2-phenylenediamine with sodium pyruvate in acetic acid furnished two products which were identified as 6-benzoyl and 7-benzoyl-3-methyl-2(1H)quinoxalinones (1a,b). Fusion of 1a with aromatic aldehydes furnished the styryl derivatives 2a-c. Alkylation of 1a,b with dimethyl sulphate or ethyl chloroacetate produced the N-alkyl derivatives 3a,b and 4a,b. Hydrazinolysis of the ester derivative 4a with hydrazine hydrate afforded the hydrazide derivative 5 which underwent condensation with aldehydes to give the corresponding hydrazone derivatives 6a,b. In addition, chlorination of 1a with thionyl chloride afforded the 2-chloro derivative 7 which was subjected to reaction with sodium azide and n-butylamine to yield the corresponding tetrazolo (8) and n-butylamino (9) derivatives, respectively. The structures of the compounds prepared were confirmed by analytical and spectral data. Also, some of the synthesized compounds were screened for antimicrobial activity.
View Full-Text
►

▼

Figures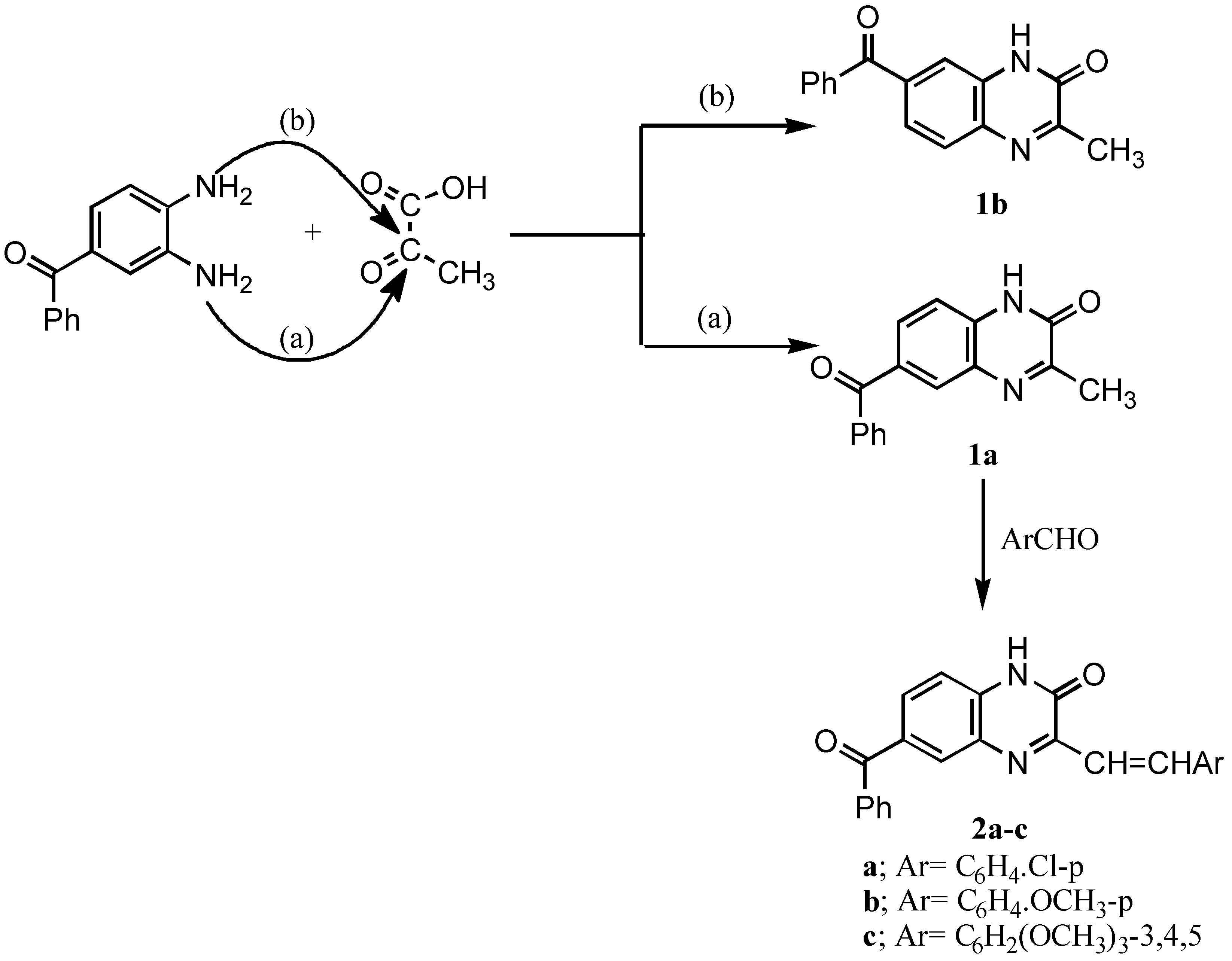 Scheme 1
Share & Cite This Article
MDPI and ACS Style
Ali, M.M.; Ismail, M.M.; El-Gaby, M.S.; Zahran, M.A.; Ammar, Y.A. Synthesis and Antimicrobial Activities of Some Novel Quinoxalinone Derivatives. Molecules 2000, 5, 864-873.
Related Articles
Comments
[Return to top]