Single Laboratory Validation of a Quantitative Core Shell-Based LC Separation for the Evaluation of Silymarin Variability and Associated Antioxidant Activity of Pakistani Ecotypes of Milk Thistle (Silybum Marianum L.)
1
Laboratoire de Biologie des Ligneux et des Grandes Cultures (LBLGC), INRA USC1328, Université d'Orléans, Pôle Universitaire d'Eure et Loir, 21 rue de Loigny la Bataille, 28000 Chartres, France
2
Bioactifs et Cosmétiques, GDR 3711 COSMACTIFS, CNRS/Université d'Orléans, 45100 Orléans, France
3
Department of Biotechnology, Quaid-i-Azam University, Islamabad 45320, Pakistan
4
Ecole Sciences industrielles et technologiques de l'information (SITI), Département Chimie Alimentation Santé Environnement Risque (CASER), Le CNAM 75141 Paris Cedex 03, France
5
Plantes Médicinales et Aromatiques 28, PMA28, 1, place de l'Eglise, 28140 Varize, France
*
Author to whom correspondence should be addressed.
Received: 21 February 2018 / Revised: 6 April 2018 / Accepted: 13 April 2018 / Published: 14 April 2018
Abstract
Fruits of
Silybum marianum
(L.) Gaernt are the main source of taxifolin derived flavonolignans. Together, these molecules constitute a mixture called silymarin with many useful applications for cosmetic and pharmaceutic industries. Here, a validated method for the separation of the silymarin constituents has been developed to ensure precision and accuracy in their quantification. Each compound was separated with a high reproducibility. Precision and repeatability of the quantification method were validated according to the AOAC recommendations. The method was then applied to study the natural variability of wild accessions of
S. marianum
. Analysis of the variation in the fruits composition of these 12 accessions from Pakistan evidenced a huge natural diversity. Correlation analysis suggested a synergistic action of the different flavonolignans to reach the maximal antioxidant activity, as determined by cupric ion reducing antioxidant capacity (CUPRAC) and ferric reducing antioxidant power (FRAP) assays. Principal component analysis (PCA) separated the 12 accessions into three distinct groups that were differing from their silymarin contents, whereas hierarchical clustering analysis (HCA) evidenced strong variations in their silymarin composition, leading to the identification of new silybin-rich chemotypes. These results proved that the present method allows for an efficient separation and quantification of the main flavonolignans with potent antioxidant activities.
View Full-Text
►

▼

Figures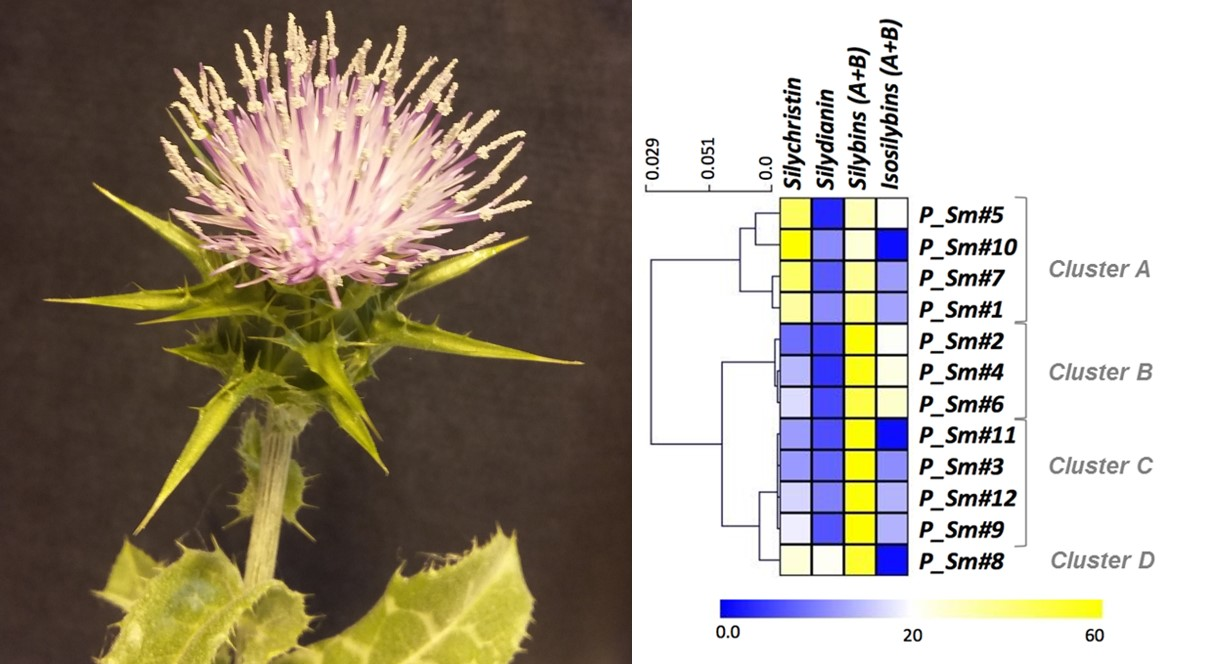 This is an open access article distributed under the
Creative Commons Attribution License
which permits unrestricted use, distribution, and reproduction in any medium, provided the original work is properly cited. (CC BY 4.0).
Share & Cite This Article
MDPI and ACS Style
Drouet, S.; Abbasi, B.H.; Falguières, A.; Ahmad, W.; , S.; Ferroud, C.; Doussot, J.; Vanier, J.R.; Lainé, E.; Hano, C. Single Laboratory Validation of a Quantitative Core Shell-Based LC Separation for the Evaluation of Silymarin Variability and Associated Antioxidant Activity of Pakistani Ecotypes of Milk Thistle (Silybum Marianum L.). Molecules 2018, 23, 904.
Note that from the first issue of 2016, MDPI journals use article numbers instead of page numbers. See further details here.
Related Articles
Comments
[Return to top]