Design, Synthesis, and Biological Evaluation of Novel 1,3,4-Thiadiazole Derivatives as Potential Antitumor Agents against Chronic Myelogenous Leukemia: Striking Effect of Nitrothiazole Moiety
1
Department of Pharmaceutical Chemistry, Faculty of Pharmacy, Anadolu University, Eskişehir 26470, Turkey
2
Department of Bioorganic Medicinal Chemistry, School of Pharmacy, Kumamoto University, Kumamoto 862-0973, Japan
3
Stanford PULSE Institute, SLAC National Accelerator Laboratory, Menlo Park, CA 94025, USA
4
Department of Chemistry of Natural Compounds, National Research Center, Dokki, 12622 Cairo, Egypt
5
Department of Medicinal Chemistry, Faculty of Pharmacy, Minia University, 61519 Minia, Egypt
6
Research Institute for Drug Discovery, School of Pharmacy, Kumamoto University, Kumamoto 862-0973, Japan
†
These authors contributed equally to this work.
*
Authors to whom correspondence should be addressed.
Received: 24 October 2017 / Revised: 16 November 2017 / Accepted: 25 December 2017 / Published: 27 December 2017
Abstract
In an attempt to develop potent antitumor agents, new 1,3,4-thiadiazole derivatives were synthesized and evaluated for their cytotoxic effects on multiple human cancer cell lines, including the K562 chronic myelogenous leukemia cell line that expresses the Bcr-Abl tyrosine kinase.
N
-(5-Nitrothiazol-2-yl)-2-((5-((4-(trifluoromethyl)phenyl)amino)-1,3,4-thiadiazol-2-yl)thio)acetamide (
2
) inhibited the Abl protein kinase with an IC
50
value of 7.4 µM and showed selective activity against the Bcr-Abl positive K562 cell line. Furthermore, a Bcr-Abl-compound
2
molecular modelling simulation highlighted the anchoring role of the nitrothiazole moiety in bonding and hydrophobic interaction with the key amino acid residues. These results provide promising starting points for further development of novel kinase inhibitors.
View Full-Text
►

▼

Figures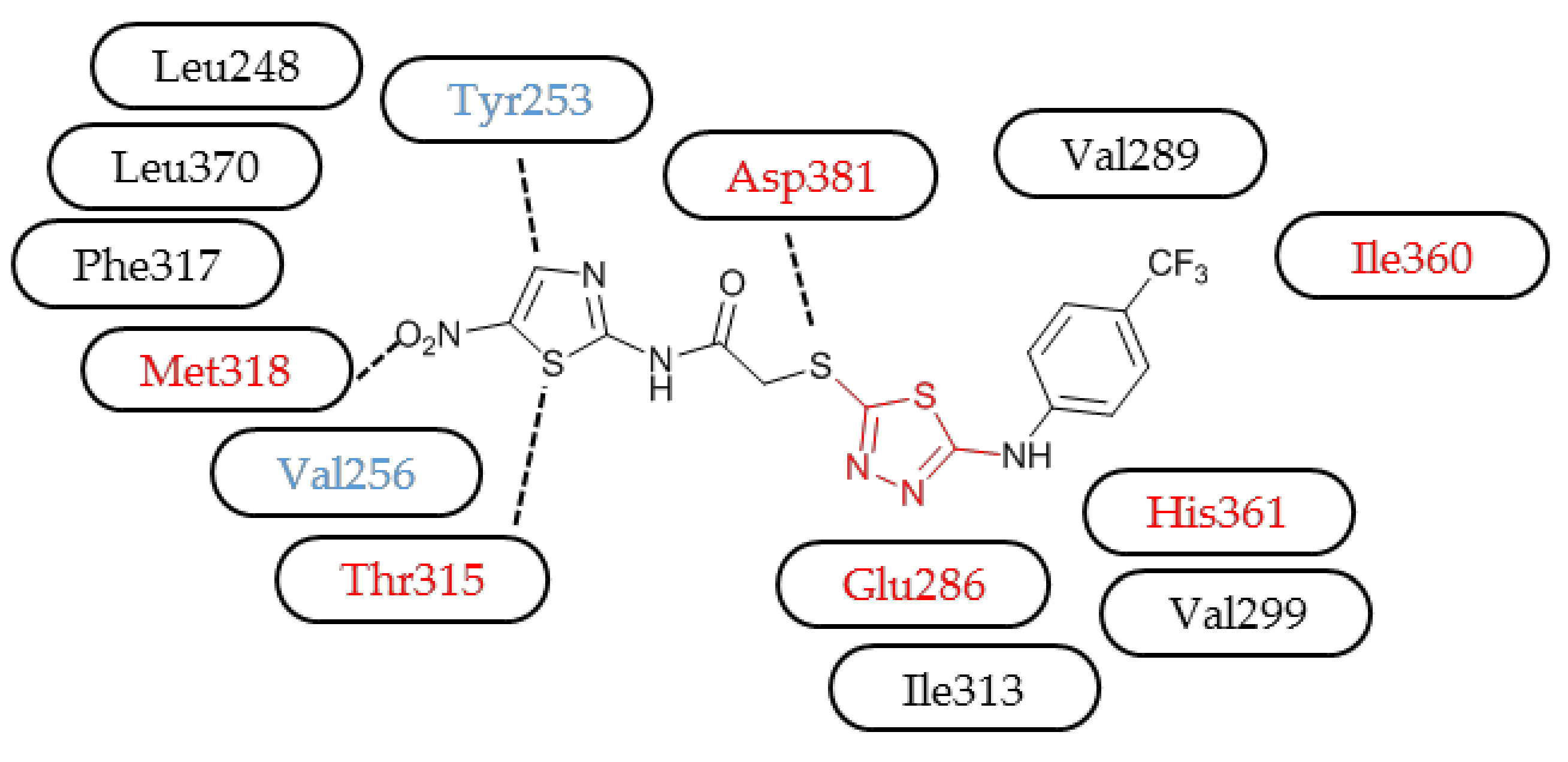 This is an open access article distributed under the
Creative Commons Attribution License
which permits unrestricted use, distribution, and reproduction in any medium, provided the original work is properly cited. (CC BY 4.0).
Share & Cite This Article
MDPI and ACS Style
Altıntop, M.D.; Ciftci, H.I.; Radwan, M.O.; Sever, B.; Kaplancıklı, Z.A.; Ali, T.F.S.; Koga, R.; Fujita, M.; Otsuka, M.; Özdemir, A. Design, Synthesis, and Biological Evaluation of Novel 1,3,4-Thiadiazole Derivatives as Potential Antitumor Agents against Chronic Myelogenous Leukemia: Striking Effect of Nitrothiazole Moiety. Molecules 2018, 23, 59.
Note that from the first issue of 2016, MDPI journals use article numbers instead of page numbers. See further details here.
Related Articles
Comments
[Return to top]