Design, Synthesis and Cytotoxic Evaluation of Novel Chalcone Derivatives Bearing Triazolo[4,3-a]-quinoxaline Moieties as Potent Anticancer Agents with Dual EGFR Kinase and Tubulin Polymerization Inhibitory Effects
1
Pharmaceutical Organic Chemistry Department, Faculty of Pharmacy, Al-Azhar University, Cairo, Nasr City 11884, Egypt
2
Pharmaceutical Organic Chemistry Department, Faculty of Pharmacy, Delta University for Science and Technology, Mansoura 11152, Egypt
3
Pharmacognosy and Pharmaceutical Chemistry Department, Pharmacy College, Taibah University, Al-Madinah Al-Munawarah 41477, Saudi Arabia
*
Author to whom correspondence should be addressed.
Received: 6 December 2017 / Revised: 20 December 2017 / Accepted: 22 December 2017 / Published: 27 December 2017
Abstract
A series of hybrid of triazoloquinoxaline-chalcone derivatives
7a
–
k
were designed, synthesized, fully characterized, and evaluated for their cytotoxic activity against three target cell lines: human breast adenocarcinoma (MCF-7), human colon carcinoma (HCT-116), and human hepatocellular carcinoma (HEPG-2). The preliminary results showed that some of these chalcones like
7b
–
c
, and
7e
–
g
exhibited significant antiproliferative effects against most of the cell lines, with selective or non-selective behavior, indicated by IC
50
values in the 1.65 to 34.28 µM range. In order to investigate the mechanistic aspects of these active compounds, EGFR TK and tubulin inhibitory activities were measured as further biological assays. The EGFR TK assay results revealed that the derivatives
7a
–
c
,
7e
, and
7g
could inhibit the EGFR TK in the submicromolar range (0.093 to 0.661 µM). Moreover, an antitubulin polymerization effect was noted for the active derivatives compared to the reference drug colchicine, with compounds
7e
and
7g
displaying 14.7 and 8.4 micromolar activity, respectively. Furthermore, a molecular docking study was carried out to explain the observed effects and the binding modes of these chalcones with the EGFR TK and tubulin targets.
View Full-Text
►

▼

Figures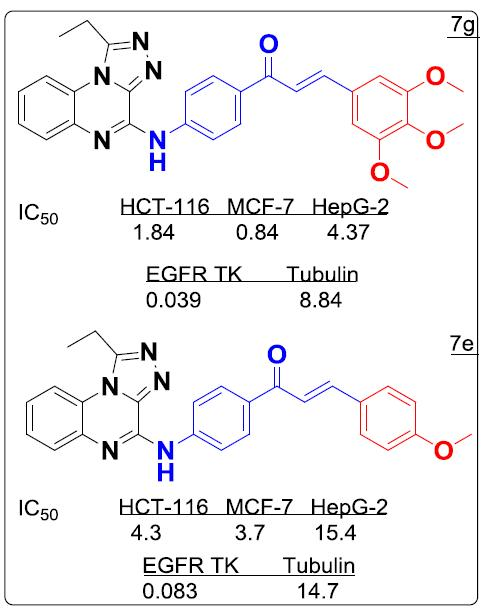 This is an open access article distributed under the
Creative Commons Attribution License
which permits unrestricted use, distribution, and reproduction in any medium, provided the original work is properly cited. (CC BY 4.0).
Share & Cite This Article
MDPI and ACS Style
Alswah, M.; Bayoumi, A.H.; Elgamal, K.; Elmorsy, A.; Ihmaid, S.; Ahmed, H.E.A. Design, Synthesis and Cytotoxic Evaluation of Novel Chalcone Derivatives Bearing Triazolo[4,3-a]-quinoxaline Moieties as Potent Anticancer Agents with Dual EGFR Kinase and Tubulin Polymerization Inhibitory Effects. Molecules 2018, 23, 48.
Note that from the first issue of 2016, MDPI journals use article numbers instead of page numbers. See further details here.
Related Articles
Comments
[Return to top]