Larvicidal and Nematicidal Activities of 3-Acylbarbituric Acid Analogues against Asian Tiger Mosquito, Aedes albopictus, and Pine Wood Nematode, Bursaphelenchus xylophilus
1
Department of Forest Sciences, College of Agriculture and Life Sciences, Seoul National University, Seoul 08826, Korea
2
Research Institute of Agriculture and Life Science, College of Agriculture and Life Sciences, Seoul National University, Seoul 08826, Korea
3
Chemistry Research Laboratory, University of Oxford, 12 Mansfield Rd, Oxford OS1 3TA, UK
4
Division of Life Sciences and Bio-Resource and Environmental Center, College of Life Science & Bioengineering, Incheon National University, 119 Academy-ro, Yeonsu-gu, Incheon 22012, Korea
5
Convergence Research Center for Insect Vector, College of Life Science & Bioengineering, Incheon National University, 119 Academy-ro, Yeonsu-gu, Incheon 22012, Korea
6
Department of Plant Life and Environmental Sciences, hankyong National University, 327 Jungangro, Anseong, Gyeonggi 17579, Korea
*
Authors to whom correspondence should be addressed.
Received: 25 June 2017 / Accepted: 12 July 2017 / Published: 17 July 2017
Abstract
Widespread concern for the occurrence of resistant strains, along with the avoidance of the use of highly toxic insecticides and their wide environmental dispersal, highlights the need for the development of new and safer pest control agents. Natural products provide inspiration for new chemical entities with biological activities, and their analogues are good lead compounds for the development of new pest control agents. For this purpose, we evaluated the larvicidal and nematicidal activities of 48 3-acylbarbituric acid analogues against the Asian tiger mosquito,
Aedes albopictus
and the pine wood nematode,
Bursaphelenchus xylophilus
, organisms of increasing global concern. Among the 48 3-acylbarbituric acid analogues, four compounds—
10
,
14d
,
14g
and
19b
—showed >90% larvicidal activity against
Ae. albopictus
at 10 μg/mL concentration, and one (compound
10
) showed the strongest larvicidal activity against
Ae. albopictus
, with a LC
50
value of 0.22 μg/mL. Only compound
18
showed strong nematicidal activity against pine wood nematode. Most active compounds possessed similar physicochemical properties; thus, actives typically had ClogP values of around 1.40–1.50 and rel-PSA values of 16–17% and these similar cheminformatic characteristics reflect their similar structure. This study indicates that active 3-acylbarbituric acids analogues have potential as lead compounds for developing novel mosquito control agents.
View Full-Text
►

▼

Figures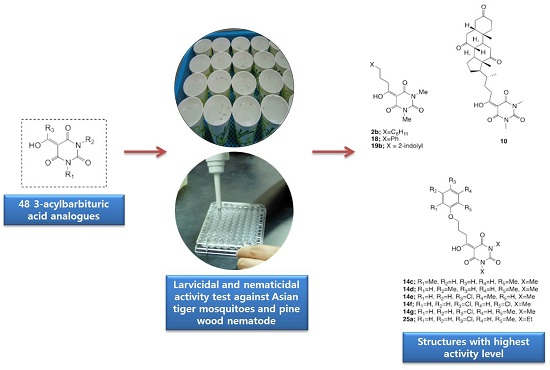 This is an open access article distributed under the
Creative Commons Attribution License
which permits unrestricted use, distribution, and reproduction in any medium, provided the original work is properly cited. (CC BY 4.0).
Share & Cite This Article
MDPI and ACS Style
Seo, S.-M.; Lee, H.-R.; Lee, J.-E.; Jeong, Y.-C.; Kwon, H.-W.; Moon, J.-K.; Moloney, M.G.; Park, I.-K. Larvicidal and Nematicidal Activities of 3-Acylbarbituric Acid Analogues against Asian Tiger Mosquito, Aedes albopictus, and Pine Wood Nematode, Bursaphelenchus xylophilus. Molecules 2017, 22, 1196.
Note that from the first issue of 2016, MDPI journals use article numbers instead of page numbers. See further details here.
Related Articles
Comments
[Return to top]