Influence of Se/N Codoping on the Structural, Optical, Electronic and Photocatalytic Properties of TiO2
1
Department of Chemistry, Namik Kemal University, 59030 Tekirdag, Turkey
2
Department of Molecular Biology and Genetics, Halic University, 34220 Istanbul, Turkey
3
Department of Chemistry, Yildiz Technical University, 34220 Istanbul, Turkey
*
Author to whom correspondence should be addressed.
Academic Editor: Pierre Pichat
Received: 9 January 2017 / Revised: 13 February 2017 / Accepted: 27 February 2017 / Published: 7 March 2017
Abstract
Se
4+
and N
3−
ions were used as codopants to enhance the photocatalytic activity of TiO
2
under sunlight irradiation. The Se/N codoped photocatalysts were prepared through a simple wet-impregnation method followed by heat treatment using SeCl
4
and urea as the dopant sources. The prepared photocatalysts were well characterized by X-ray diffraction (XRD), X-ray photoelectron spectroscopy (XPS), UV-diffuse reflectance spectroscopy (UV-DRS), scanning electron microscopy (SEM) and Raman spectroscopy. The codoped samples showed photoabsorption in the visible light range from 430 nm extending up to 580 nm. The photocatalytic activity of the Se/N codoped photocatalysts was evaluated by degradation of 4-nitrophenol (4-NP). The degradation of 4-NP was highly increased for the Se/N codoped samples compared to the undoped and single doped samples under both UV-A and sunlight irradiation. Aiming to determine the electronic structure and dopant locations, quantum chemical modeling of the undoped and Se/N codoped anatase clusters was performed using Density Functional Theory (DFT) calculations with the hybrid functional (B3LYP) and double-zeta (LanL2DZ) basis set. The results revealed that Se/N codoping of TiO
2
reduces the band gap due to mixing of N2p with O2p orbitals in the valence band and also introduces additional electronic states originating from Se3p orbitals in the band gap.
View Full-Text
►

▼

Figures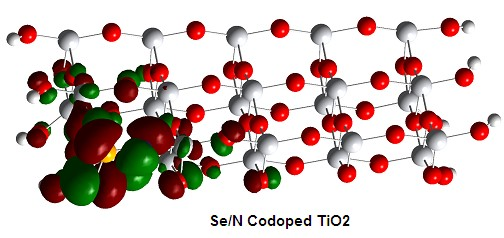 This is an open access article distributed under the
Creative Commons Attribution License
which permits unrestricted use, distribution, and reproduction in any medium, provided the original work is properly cited. (CC BY 4.0).
Share & Cite This Article
MDPI and ACS Style
Gurkan, Y.Y.; Kasapbasi, E.; Turkten, N.; Cinar, Z. Influence of Se/N Codoping on the Structural, Optical, Electronic and Photocatalytic Properties of TiO2. Molecules 2017, 22, 414.
Note that from the first issue of 2016, MDPI journals use article numbers instead of page numbers. See further details here.
Related Articles
Comments
[Return to top]