'Click Chemistry' Synthesis of Novel Natural Product-Like Caged Xanthones Bearing a 1,2,3-Triazole Moiety with Improved Druglike Properties as Orally Active Antitumor Agents
1
Jiangsu Key Laboratory of Drug Design and Optimization, State Key Laboratory of Natural Medicines, China Pharmaceutical University, Nanjing 210009, China
2
Department of Pharmaceutical Engineering, China Pharmaceutical University, Nanjing 211198, China
3
Department of Medicinal Chemistry, China Pharmaceutical University, Nanjing 21009, China
4
Department of Organic Chemistry, China Pharmaceutical University, Nanjing 211198, China
*
Authors to whom correspondence should be addressed.
Received: 12 October 2017 / Revised: 26 October 2017 / Accepted: 26 October 2017 / Published: 27 October 2017
Abstract
DDO-6101
, a natural-product-like caged xanthone discovered previously in our laboratory based on the pharmacophoric scaffold of the
Garcinia
natural product gambogic acid (GA), shows potent cytotoxicity in vitro, but poor efficacy in vivo due to its poor druglike properties. In order to improve the druglike properties and in vivo antitumor potency, a novel series of ten triazole-bearing caged xanthone derivatives of
DDO-6101
has been efficiently synthesized by 'click chemistry' and evaluated for their in vitro antitumor activity and druglike properties. Most of the target compounds have sustained cytotoxicity against A549, HepG2, HCT116, and U2OS cancer cells and possess improved aqueous solubility, as well as permeability. Notably, these caged xanthones are also active towards taxol-resistant or cisplatin-resistant A549 cancer cells. Taking both the in vitro activities and druglike properties into consideration, compound
8g
has been advanced into in vivo efficacy experiments. The results reveal that
8g
(named as
DDO-6318
), both by intravenous or per os administration, are much more potent than the lead
DDO-6101
in A549-transplanted mice models and it could be a promising antitumor candidate for further evaluation.
View Full-Text
►

▼

Figures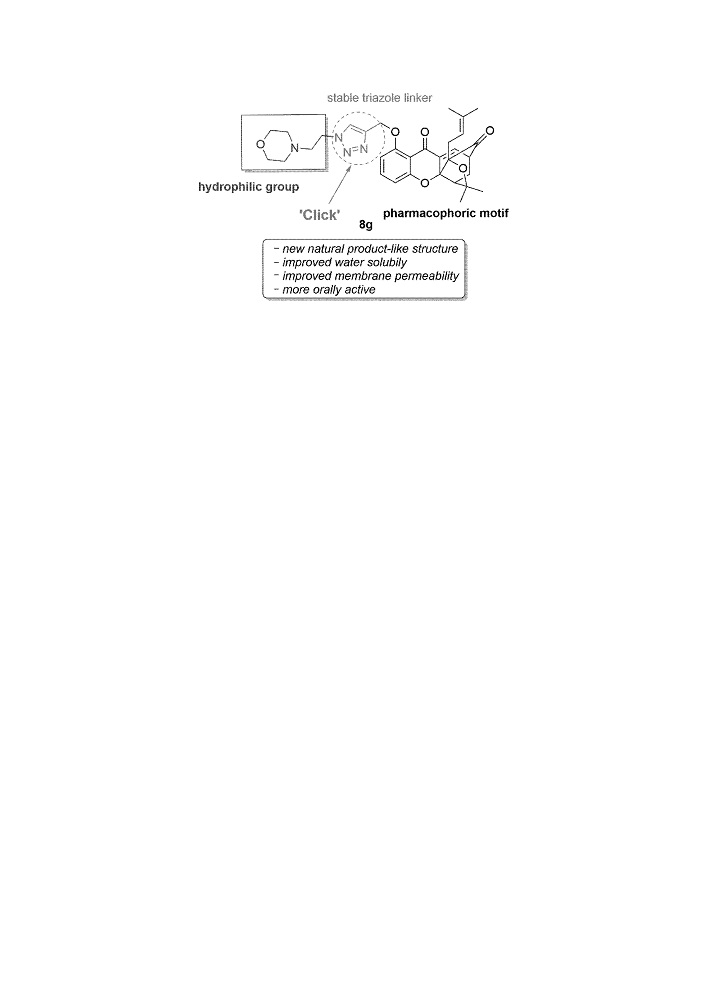 This is an open access article distributed under the
Creative Commons Attribution License
which permits unrestricted use, distribution, and reproduction in any medium, provided the original work is properly cited. (CC BY 4.0).
Share & Cite This Article
MDPI and ACS Style
Li, X.; Wu, Y.; Wang, Y.; You, Q.; Zhang, X. 'Click Chemistry' Synthesis of Novel Natural Product-Like Caged Xanthones Bearing a 1,2,3-Triazole Moiety with Improved Druglike Properties as Orally Active Antitumor Agents. Molecules 2017, 22, 1834.
Note that from the first issue of 2016, MDPI journals use article numbers instead of page numbers. See further details here.
Related Articles
Comments
[Return to top]