MALDI-TOF MS Analysis of Cellodextrins and Xylo-oligosaccharides Produced by Hindgut Homogenates of Reticulitermes santonensis
1
Mass Spectrometry Laboratory, Department of Chemistry, University of Liège, Allée du Six Aout, B6c, Sart-Tilman, B-4000 Liège, Belgium
2
Organic and Biological Analytical Chemistry, Department of Chemistry, University of Liège, Allée du Six Aout, B6c, Sart-Tilman, B-4000 Liège, Belgium
3
Department of Functional and Evolutionary Entomology, Gembloux Agro-Bio Tech, University of Liège, 2 Passage des Déportés, B-5030 Gembloux, Belgium
4
Department of Bio-Industries, Gembloux Agro-Bio Tech, University of Liège, 2 Passage des Déportés, B-5030 Gembloux, Belgium
5
Department of Microbiology and Genomics, Gembloux Agro-Bio Tech, University of Liège, 6 Avenue Maréchal Juin, B-5030 Gembloux, Belgium
*
Author to whom correspondence should be addressed.
Received: 11 February 2014 / Revised: 2 April 2014 / Accepted: 4 April 2014 / Published: 11 April 2014
Abstract
Hindgut homogenates of the termite
Reticulitermes santonensis
were incubated with carboxymethyl cellulose (CMC), crystalline celluloses or xylan substrates. Hydrolysates were analyzed with matrix-assisted laser desorption/ionization coupled to time-of-flight mass spectrometry (MALDI-TOF MS). The method was first set up using acid hydrolysis analysis to characterize non-enzymatic profiles. Commercial enzymes of
Trichoderma reesei
or
T. longibrachiatum
were also tested to validate the enzymatic hydrolysis analysis. For CMC hydrolysis, data processing and visual display were optimized to obtain comprehensive profiles and allow rapid comparison and evaluation of enzymatic selectivity, according to the number of substituents of each hydrolysis product. Oligosaccharides with degrees of polymerization (DPs) ranging from three to 12 were measured from CMC and the enzymatic selectivity was demonstrated. Neutral and acidic xylo-oligosaccharides with DPs ranging from three to 11 were measured from xylan substrate. These results are of interest for lignocellulose biomass valorization and demonstrated the potential of termites and their symbiotic microbiota as a source of interesting enzymes for oligosaccharides production.
View Full-Text
►

▼

Figures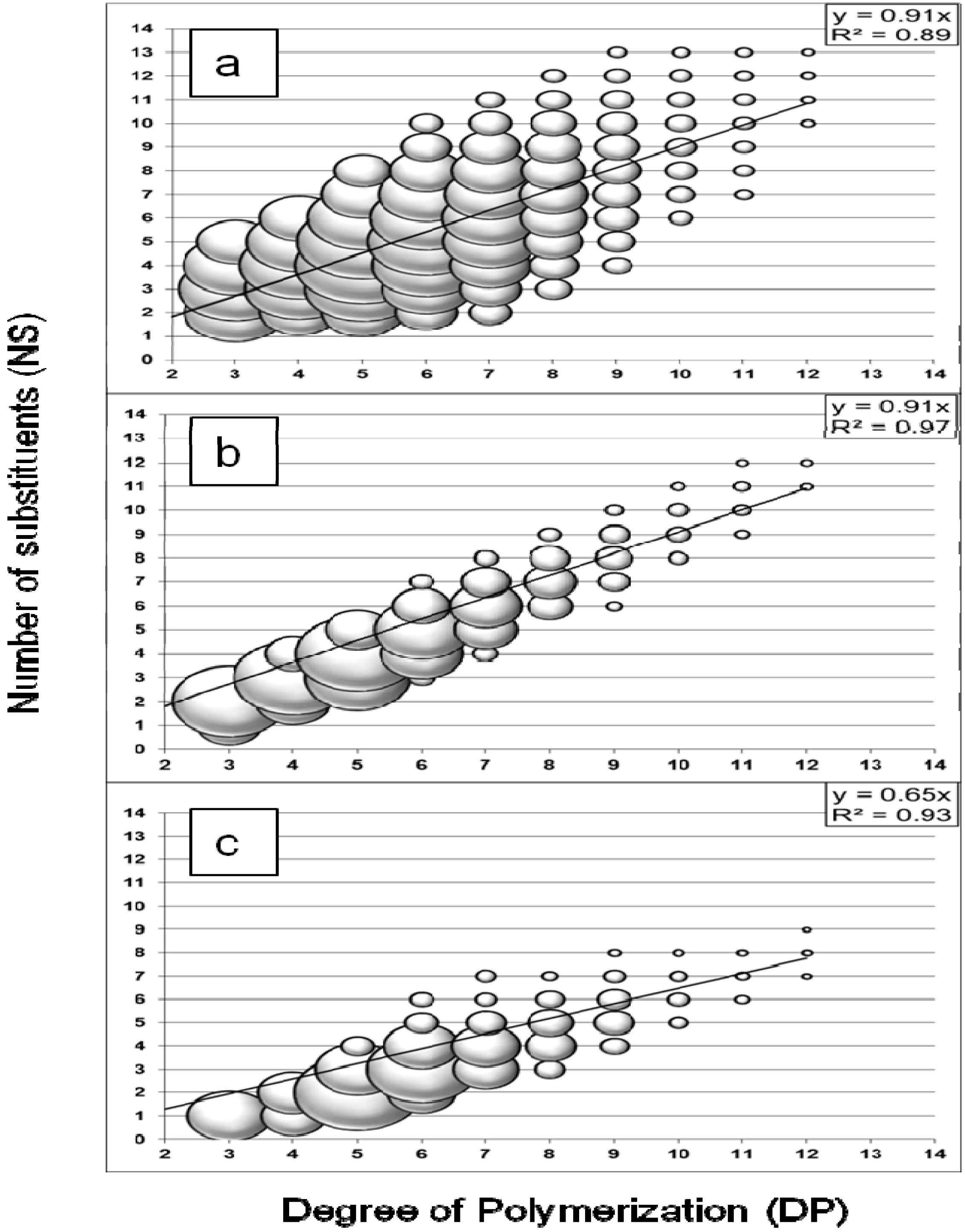 Figure 1
Share & Cite This Article
MDPI and ACS Style
Brasseur, C.; Bauwens, J.; Tarayre, C.; Mattéotti, C.; Thonart, P.; Destain, J.; Francis, F.; Haubruge, E.; Portetelle, D.; Vandenbol, M.; Focant, J.-F.; De Pauw, E. MALDI-TOF MS Analysis of Cellodextrins and Xylo-oligosaccharides Produced by Hindgut Homogenates of Reticulitermes santonensis. Molecules 2014, 19, 4578-4594.
Related Articles
Comments
[Return to top]