Nilotinib Enhances the Efficacy of Conventional Chemotherapeutic Drugs in CD34+CD38− Stem Cells and ABC Transporter Overexpressing Leukemia Cells
State Key Laboratory of Oncology in Southern China, Cancer Center, Sun Yat-sen University, Guangzhou 510060, China
*
Author to whom correspondence should be addressed.
Received: 21 October 2013 / Revised: 11 March 2014 / Accepted: 11 March 2014 / Published: 19 March 2014
Abstract
Incomplete chemotherapeutic eradication of leukemic CD34
+
CD38
−
stem cells is likely to result in disease relapse. The purpose of this study was to evaluate the effect of nilotinib on eradicating leukemia stem cells and enhancing the efficacy of chemotherapeutic agents. Our results showed that ABCB1 and ABCG2 were preferentially expressed in leukemic CD34
+
CD38
−
cells. Nilotinib significantly enhanced the cytotoxicity of doxorubicin and mitoxantrone in CD34
+
CD38
−
cells and led to increased apoptosis. Moreover, nilotinib strongly reversed multidrug resistance and increased the intracellular accumulation of rhodamine 123 in primary leukemic blasts overexpressing ABCB1 and/or ABCG2. Studies with ABC transporter-overexpressing carcinoma cell models confirmed that nilotinib effectively reversed ABCB1- and ABCG2-mediated drug resistance, while showed no significant reversal effect on ABCC1- and ABCC4-mediated drug resistance. Results from cytotoxicity assays showed that CD34
+
CD38
−
cells exhibited moderate resistance (2.41-fold) to nilotinib, compared with parental K562 cells. Furthermore, nilotinib was less effective in blocking the phosphorylation of Bcr-Abl and CrkL (a substrate of Bcr-Abl kinase) in CD34
+
CD38
−
cells. Taken together, these data suggest that nilotinib particularly targets CD34
+
CD38
−
stem cells and MDR leukemia cells, and effectively enhances the efficacy of chemotherapeutic drugs by blocking the efflux function of ABC transporters.
View Full-Text
►

▼

Figures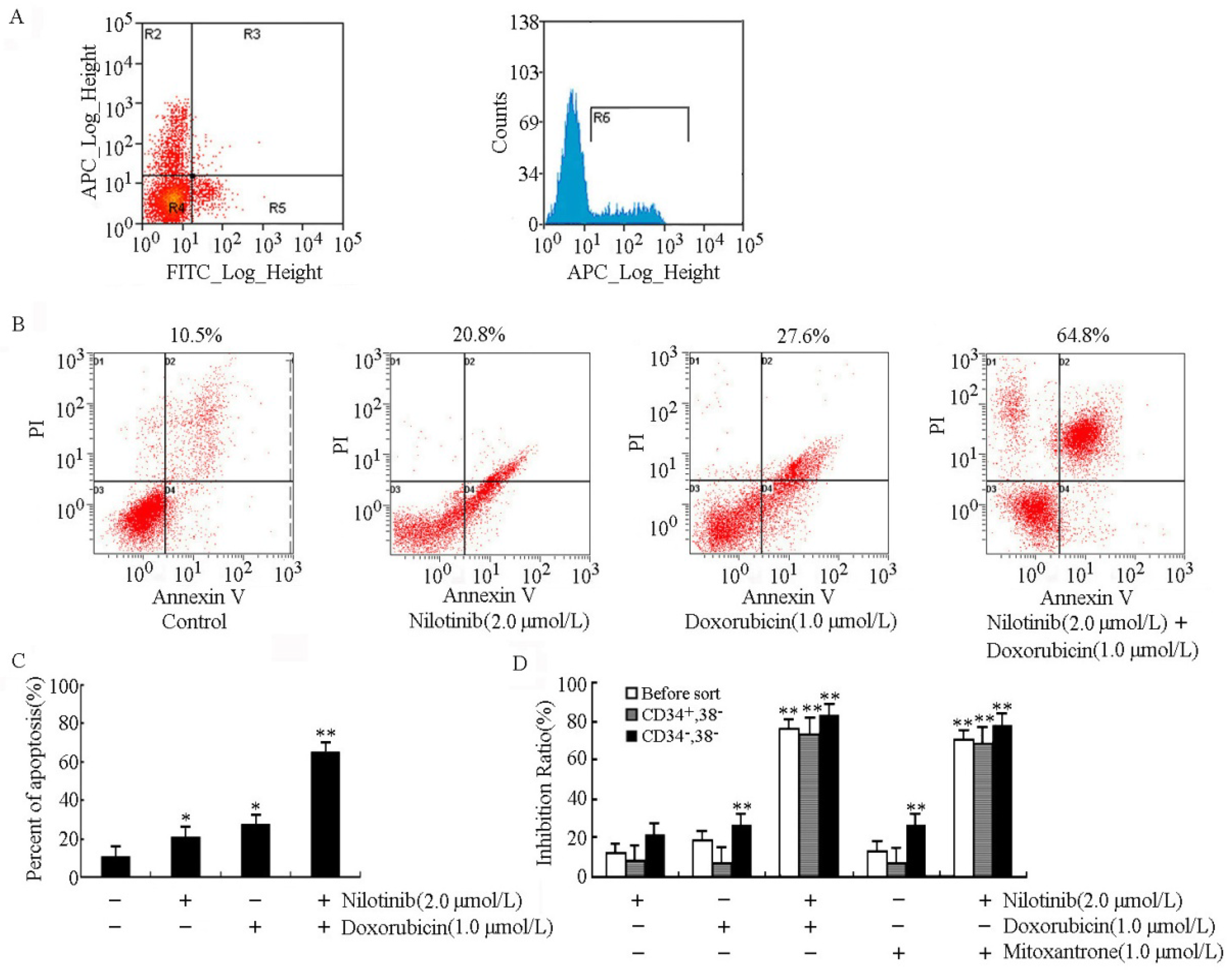 Figure 1
Share & Cite This Article
MDPI and ACS Style
Wang, F.; Wang, X.-K.; Shi, C.-J.; Zhang, H.; Hu, Y.-P.; Chen, Y.-F.; Fu, L.-W. Nilotinib Enhances the Efficacy of Conventional Chemotherapeutic Drugs in CD34+CD38− Stem Cells and ABC Transporter Overexpressing Leukemia Cells. Molecules 2014, 19, 3356-3375.
Related Articles
Comments
[Return to top]