HPLC-DAD-ESI/MS Identification and Quantification of Phenolic Compounds in Ilex paraguariensis Beverages and On-Line Evaluation of Individual Antioxidant Activity
1
Department of Food Science, Faculty of Food Engineering, University of Campinas-UNICAMP, P.O. Box 6121, 13083-862 Campinas, SP, Brazil
2
Department of Biosystems Engineering, Faculty of Animal Science and Food Engineering, University of São Paulo, 13635-900 Pirassununga, SP, Brazil
3
Institute of Chemistry, University of São Paulo, P.O. Box 26077, 05513-970 São Paulo, SP, Brazil
*
Author to whom correspondence should be addressed.
Received: 27 December 2012 / Revised: 19 March 2013 / Accepted: 20 March 2013 / Published: 28 March 2013
Abstract
"Chimarrão" and "tererê" are maté (dried, toasted and milled
Ilex paraguariensis
leaves and stemlets) beverages widely consumed in South America. This paper describes the application of HPLC-DAD-ESI/MS method for the identification and quantification of caffeoylquinic acids (CQA), flavonol glycosides and purine alkaloids in these beverages. The beverage samples were prepared from commercial lots of maté from Southern Brazil. The caffeoylquinic acids, 4,5-diCQA, 3-CQA, 5-CQA, and 4-CQA were the major compounds, having 238–289, 153–242, 183–263, and 123–188 μg/mL, respectively, for chimarrão and 206–265, 122–218, 164–209, 103–169 μg/mL, respectively, for tererê. Caffeine also had high amounts while glycosides of quercetin and kaempferol were found at much lower levels. The individual antioxidant activity was also determined by an on-line system that measured their ABTS
•+
radical scavenging activity, showing that the antioxidant capacity was not proportional to the concentrations of the phenolic compounds. 3-CQA, quercetina-3-
O
-ramnosylglucoside, and quercetina-3-
O
-glucoside were the major contributors to the antioxidant capacity, although the quercetin glycosides had concentrations less than 10 times that of 3-CQA.
View Full-Text
►

▼

Figures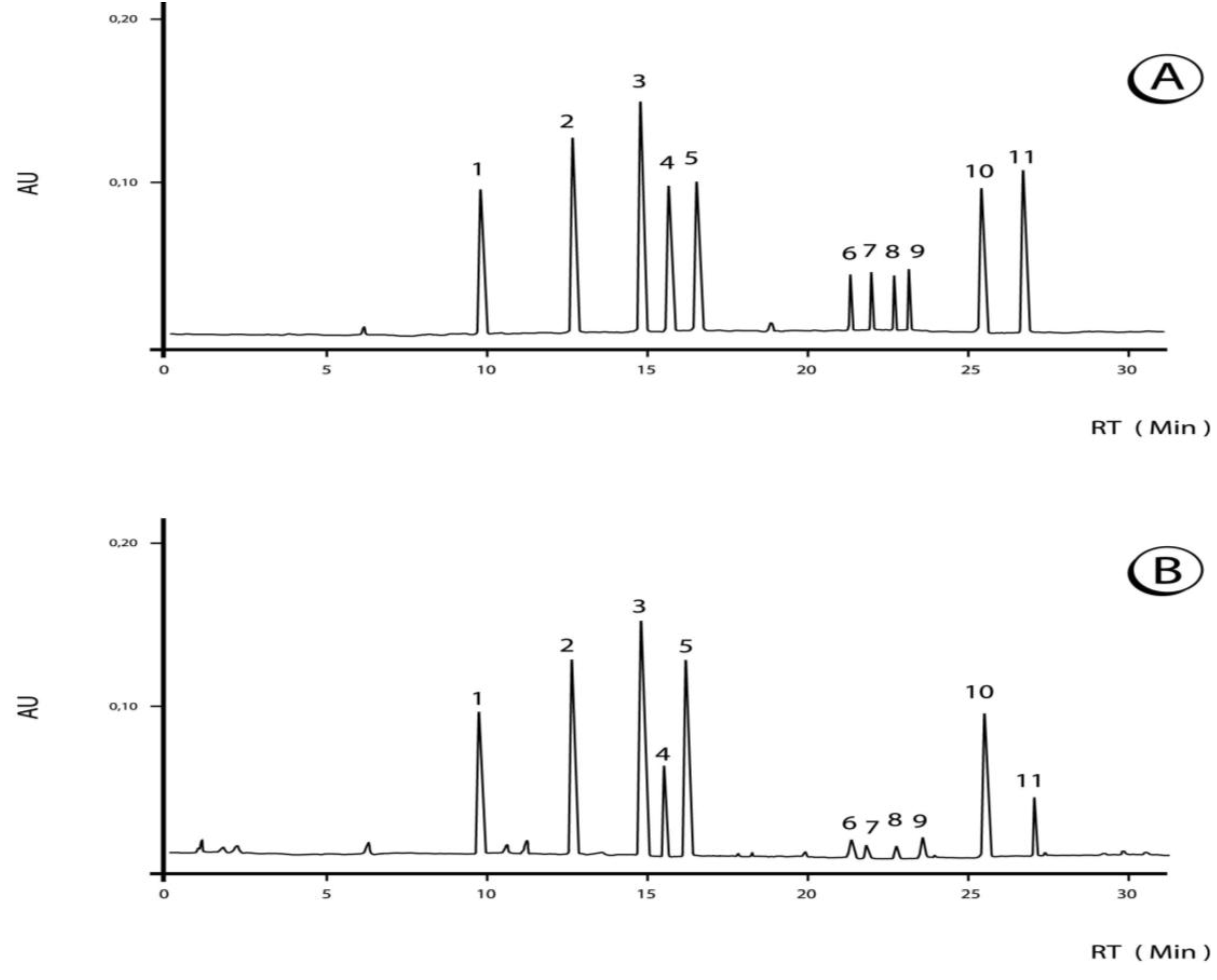 Figure 1
Share & Cite This Article
MDPI and ACS Style
Peres, R.G.; Tonin, F.G.; Tavares, M.F.M.; Rodriguez-Amaya, D.B. HPLC-DAD-ESI/MS Identification and Quantification of Phenolic Compounds in Ilex paraguariensis Beverages and On-Line Evaluation of Individual Antioxidant Activity. Molecules 2013, 18, 3859-3871.
Related Articles
Comments
[Return to top]