Synthesis, Antibacterial and Antifungal Activity of Some New Pyrazoline and Pyrazole Derivatives
Department of Chemistry, Faculty of Science, University of Alexandria, PO Box 426, Ibrahimia 21321, Alexandria, Egypt
Received: 31 October 2012 / Revised: 7 January 2013 / Accepted: 9 January 2013 / Published: 28 February 2013
Abstract
A series of 2-pyrazolines
5
–
9
have been synthesized from
α,β
-unsaturated ketones
2
–
4
. New 2-pyrazoline derivatives
13
–
15
bearing benzenesulfonamide moieties were then synthesized by condensing the appropriate chalcones
2
–
4
with 4-hydrazinyl benzenesulfonamide hydrochloride. Ethyl [1,2,4] triazolo[3,4-
c
][1,2,4]triazino[5,6-
b
]-5
H
-indole-5-ethanoate (
26
) and 1-(5
H
-[1,2,4]triazino[5,6-
b
] indol-3-yl)-3-methyl-1
H
-pyrazol-5(4
H
)-one (
32
) were synthesized from 3-hydrazinyl-5
H
-[1,2,4]triazino[5,6-
b
]indole (
24
). On the other hand ethyl[1,2,4]triazolo[3,4-
c
][1,2,4]triazino[5,6-
b
]-5,10-dihydroquinoxaline- 5-ethanoate (
27
) and 1-(5,10-dihydro-[1,2,4]triazino[5,6-
b
]quinoxalin-3-yl)-3-methyl-1
H
-pyrazol-5(4
H
)-one (
33
) were synthesized from 3-hydrazinyl-5,10-dihydro-[1,2,4]triazino[5,6-
b
]quinoxaline (
25
) by reaction with diethyl malonate or ethyl acetoacetate, respectively. Condensation of 6,6-dimethyl-4-
oxo
-4,5,6,7-tetrahydro-1
H
-indole-2-carbaldehyde (
1
') with compound
24
or
25
afforded the corresponding Schiff's bases
36
and
37
, respectively. Reaction of the Schiff's base
37
with benzoyl hydrazine or acetic anhydride afforded benzohydrazide derivative
39
and the cyclized compound
40
, respectively. Furthermore, the pyrazole derivatives
42
–
44
were synthesized by cyclization of hydrazine derivative
25
with the prepared chalcones
2
–
4
. All the newly synthesized compounds have been characterized on the basis of IR and
1
H-NMR spectral data as well as physical data. Antimicrobial activity against the organisms
E. coli
ATCC8739 and
P. aeruginosa
ATCC 9027 as examples of Gram-negative bacteria,
S. aureus
ATCC 6583P as an example of Gram-positive bacteria and
C. albicans
ATCC 2091 as an example of a yeast-like fungus have been studied using the Nutrient Agar (NA) and Sabouraud Dextrose Agar (SDA) diffusion methods. The best performance was found for the compounds
16
,
17
,
19
and
20
.
View Full-Text
►

▼

Figures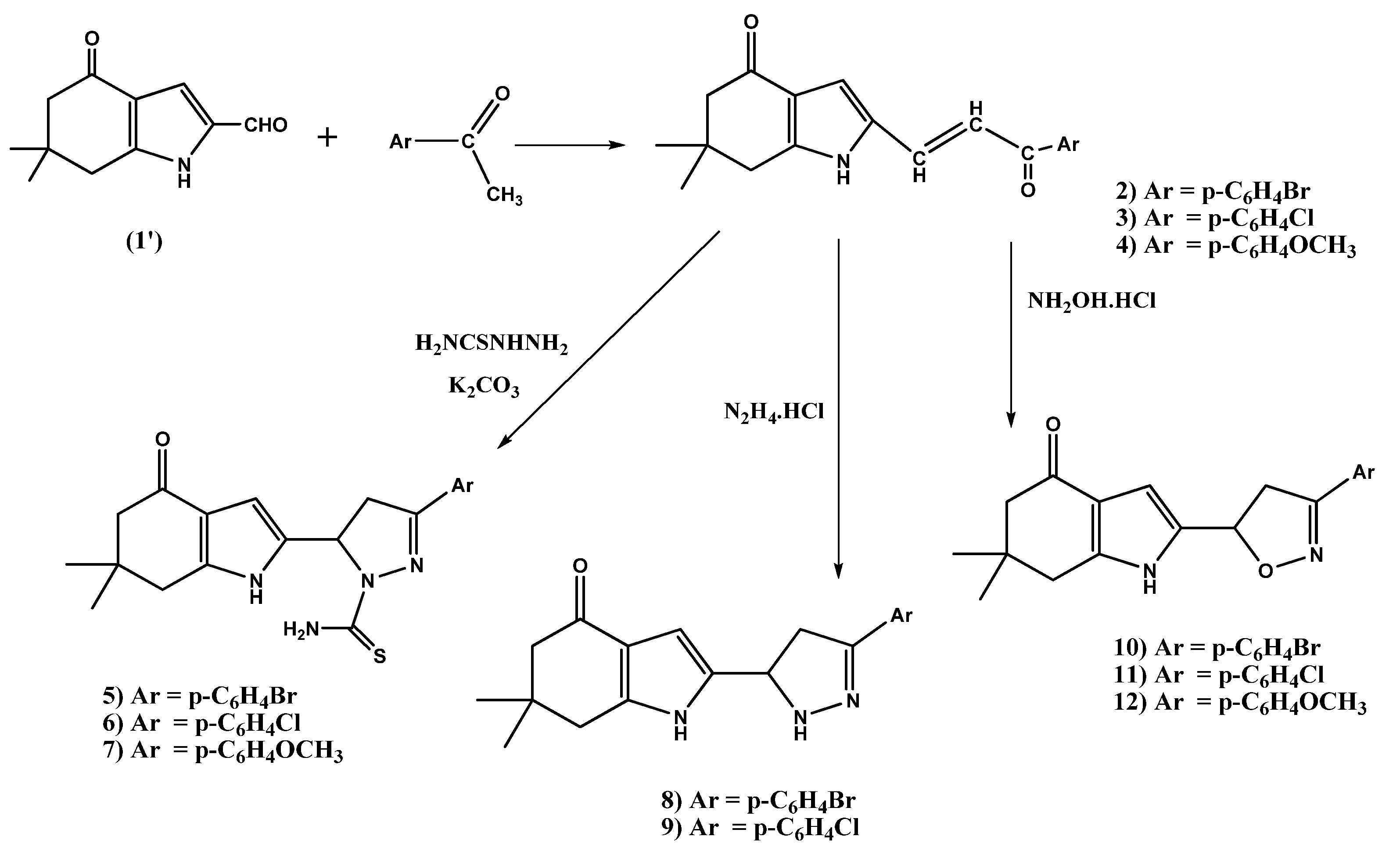 Figure 1
Share & Cite This Article
MDPI and ACS Style
Hassan, S.Y. Synthesis, Antibacterial and Antifungal Activity of Some New Pyrazoline and Pyrazole Derivatives. Molecules 2013, 18, 2683-2711.
Related Articles
Comments
[Return to top]