The Anti-Lung Cancer Activities of Steroidal Saponins of P. polyphylla Smith var. chinensis (Franch.) Hara through Enhanced Immunostimulation in Experimental Lewis Tumor-Bearing C57BL/6 Mice and Induction of Apoptosis in the A549 Cell Line
1
Department of Oncology, The Affiliated Hospital of Nanjing University of Chinese Medicine, No.155, Hanzhong Road, Nanjing 210029, China
2
Key Laboratory of New Drug Delivery Systems of Chinese Meteria Medica, Jiangsu Provincial Academy of Chinese Medicine, Shi Zi street 100#, Hongshan road, Jiangsu, Nanjing 210028, China
3
Department of Oncology, The Frist Affiliated Hospital of Guangxi University of Chinese Medicine, Guangxi, Nanning 530001, China
4
No. 1 Clinical Medical College, Nanjing University of Chinese Medicine, Nanjing 210029, China
†
These authors contributed equally to this work.
*
Authors to whom correspondence should be addressed.
Received: 15 August 2013 / Revised: 8 October 2013 / Accepted: 9 October 2013 / Published: 17 October 2013
Abstract
P. polyphylla
Smith var. chinensis (Franch.) Hara (PPSCFH) has been used as medicinal Paris for the prevention and treatment of cancers in China for thousands of years. Its main components, steroidal saponins (PRS), have been confirmed to inhibit tumor growth. In the present study, the immunostimulation of PRS was investigated in Lewis bearing-C57BL/6 mice while the induction of apoptosis in A549 cells was also studied. The treatment with PRS (2.5, 5.0 and 7.5 mg/kg) significantly inhibited tumor, volume, and weight in the C57BL/6 mice. The rates of inhibition of PRS (at 2.5, 5.0 and 7.5 mg/kg) were 26.49 ± 17.30%, 40.32 ± 18.91% and 54.94 ± 16.48%, respectively. The spleen and thymus indexes were increased remarkably, while the levels of inflammatory cytokines including TNF-α, IL-8 and IL-10 in serum were decreased according to ELISA assays. For A549 cells, Hoechst 33342 staining and annexin V/PI by flow cytometry showed that PRS (0.25, 0.50 and 0.75 mg/mL) induced nuclear changes of A549 cells with DNA condensation and fragmentations of chromatin, as well as inducing apoptosis. Furthermore, PRS could also attenuate the over-generation of intracellular ROS. Western blotting analysis showed a significant decrease on the expressions of proinflammatory cytokines MCP-1, IL-6 and TGF-β1, as well as cell adhesion molecule ICAM-1, by treatment with PRS. Our results demonstrated that the inhibition of PRS on tumor growth might be associated with the amelioration of inflammation responses, induction of apoptosis, as well as the decrease of ROS. These results suggested that PRS implied a potential therapeutic effect in the lung cancer treatment.
View Full-Text
►

▼

Figures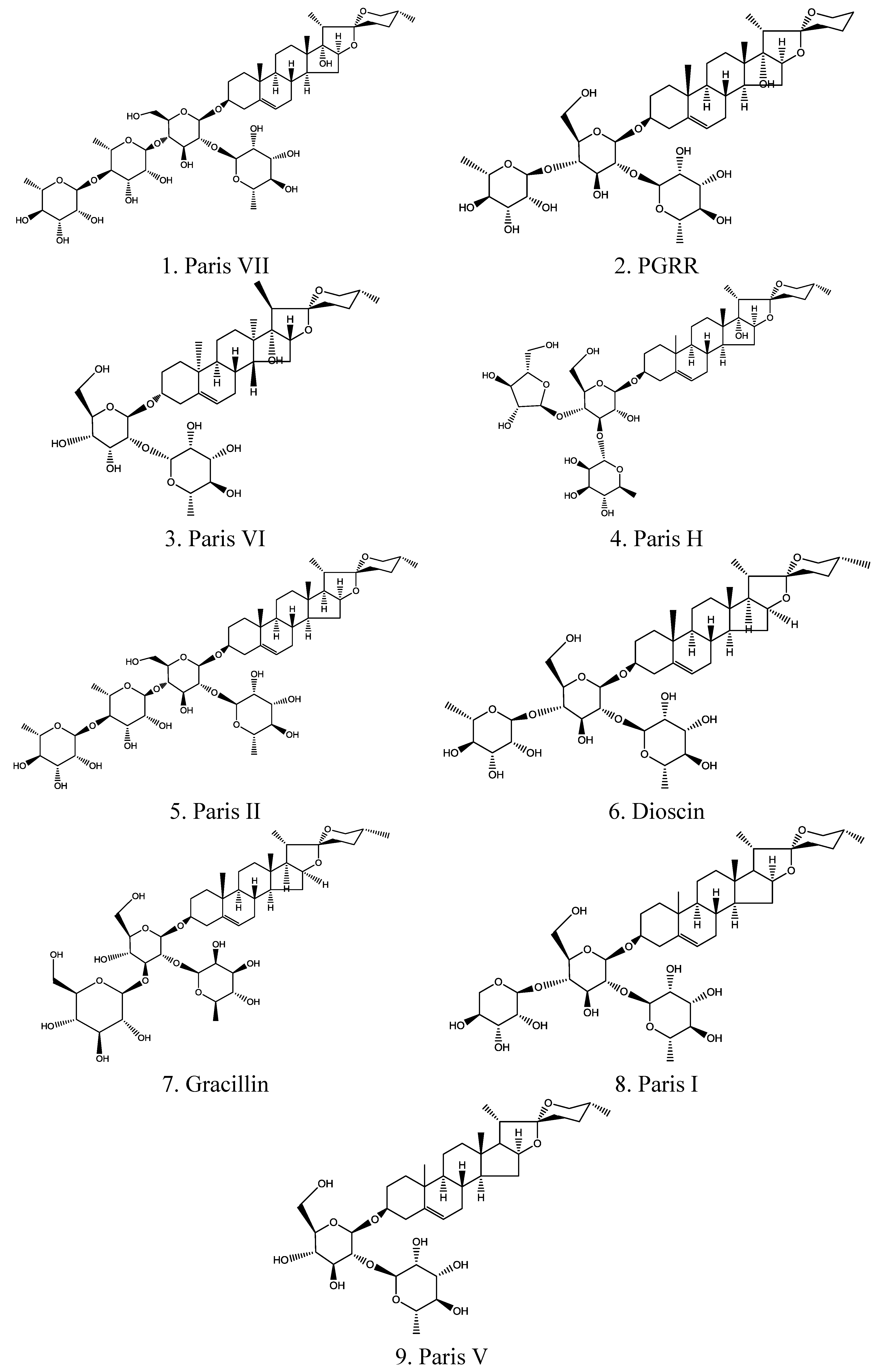 Figure 1
Share & Cite This Article
MDPI and ACS Style
Li, Y.; Gu, J.-F.; Zou, X.; Wu, J.; Zhang, M.-H.; Jiang, J.; Qin, D.; Zhou, J.-Y.; Liu, B.-X.-Z.; Zhu, Y.-T.; Jia, X.-B.; Feng, L.; Wang, R.-P. The Anti-Lung Cancer Activities of Steroidal Saponins of P. polyphylla Smith var. chinensis (Franch.) Hara through Enhanced Immunostimulation in Experimental Lewis Tumor-Bearing C57BL/6 Mice and Induction of Apoptosis in the A549 Cell Line. Molecules 2013, 18, 12916-12936.
Related Articles
Comments
[Return to top]