Microwave Assisted Synthesis, Antifungal Activity and DFT Theoretical Study of Some Novel 1,2,4-Triazole Derivatives Containing the 1,2,3-Thiadiazole Moiety
1
College of Biology and Environmental Engineering, Zhejiang Shuren University, Hangzhou 310015, Zhejiang, China
2
College of Chemical Engineering and Materials Science, Zhejiang University of Technology, Hangzhou 310014, Zhejiang, China
*
Author to whom correspondence should be addressed.
Received: 3 September 2013 / Revised: 11 October 2013 / Accepted: 11 October 2013 / Published: 15 October 2013
Abstract
In order to investigate the biological activity of 1,2,4-triazole compounds, seventeen novel 1,2,4-triazole derivatives containing 1,2,3-thiadiazole moieties were synthesized by multi-step reactions under microwave assisted conditions. The structures were characterized by
1
H-NMR,
1
3
C-NMR, MS and elemental analyses. The target compounds were evaluated for their
in vivo
fungicidal activities against
Corynespora cassiicola
,
Pseudomonas syringae
pv.
Lachrymans
, and
Pseudoperonospora cubensis
, and the results indicated that some of the title compounds displayed good fungicidal activities. Theoretical calculations on the title compounds were carried out at the B3LYP/6-31G (d,p). level. The full geometry optimization was carried out using the 6-31G(d,p) basis set, and the frontier orbital energy, atomic net charges were discussed, and the structure-activity relationships were also studied.
View Full-Text
►

▼

Figures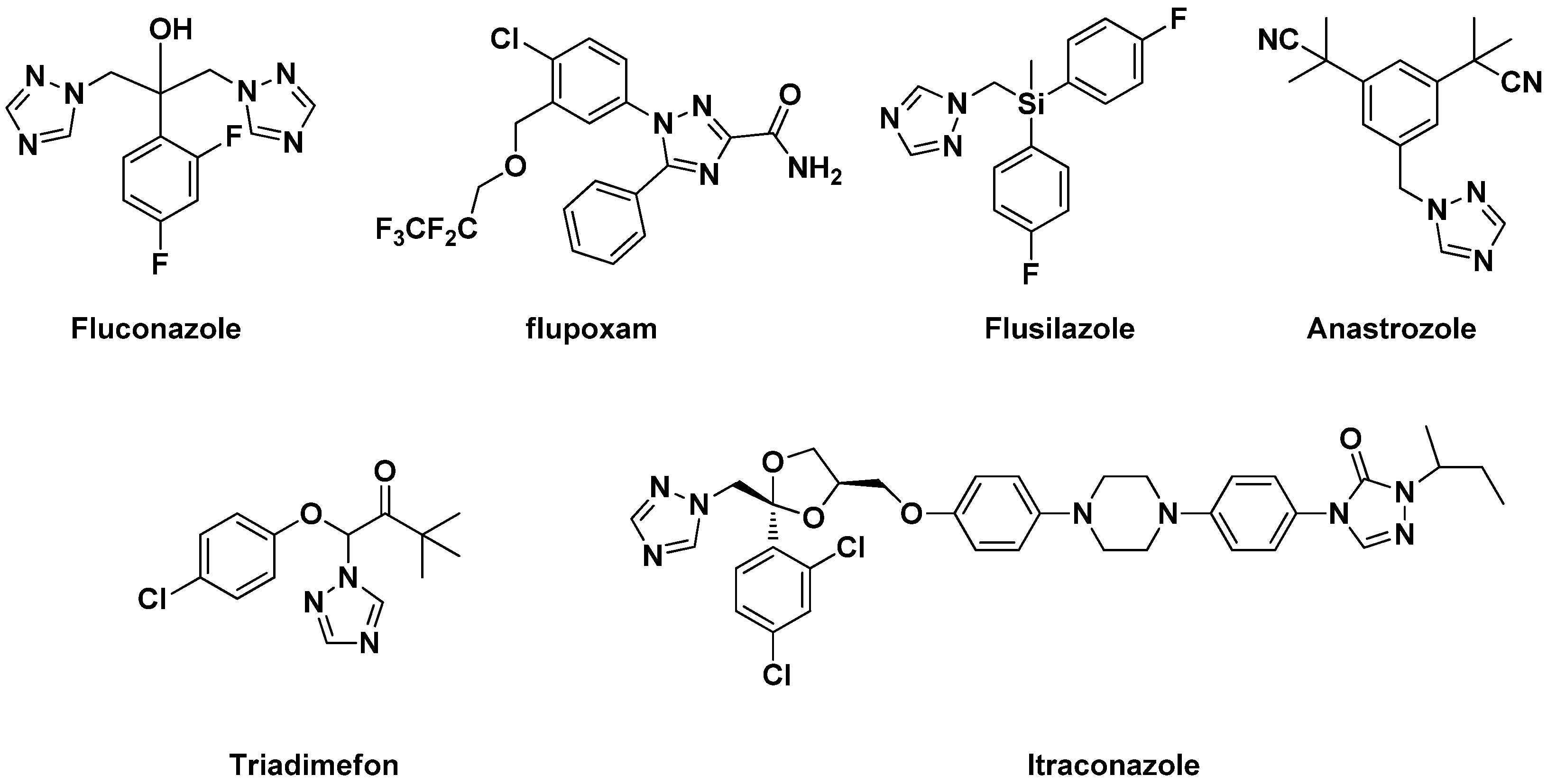 Figure 1
Share & Cite This Article
MDPI and ACS Style
Sun, N.-B.; Fu, J.-Q.; Weng, J.-Q.; Jin, J.-Z.; Tan, C.-X.; Liu, X.-H. Microwave Assisted Synthesis, Antifungal Activity and DFT Theoretical Study of Some Novel 1,2,4-Triazole Derivatives Containing the 1,2,3-Thiadiazole Moiety. Molecules 2013, 18, 12725-12739.
Related Articles
Comments
[Return to top]