Synthesis, Molecular Docking and Preliminary in-Vitro Cytotoxic Evaluation of Some Substituted Tetrahydro-naphthalene (2',3',4',6'-Tetra-O-Acetyl-β-D-Gluco/-Galactopyranosyl) Derivatives
1
Department of Pharmaceutical Chemistry, Faculty of Pharmacy, King Saud University, Riyadh 11451, Saudi Arabia
2
Department of Medicinal Chemistry, National Research Center, Dokki, Cairo 12622, Egypt
3
Department of Pharmaceutical Chemistry, Faculty of Pharmacy, Helwan University, Ain Helwan, Cairo 11795, Egypt
*
Author to whom correspondence should be addressed.
Received: 14 February 2012 / Revised: 9 April 2012 / Accepted: 13 April 2012 / Published: 23 April 2012
Abstract
A facile, convenient and high yielding synthesis of novel
S
-glycosides and
N
-glycosides incorporating 1,2,3,4-tetrahydronaphthalene and or 1,2-dihydropyridines moieties has been described. The aglycons
2
,
4
, and
7
were coupled with different activated halosugars in the presence of basic and acidic medium. The preliminary
in-vitro
cytotoxic evaluation
revealed that compounds
3c
,
3f
,
5c
and
7b
show promising activity. A molecular docking study was performed against tyrosine kinase (TK) (PDB code: 1t46) by Autodock Vina. The docking output was analyzed and some compounds have shown hydrogen bond (H-B) formation with reasonable distances ranged from 2.06 A° to 3.06 A° with Thr 670 and Cys 673 residues found in the specified pocket. No hydrogen bond was observed with either Glu 640 nor Asp 810 residues, as was expected from pdbsum.
View Full-Text
►

▼

Figures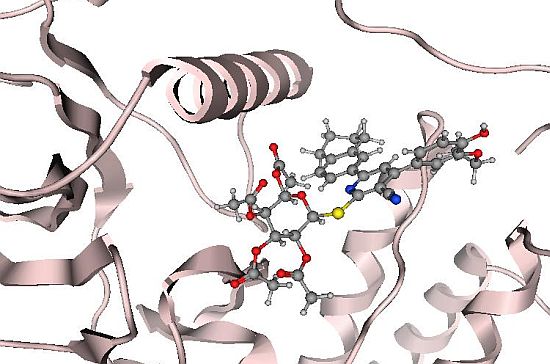 Share & Cite This Article
MDPI and ACS Style
Al-Mutairi, M.S.; Al-Abdullah, E.S.; Haiba, M.E.; Khedr, M.A.; Zaghary, W.A. Synthesis, Molecular Docking and Preliminary in-Vitro Cytotoxic Evaluation of Some Substituted Tetrahydro-naphthalene (2',3',4',6'-Tetra-O-Acetyl-β-D-Gluco/-Galactopyranosyl) Derivatives. Molecules 2012, 17, 4717-4732.
Related Articles
Comments
[Return to top]