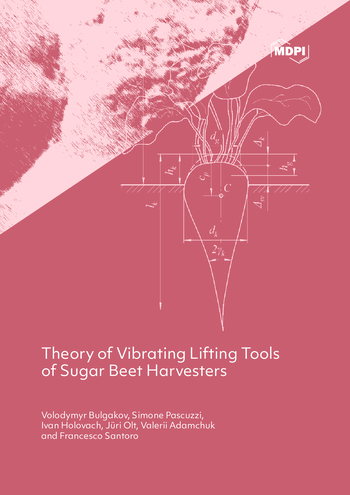 Theory of Vibrating Lifting Tools of Sugar Beet Harvesters
Published: January 2022
Pages: 312
© by the authors
MDPI uses a print-on-demand service. Your book will be printed and delivered directly from one of three print stations, allowing you to profit from economic shipping to any country in the world. Generally, we use Premium shipping with an estimated delivery time of 7-12 business days. P.O. Boxes cannot be used as a Ship-To Address.
Please note that shipping time does not include the time for placing and processing the order or printing. For this, an additional turnaround time of 10 working days should be expected.
Summary
Description:
The cultivation and harvesting of sugar beets (roots and haulm) is one of the most labour and energy consuming work processes in the agricultural industry. The improvement of the qualitative indicators of the sugar beet harvesting process as the final operation in the work flow of its production represents a multi-faceted research-and-engineering problem, which is to be solved basing on the search for new implement design concepts and overall beet harvester design layouts, the thorough theoretical substantiation of their design and process parameters, the experimental verification of the completed theoretical research with the ultimate objective of the analysis and synthesis of their rational parameters. Theoretical research must play a fundamental role in the mechanical and technological substantiation of the root lifting process. It must be used as the basis for developing rational kinematic and dynamic operation conditions in order to achieve the required quality of the performed work process as well as the streamlined energy consumption. The book can be considered as one of the first solid analytical studies of the process of vibrational digging of sugar beet roots. It offers the analysis of up-to-date engineering solutions of vibrational digging tools and experimental investigations of the first vibrational lifters, the equation of oscillating motions of digging shares.
Keywords
root-harvesting machine; mathematical theory; differential equations; sugar beet; biomass
Review Mode
This monograph has been reviewed by two external single-blind reviewers.
Book Statistics
Added to shopping cart.
This book will be available in print soon.
---
×