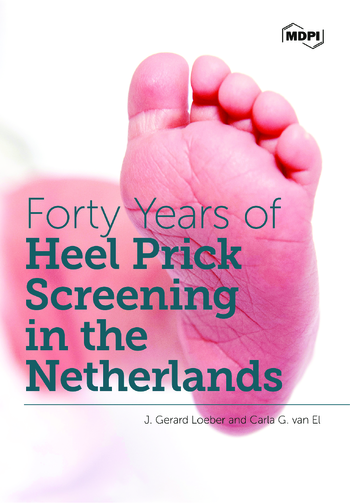 Forty Years of Heel Prick Screening in the Netherlands
Published: April 2016
Pages: 114
© 2016 MDPI; under CC BY-NC-ND license
MDPI uses a print-on-demand service. Your book will be printed and delivered directly from one of three print stations, allowing you to profit from economic shipping to any country in the world. Generally, we use Premium shipping with an estimated delivery time of 7-12 business days. P.O. Boxes cannot be used as a Ship-To Address.
Please note that shipping time does not include the time for placing and processing the order or printing. For this, an additional turnaround time of 10 working days should be expected.
Summary
This book aims to provide an overview of developments in the heel prick screening programme in the Netherlands in which similarities with the situation elsewhere in the world, where relevant, will be mentioned. In the Netherlands, the preparations for the national screening programme started in 1964. The formal launch of the programme was on September 1, 1974. In 2014, therefore this programme had existed 40 years.

The book is structured as follows. Chapter 1 describes how the programme began with one disease and over the years has continued to expand to currently covering 19 disorders. Chapter 2 focuses on the organisation of the screening programme and the agencies that have been involved over the years. Chapter 3 is intended to provide a global view of the programme in its current form. Chapter 4 describes how neonatal screening programmes elsewhere in the world developed and outline their main differences with the Dutch programme. Finally, Chapter 5 contains the summary and conclusions. This chosen structure leads to some aspects being mentioned more than once.

The book is intended for a broad audience that is interested in policy making on heel prick screening; hence, scientific depth is limited. Where possible and useful, references to the scientific literature have been included but completeness has not been pursued. The main sources were the archives of the National Steering Committees for Phenylketonuria and Congenital Hypothyroidism (LBCs), supplemented with interviews with the persons listed in Annex 1 and, if available, their personal archives.

This is a translation of the book "Veertig Jaar Hielprikscreening in Nederland", that was published by Prelum Publishers, Houten, the Netherlands with ISBN 978-90-8562-133-1 © 2014 Prelum, Houten; RIVM, Bilthoven; Vumc, Amsterdam.


The publication of this book is sponsered by




Book Statistics
Added to shopping cart.
This book will be available in print soon.
---
×