Hybrid Molecular Compound Exhibiting Slow Magnetic Relaxation and Electrical Conductivity
1
Department of Chemistry, Graduate School of Science, Tohoku University, Aramaki-Aza-Aoba, Aoba-ku, Sendai 980-8578, Japan
2
Core Research for Evolutional Science and Technology (CREST), Japan Science and Technology (JST), 4-1-8 Kawaguchi, Saitama 332-0012, Japan
3
WPI Research Center, Advanced Institute for Materials Research, Tohoku University, 2-1-1 Katahira, Aoba-ku, Sendai 980-8577, Japan
*
Author to whom correspondence should be addressed.
Academic Editor: Kevin Bernot
Received: 27 September 2016 / Revised: 28 November 2016 / Accepted: 30 November 2016 / Published: 9 December 2016
Abstract
Electrochemical oxidation of a solution containing KDy(hfac)
4
(hfac, hexafluoroacetyacetone) and Bis(ethylenedithio)tetrathiafulvalene (BEDT-TTF) afforded a hybrid material formulated as [β′-(BEDT-TTF)
2
Dy(CF
3
COO)
4
∙MeCN]
n
. The complex crystallizes in the triclinic space group
. The before mentioned complex has a chain structure containing 4
f
ions bridged by mono-anion CF
3
COO
−
ligand, and acts as single-molecule magnet (SMM) at low temperature. The conducting layer was composed of partially oxidized BEDT-TTF molecules in β′ type arrangement. The presence of radical cation and its charge ordering was assigned on the basis of optical spectra. Electrical resistivity measurements revealed semiconducting behaviour (conductivity at room temperature of 1.1 × 10
−3
S·cm
−1
, activation energy of 158.5 meV) at ambient pressure.
View Full-Text
►

▼

Figures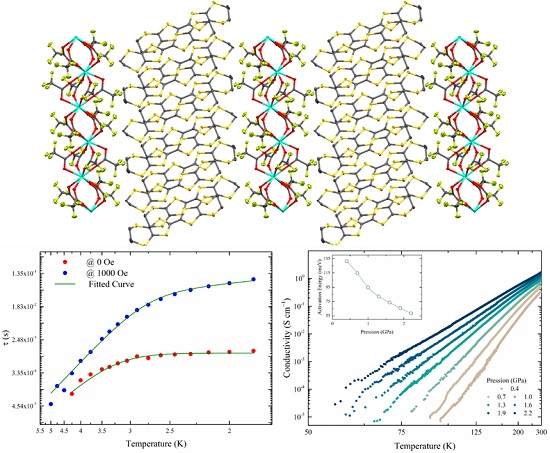 This is an open access article distributed under the
Creative Commons Attribution License
which permits unrestricted use, distribution, and reproduction in any medium, provided the original work is properly cited. (CC BY 4.0).
Share & Cite This Article
MDPI and ACS Style
Shen, Y.; Cosquer, G.; Breedlove, B.K.; Yamashita, M. Hybrid Molecular Compound Exhibiting Slow Magnetic Relaxation and Electrical Conductivity. Magnetochemistry 2016, 2, 44.
Note that from the first issue of 2016, MDPI journals use article numbers instead of page numbers. See further details here.
Related Articles
Comments
[Return to top]