Open Access This article is
freely available
re-usable
Review
Fullerenes in Electrochemical Catalytic and Affinity Biosensing: A Review
1
Departamento de Química Analítica, Facultad de CC. Químicas, Universidad Complutense de Madrid, E-28040 Madrid, Spain
2
IMDEA Nanoscience, Ciudad Universitaria de Cantoblanco, 28049 Madrid, Spain
*
Authors to whom correspondence should be addressed.
Received: 13 June 2017 / Accepted: 26 June 2017 / Published: 28 June 2017
Abstract
:
Nanotechnology is becoming increasingly important in the field of (bio)sensors. The performance and sensitivity of electrochemical biosensors can be greatly improved by the integration of nanomaterials into their construction. In this sense, carbon nanomaterials have been widely used for preparation of biosensors due to their ability to enhance electron-transfer kinetics, high surface-to-volume ratios, and biocompatibility. Fullerenes are a very promising family of carbon nanomaterials and have attracted great interest in recent years in the design of novel biosensing systems due to fullerenes' exceptional properties. These include multiple redox states, stability in many redox forms, easy functionalization and signal mediation. This paper outlines the state-of-the-art and future directions in the use and functionalization of fullerene-C60 and its derivatives, both as electrode modifiers and advanced labels in electrochemical catalytic and affinity biosensors through selected applications.
Keywords:
fullerene; electrochemical biosensor; catalytic biosensor; affinity biosensor; electrode modifiers; nanocarriers
1. Introduction
The current demands for reliable electrochemical biosensing require the development of sensing (bio)platforms exhibiting large surface area to allow for the high loading of capture molecules, good biocompatibility for biological activity preservation, and excellent conductivity for electron transportation [
1
].
In this context, carbon nanomaterials have attracted great interest because of the structural differences in their various allotropes (e.g., graphite, fullerene, carbon nanotubes (CNT), graphene, diamond, diamond-like carbon (DLC)) (see
Figure 1
) and their wide variety of structurally dependent electronic and electrochemical properties [
2
]. Carbon nanomaterials cover a broad range of structures: zero-dimensional (fullerenes, diamond clusters), one-dimensional (nanotubes), two-dimensional (graphene), and three-dimensional (nanocrystalline diamond, fullerite) structures [
3
]. Carbon nanomaterials such as multiwalled carbon nanotubes (MWCNTs) and fullerene (C
60
) offer great versatility in terms of facile modification by functional groups, high carrier capacity incorporating both hydrophilic and hydrophobic substances, biocompatibility, relatively wide potential window, low background current, electrocatalytic capability for a variety of redox reactions, and high chemical stability [
3
,
4
]. This has led to their wide use in recent years for the preparation of electrochemical (bio)sensors, both as electrode modifiers and nanocarriers.
Due to their special physicochemical characteristics, fullerenes add a new dimension to the construction of highly sensitive electrochemical biosensors. Fullerenes are a very promising family of electroactive compounds with a rich electrochemistry because of the unique dimensional and electronic structure [
5
] that makes them very attractive as mediators in electrochemical biosensors, allowing operation at lower potentials, thus reducing the interferences from electroactive compounds [
6
].
2. Fullerenes in Electrochemical Biosensing
3. Fullerenes in Catalytic Biosensing
4. Fullerenes in Affinity Biosensing
The following subsections show as C
60
and their derivatives have been used as electrode modifiers in the design of electrochemical affinity biosensors [
1
,
5
,
11
,
12
,
24
,
36
,
37
,
38
], as well as nanocarriers [
15
,
17
,
19
], and redox nanoprobes [
15
].
4.1. Fullerenes as Electrode Modifiers in Affinity Biosensors
Zhilei et al. [
37
] developed a label-free immunosensor for deoxynivalenol (DON) by covalent immobilization of the capture antibody on a GCE modified with a fullerene (C
60
)/ferrocene(Fc)/ionic liquid composite film. The synergistic electrocatalytic activity of C
60
and Fc remarkably enhanced the electron transfer while the biocompatibility of the ionic liquid (1,3-dibutylimidazolium bis(trifluoromethylsulfonyl) amine) improved the stability of the immobilized antibody. Electrochemical impedance spectroscopy provided a linear relationship between the electron transfer resistance, R
et
, and DON concentration in the 0.001 to 0.3 ng mL
−1
concentration range, and an LOD of 0.0003 ng mL
−1
. The immunosensor possessed an excellent 180 days storage stability and was successfully applied to the determination of DON in spiked food and biological samples. The same authors constructed a similar electrode platform using the ionic liquid 1-isobutyl-3-methylimidazolium bis(trifluoromethylsulfonyl)amine for the development of an impedimetric immunosensor for the determination of the herbicide paraquat [
39
]. The use of C
60
and the ionic liquid led to 3.7 times enhanced sensitivity. The immunosensor exhibited also a great stability of more than 150 days, with a linear response from 3.89 × 10
−11
to 4.0 × 10
−8
mol L
−1
, an LOD of 9.0 × 10
−12
mol L
−1
, and allowed for the successful determination of paraquat in spiked and un-spiked meconium samples.
Li et al. [
1
] reported an amperometric sandwich-type immunosensor for the determination of heat-killed
Escherichia coli
(
E. coli
) O157:H7 using a C
60
-based biocompatible platform and enzyme functionalized Pt nanochains as tracing tags. The immunosensing platform involved a composite nano-layer of C
60
, Fc and thiolated chitosan (CHI–SH) with AuNP-coated SiO
2
nanocomposites (Au–SiO
2
) assembled on the CHI–SH/Fc/C
60
composite. The biotinylated capture antibody (bio-Ab
1
) was immobilized after coating the Au–SiO
2
with avidin (see
Figure 5
a). Au–SiO
2
embedded C
60
/Fc/CHI–SH provided a biocompatible platform with increased surface area, allowing for the capture of a large amount of avidin and bio-Ab
1
. Glucose oxidase-functionalized Pt nanochains (PtNCs) were used as a tracing tag to label signal antibodies (Ab
2
) (
Figure 5
b) for amplification purposes. The sandwich immunosensor allowed the detection of the target bacteria in the range of 3.2 × 10
1
to 3.2 × 10
6
colony forming units (CFUs) mL
−1
range and an LOD of 15 CFU mL
−1
, which is far below the threshold established in clinical diagnosis. The applicability of this approach was demonstrated by the determination of
E. coli
in stool samples.
A label-free electrochemical immunosensor was developed for determination of tumor necrosis factor α (TNF-α) by using a nanocomposite containing fullerene-functionalized multiwalled CNTs and IL (1-butyl-3-methylimidazolium bis(trifluoromethyl sulfonyl)imide) (C
60
–CNTs–IL) onto graphite SPEs (
Figure 6
) [
12
]. The capture antibody was covalently immobilized using ethyl carbodiimide/ N-hydroxysuccinimide (EDC/NHS) chemistry onto the activated carboxylic acid groups of the nanocomposite. The C
60
–CNTs–IL platform demonstrated the ability to act as an excellent electrocatalyst for oxidation of catechol used as a probe to monitor the immunorecognition event. The differential pulse voltammetric response decreased with the concentration of the target antigen with a dynamic range between 5.0 and 75 pg mL
−1
and an LOD of 2.0 pg mL
−1
. The usefulness of this immunosensor was demonstrated by the analysis of spiked human serum samples.
An impedimetric immunosensor for the determination of the heat shock protein 70 (HSP70) was developed by EDC/NHS covalent immobilization of the capture antibody on a GCE modified with a fullerene C
60
layer [
11
]. The immunosensor showed a linear increase in R
ct
with the HSP70 concentration in a range between 0.8 and 12.8 pg mL
−1
and an LOD of 0.273 pg mL
−1
, as well as successful applicability to the analysis of real human blood serum samples. The wide linear range and easy preparation are the main features to highlight for this biosensor.
While it has been explored in less depth than in the preparation of electrochemical immunosensors, C60 and derivatives have also been employed to construct electrochemical DNA sensors.
A DNA-modified electrode for the electrochemical detection of the polymerase chain reaction (PCR) product of the 16S rDNA extracted from
E. coli
(JCM1649) was proposed by immobilizing a specific DNA probe onto a fullerene-impregnated SPE (FISPE) after activating the electrode with air plasma [
36
]. Results showed a dramatic improvement in the surface coverage of the immobilized probe DNA, as well as in the reduction peak current of the redox indicator (Co(phen)
3
3+
) measured by DPV due to the incorporation of fullerene. The developed DNA sensor allowed the clear detection of two base mismatches in the ca. 1500 bases-long target 16S rDNA sequence.
Zhang et al. reported DNA sensors for the selective voltammetric determination of dopamine (DA) in the presence of AA by modifying a GCE with a complex of fullerene C
60
nanotubes (FNTs) with a sequence-specific single-stranded (ss) DNA (FNT@DNA) physisorbed through a wrapping mechanism [
24
]. In these FNT@DNA complexes, the ssDNA chains were used as "surfactants" to render FNTs solubilized in water. The high selectivity towards DA detection against AA was attributed to the negative charge of the reduced modified electrode, which minimized the interference of negatively charged compounds and enhanced the determination of positively charged analytes in water due to electrostatic interaction.
Gugoasa et al. compared the performance of biosensors prepared by immobilizing dsDNA physically on MWCNTs, synthetic monocrystalline diamond (DP) or fullerene–C
60
pastes for the DPV sensing of three different neutransmitters: DA, epinenephrine, and norepinephrine [
38
]. Results showed that both the nature and the arrangement of carbon atoms in the carbon matrices had an important effect on the biosensors behavior. While larger signal enhancement for DA was obtained when dsDNA was immobilized on DP, wider dynamic concentration range and lower limit of detection were achieved by immobilization on MWCNT. The immobilization of dsDNA on fullerene–C
60
paste provoked a decrease of both the LOD and the limit of quantification (LQ) values for DA determination compared with the immobilization onto DP and MWCNT pastes.
Gholivand et al. employed multivariate analysis to study the interaction mechanism of the carbidopa (CD) drug with double-stranded calf thymus DNA using a fullerene–C
60
-modified GCE by CV, linear square voltammetry (LSV) and square wave voltammetry (SWV) [
5
]. Results demonstrated the interaction of CD with the minor groove of dsDNA, in agreement with the minor groove binding mode of small molecules, while fullerene–C
60
, as a larger molecule, recognized the major groove binding site of dsDNA. The oxidation of CD was adsorption controlled at the modified electrode and showed a significantly improved electrocatalytic behavior at C
60
/GCE compared with the bare GCE. Under optimized conditions, the decrease in the SWV responses corresponding to CD oxidation was linear with the dsDNA concentration between 0.1 and 25.0 nM. Moreover, the modified electrode exhibited an LOD of 0.03 nM, long-term stability, high sensitivity and feasibility to perform the determination of dsDNA in human serum samples.
4.2. Fullerenes as Nanocarriers, Redox Nanoprobes and Signal Enhancers in Affinity Biosensors
Han et al. [
19
] reported a supramolecular method using amino functionalized 3,4,9,10-perylenetetracarboxylic dianhydride (PTC–NH
2
) for the synthesis of amino and thiol groups-functionalized C
60
nanoparticles (FC
60
NPs), which exhibited large surface active sites and good water solubility. The FC
60
NPs decorated with Prussian Blue-carried gold nanoparticles (Au@PB/FC
60
) were subsequently used to attach detection aptamers and alkaline phosphatase (AP/AptII/Au@PB/FC
60
), thus making it possible to use the nanoparticles as tracers in a sandwich aptasensor (
Figure 7
a). Moreover, onion-like mesoporous graphene sheets and AuNPs were used for this aptasensing platform because they allowed for the immobilization of a large amount of capture aptamers due to theirs porous structure and high surface-to-volume ratio, and provided a favorable microenvironment (
Figure 7
b). Using a dual signal amplification strategy by performing biocatalysis of AP towards ascorbic acid 2–phosphate (AA–P) for the in situ production of AA, followed by chemi-catalysis of Au@PB/FC
60
towards AA to generate dehydroascorbic acid, which was detected by DPV, the aptasensor allowed the determination of platelet-derived growth factor B-chain (PBGF-BB) in a linear range between 0.002 and 40 nM with an LOD of 0.6 pM. Therefore, the main contributions of this work include the large surface active sites and good water-stability offered by FC
60
NPs, the high electrocatalytic activity of Au@PB/FC
60
, which greatly enhanced the detection signal, and the low background and favorable microenvironment of this nanomaterial, which makes it ideal for electrochemical biosensing applications.
The same authors [
15
] profited the inner redox activity of C
60
to use FC
60
NPs as redox nanoprobes and nanocarriers to label detection antibodies (Ab
2
) in a sandwich immunosensor designed for the determination of erythropoietin (EPO). In this approach, C
60
NPs were decorated with amino-terminated polyamidoamine (PAMAM) to provide NPs with better hydrophilicity and abundant amine groups for further modification. Subsequently, through amino–Au affinity reactions, AuNPs were immobilized on the PAMAM–C
60
NPs and the resulting Au–PAMAM–C
60
NPs nanohybrid was used for the immobilization of the detector antibodies (Ab
2
) (
Figure 8
). The immunosensing platform was fabricated by the effective and directional immobilization of capture antibodies (Ab
1
) upon the attachment of protein A on Au nanodendrites (AuNDs)-decorated GCE. The electrochemical detection was performed by DPV after incubating the immunosensor with a drop of tetraoctylammonium bromide (TOAB), which acted as booster to arouse the inner redox activity of Au–PAMAM–C
60
NPs. A linear calibration plot between the DPV oxidation peak current of the Au–PAMAM–C
60
NPs and the logarithmic values of EPO concentrations was found in the 0.01 to 80 mIU mL
−1
range with an LOD of 0.0027 mIU mL
−1
. The as-prepared immunosensor was applied to the determination of EPO in human serum samples. It is important to note that this strategy opened a new avenue for exploring fullerenes as redox nanoprobes in the development of electrochemical biosensors.
Wang et al. [
17
] reported a pseudo-bienzyme electrocatalytically amplified immunosensor for sensing the spore wall protein of Nosema bombycis (SWP N.b), a biomarker related with the Pebrine disease. In this immunosensor, C
60
@Pt–Pd nanoparticles were employed as efficient nanocarriers loaded with abundant hemin/G-quadruplex concatemers and antibodies, and
l
-Cysteine was used as the electrocatalytic substance to generate H
2
O
2
in situ (
Figure 9
). The hemin/G-quadruplex concatemers supported on the C
60
@Pt–Pd nanoparticles served simultaneously as two kinds of catalyst and signal probe, thus saving the laborious process associated with labeling with enzymes and electron mediators. In the presence of
l
-Cysteine, the hemin/G-quadruplex first catalyzed the oxidation of
l
-Cysteine to
l
-Cystine, accompanied by an autocatalytic cycle generation of H
2
O
2
under aerobic conditions and, afterwards, mimicking the catalytic activity of horseradish peroxidase (HRP), also quickly bioelectrocatalyzed the reduction of the produced H
2
O
2
(
Figure 9
c). An increase in the DPV signals with the SWP N.b concentration was observed from 0.001 to 100 ng mL
−1
with an LOD of 0.56 pg mL
−1
, which is ~450 times lower than that provided by the Enzyme-Linked ImmunoSorbent Assay (ELISA) methodology. This high sensitivity was attributed to the excellent loading capacity of the C
60
@Pt–Pd nanoparticles and the superior electrocatalytic performance of the hemin/G-quadruplex DNAzymes. Preliminary results using normal silkworm blood spiked with SWP N.b demonstrated the promising applicability of this approach.
5. General Conclusions, Main Challenges and Future Directions
Nanostructured materials have been significantly used in recent years to create a new generation of electrochemical biosensors with improved analytical performance, miniaturization ability, and reduced response time, which are features of great interest in fields such as clinical diagnosis. Among different nanomaterials, carbon nanomaterials and particularly fullerene–C60 and some of their derivatives (FC60NPs and FNTs) have been shown to hold potential promise for this purpose due to their unique electrochemical and physicochemical properties, together with biocompatibility characteristics.
This article gives an overview of the key aspects of the electrochemical biosensors reported so far involving the use of fullerenes and derivatives as electrode modifiers, nanocarriers and redox nanoprobes, and in connection to various kinds of biomolecules (enzymes, antibodies and oligonucleotides). The prospects of effectively modifying fullerene-based nanomaterials to ramp up the sensitivity and functionality of the resulting biodevices are also discussed together with challenges to be faced and future directions.
Results reported in this field demonstrate that electrodes modified with partially reduced fullerene–C
60
show exceptional properties such as large electroactive surface area able to immobilize large amounts of bioreceptors, the promotion of the biomolecules electrochemistry, excellent electronic conductivity, and good biocompatibility [
4
]. From the discussed works, it is deduced that fullerene–C
60
and derivatives not only provide a suitable immobilization platform for DNA and antibodies, but have also the ability to induce a proper orientation in redox-active proteins, allowing for the direct electron transfer of enzymes and other proteins such as cyt c [
35
], GOx [
13
,
31
], Hb [
18
] and laccase [
6
,
33
]. Fullerene nanomaterials can act also as efficient nanocarriers due to the high surface area and good biocompatibility in the preparation of electrochemical biosensors with enhanced sensitivity [
17
]. Moreover, these materials have been used as redox nanoprobes to prepare electrochemical affinity biosensors through the synthesis of hydrophilic C
60
-based nanomaterials and exploiting the inner redox activity of C
60
[
15
]. While C
60
and derivatives have been used as electrode modifiers in catalytic biosensors, in electrochemical affinity biosensors they have been employed as electrode modifiers [
1
,
5
,
6
,
9
,
10
,
11
,
12
,
13
,
18
,
24
,
31
,
32
,
33
,
34
,
35
,
36
,
37
,
38
], nanocarriers [
15
,
17
,
19
] and redox nanoprobes [
15
]. Although most of the work has been done in developing catalytic biosensors and immunosensors, there is no doubt that fullerenes can be used as an active material in biosensing devices for the determination of biomolecules of a genetic nature. Indeed, the illustrative examples selected clearly show that electrochemical biosensors involving fullerene nanomaterials can be designed for the determination of a wide variety of target analytes such as glucose, H
2
O
2
, poplyphenols and AA, neurotransmitters such as DA, epinenephrine and norepinephrine, mycotoxins (DON), proteins (TNF-α, HSP70, PBGF-BB, EPO and SWP N.b), bacteria (
E. coli
) and oligonucleotides (dsDNA).
However, despite the great progress that has occurred in recent years and the bright prospects for this field, the function of fullerenes is still under investigation. In fact, in order to exploit their potentiality to the fullest, it is essential to discover promising advantages of their use in the construction of biosensing devices other than enhancing the electron transfer rate. Another major issue that requires attention is the examination of how conveniently this nanomaterial can be incorporated into a biosensor and how robustly it can deliver its performance under different experimental conditions to detect and measure different types of biomolecules, in comparison to biosensors prepared so far with other nanomaterials for similar purposes. Although the lack of systematic comparative studies of fullerene- and other nanomaterials-based electrochemical biosensing devices does not allow us to discuss this aspect exhaustively, in general the popularity C
60
has somewhat diminished in recent years with the rise of CNTs and graphene, more scalable and practical carbon nanomaterials. However, the uniform size and shape as well as its availability for chemical modification makes C
60
widely used at this time for other types of applications such as therapeutic purposes taking advantage of its anti-human immunodeficiency virus (HIV) activity by targeting important HIV enzymes [
40
].
Although biosensors constructed with fullerene offer high sensitivity, selectivity and good reproducibility for electrochemical biosensing, the cost of this nanomaterial and of the agents and tools required for its functionalization is an important limitation to be considered for their application in point-of-care (POC) diagnosis where cost-effective and easy-to-handle configuration are demanded. However, it is expected that the advantages already demonstrated and those that may arise in future research will compensate for these limitations. Fullerene-based biosensors may achieve the wide acceptance of other nanomaterials-based biosensors and play an important role also in POC diagnosis. A mandatory prior step to this stage is to demonstrate the robustness and convenient behavior of the fullerene-involved biosensors in challenging biological samples and not just in buffered solutions and doped clinical samples, as occurred in most of the reported works. Another major challenge requiring proper attention is to explore the possibilities for multiplexing. It is striking that given the current growing interest in performing multidetermination, to date there is not any electrochemical biosensor using fullerenes used for the determination of more than one analyte. Moreover, the range of applications is still limited, and further investigation in new functionalization routes, together with the exploration of other fullerene–C60 analogues for the construction of electrochemical biosensors, is envisaged to expand the range of applications as well as to improve their performance in terms of sensitivity and stability. On the other hand, due to the biocompatibility of fullerene–C60 and derivatives, additional works should be also focused on functionalization with other types of bioreceptors such as microorganisms, cells or their organelles. The integration of the fullerene-involved biosensors in automated and miniaturized systems to achieve electrochemical POC systems is another key challenge.
In summary, despite the further efforts required to address these important issues, the rapid development and attention in the research of functionalizing fullerene and cutting-edge biosensor technology over the past few years emphasizes the possibility that, in the near future, fullerene-based biosensors will appear as effective devices in electrochemical biosensing and be applicable commercially for POC diagnosis.
Acknowledgments
The financial support of the CTQ2015-70023-R and CTQ2015-64402-C2-1-R (Spanish Ministerio de Economía y Competitividad Research Projects) and S2013/MT3029 (NANOAVANSENS Program from the Comunidad de Madrid) are gratefully acknowledged.
Conflicts of Interest
The authors declare no conflict of interest.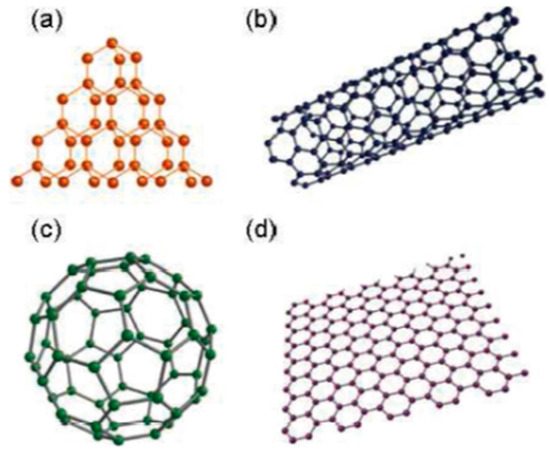 Figure 1.
Main carbon nanomaterials used in electrochemical (bio)sensors classified by the type of carbon bond and structure: sp
3
-bonded diamond (
a
) and sp
2
-bonded carbon (
b
–
d
); carbon nanotubes (CNT) (1D-structure) (
b
); fullerene (0D-structure) (
c
); and, graphene (2D-structure) (
d
). Reprinted from [
2
] with permission.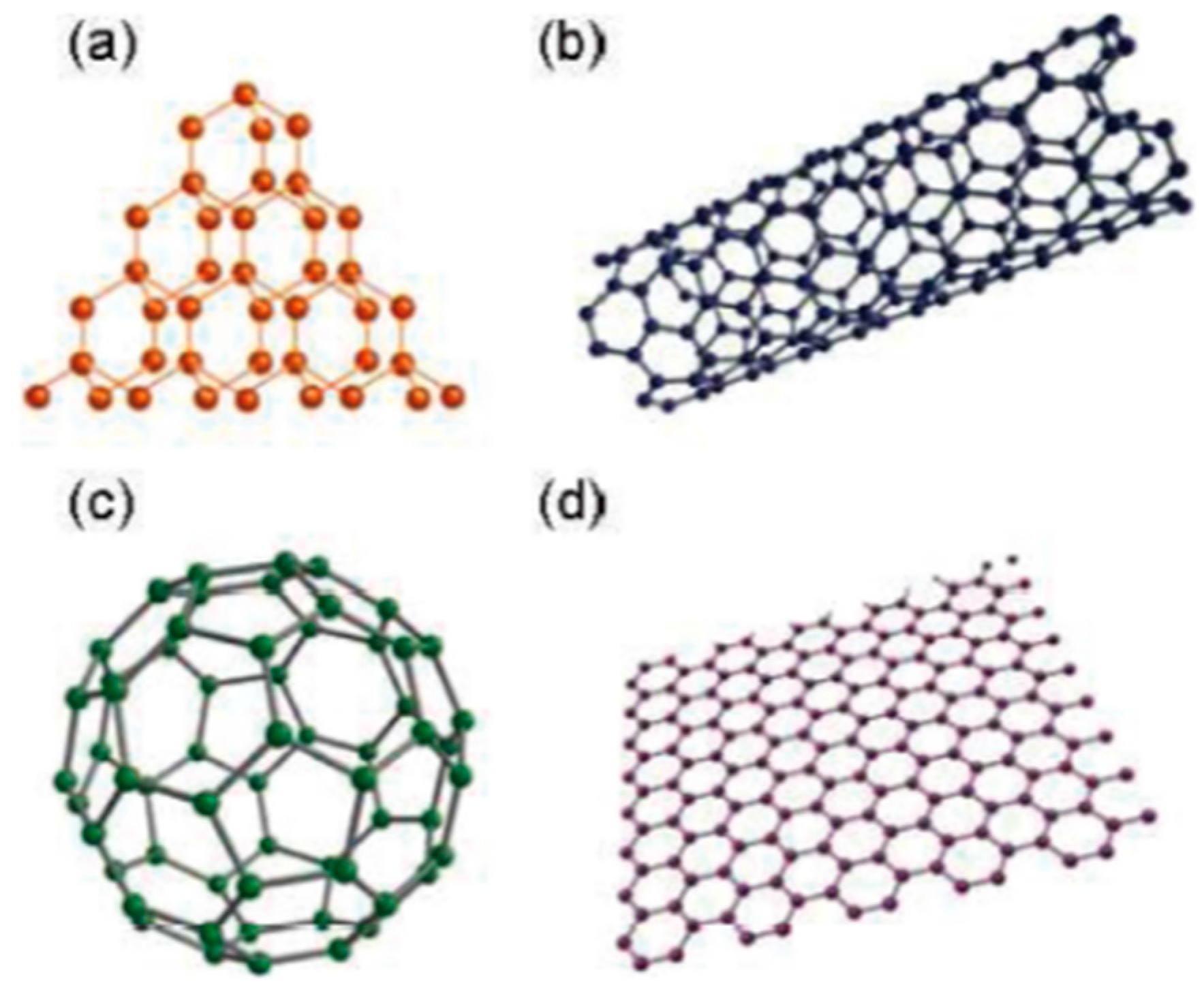 Figure 2.
Schematic display of fullerene function as a redox mediator in an electrochemical biosensor. Reprinted from [
21
] with permission.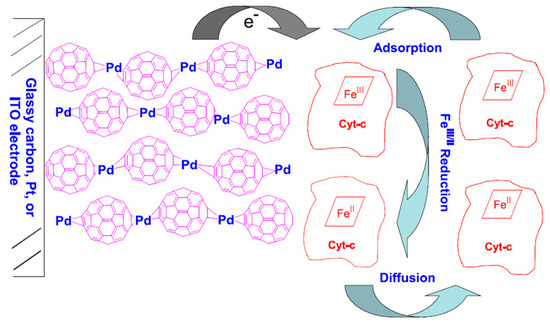 Figure 3.
Schematic display showing the mechanism proposed for cyt c immobilization onto the C
60
–Pd polymer film-modified electrode and of cyt c electrochemical reduction. Reprinted from [
35
] with permission.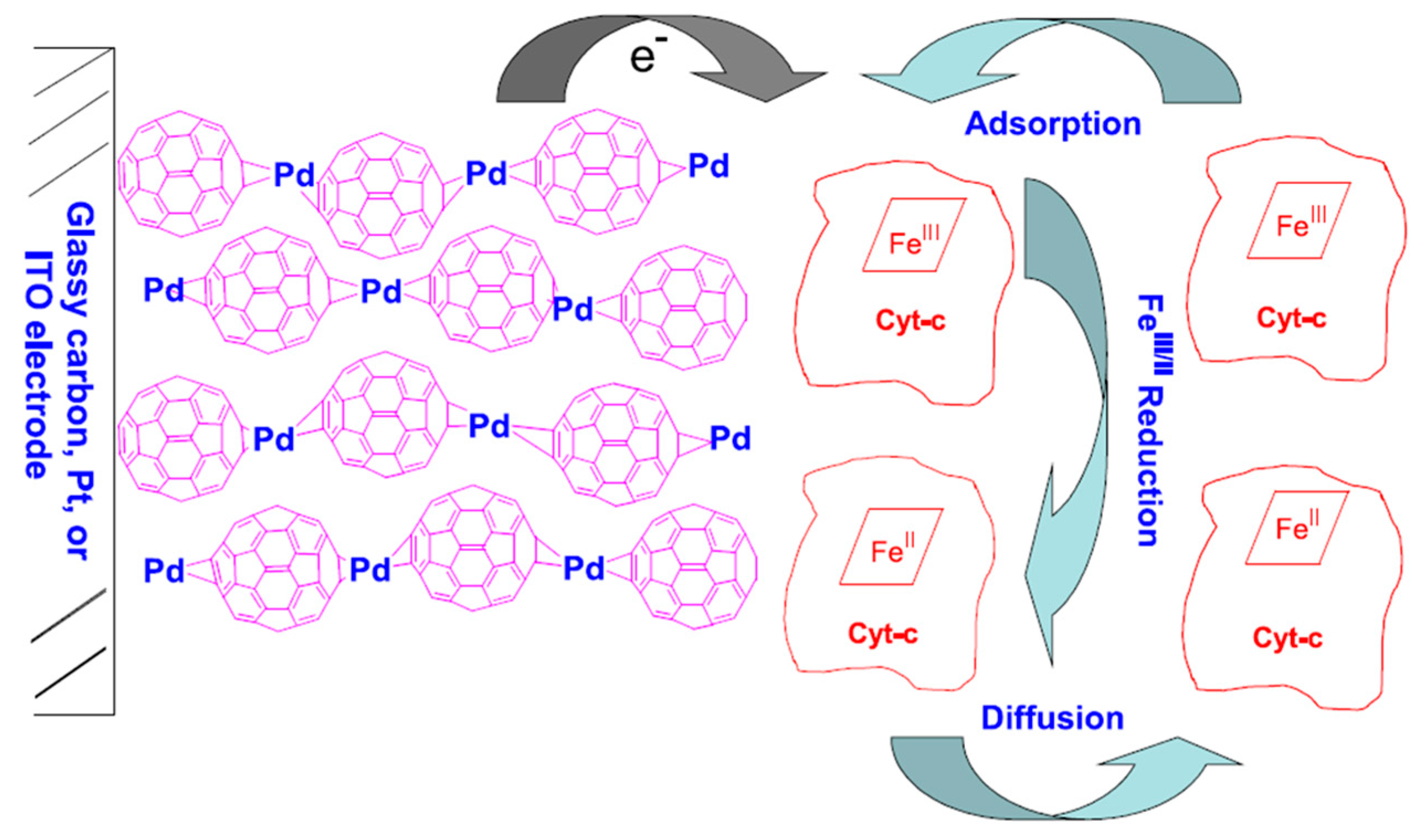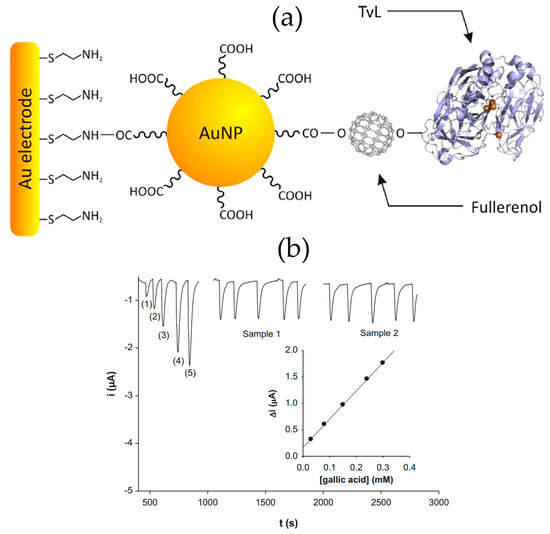 Figure 4.
Au–SAM/AuNPs-linker/fullerenol/
Trametes versicolor
laccase enzyme (TvL) amperometric biosensor for the determination of polyphenols (
a
). Chronoamperometric responses recorded at −100 mV vs. Ag/AgCl for increasing gallic acid concentrations (0.03 (1), 0.08 (2), 0.15 (3), 0.24 (4) and 0.30 mmol L
−1
(5)), and for five injections of a 10 times diluted white wine sample (Sample 1), and five injections of a 100 times diluted red wine sample (Sample 2) under flow injection analysis (FIA) conditions. Inset: calibration plot for gallic acid (
b
). Reprinted and adapted from [
6
] with permission.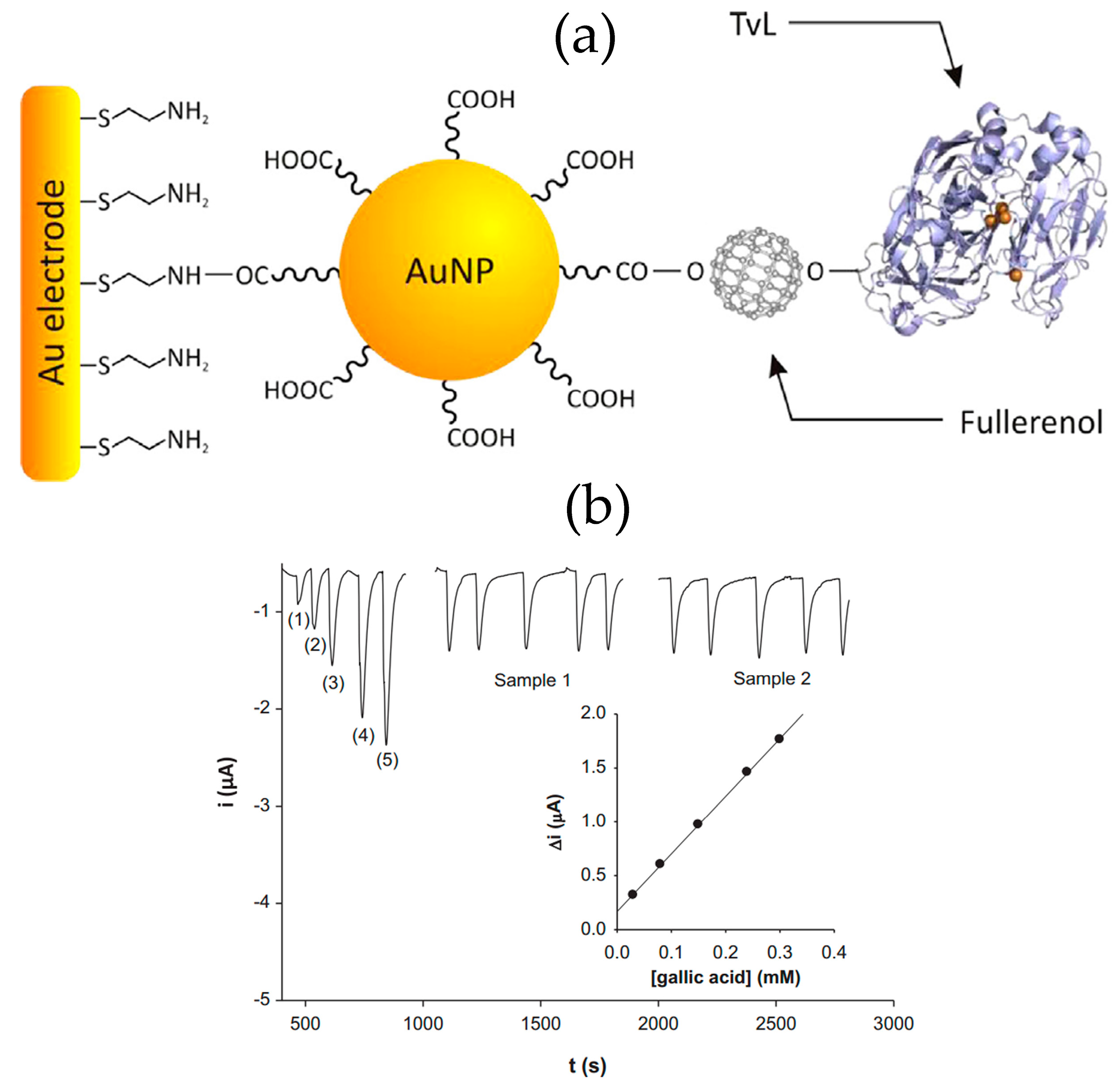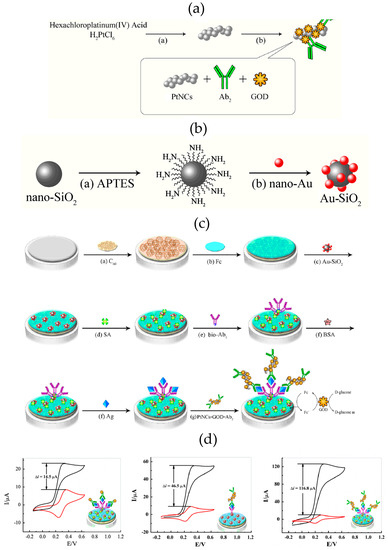 Figure 5.
Scheme of the preparation of PtNCs–GOD–Ab
2
bioconjugates (
a
) and the AuNP-coated SiO
2
nanocomposites (Au–SiO2) (
b
) and the fabrication of the electrochemical immunosensor and amplified detection (
c
); evaluation of the signal amplification effect of PtNCs and the biotin–avidin system (
d
). Reprinted and adapted from [
1
] with permission.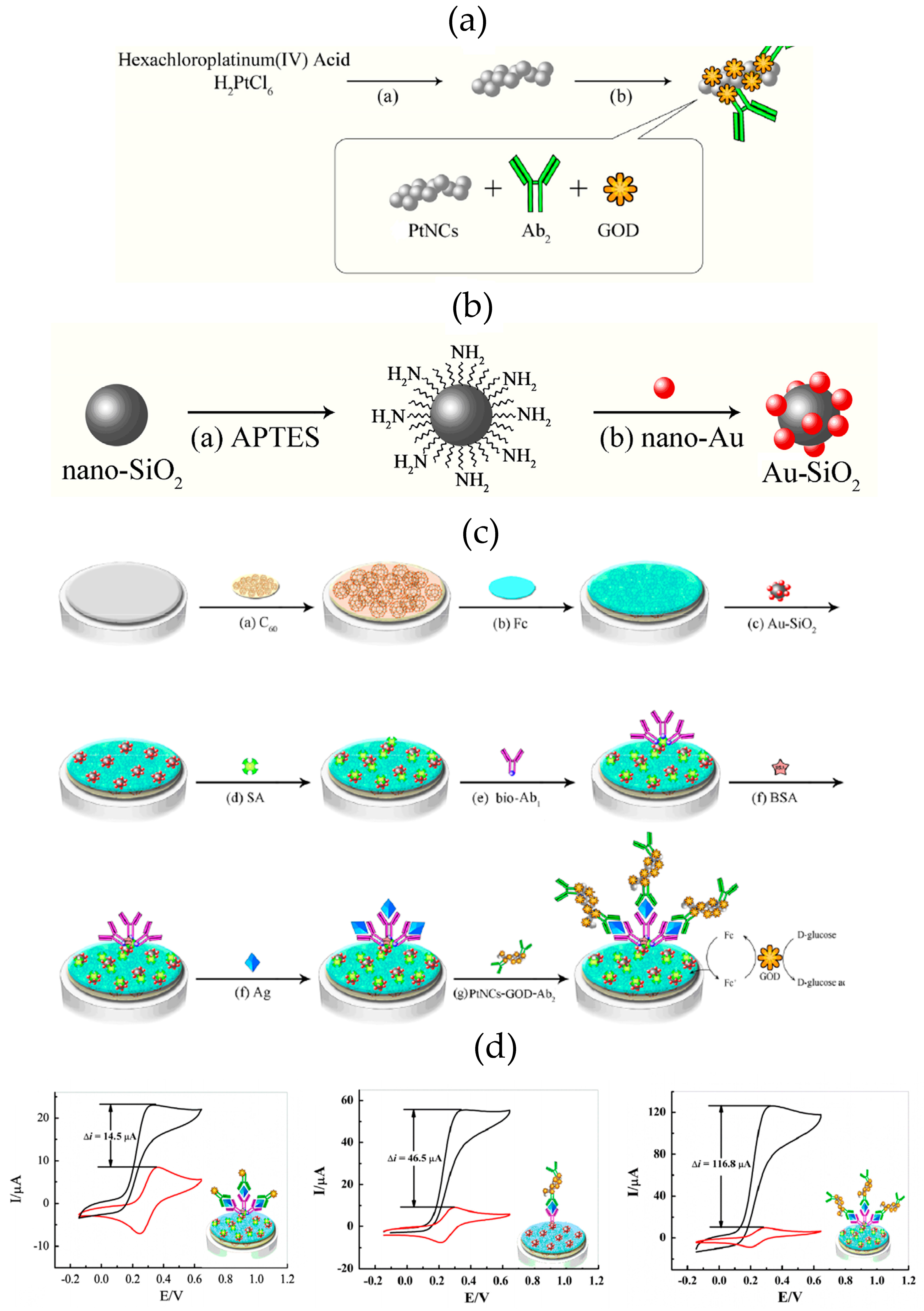 Figure 6.
Schematic display of the electrochemical immunosensor for the determination of tumor necrosis factor α (TNF-α) at a C
60
–CNTs–IL-modified screen-printed electrode (SPE), as well as differential pulse voltammetry (DPV) responses obtained with increasing concentrations of Ag (TNF-α). Reprinted and adapted from [
12
] with permission.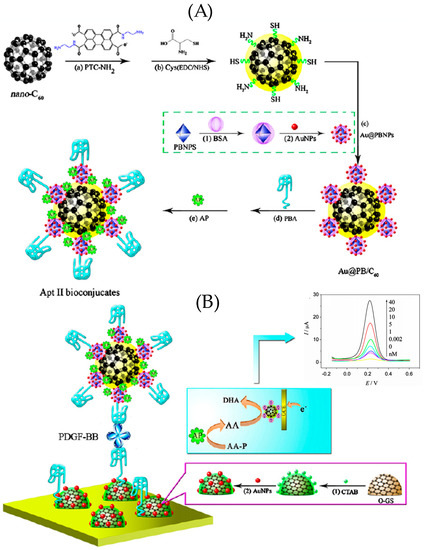 Figure 7.
Schematic illustrations of the preparation of the AP/AptII/Au@PB/FC
60
aptasensing platform (
A
) and the stepwise aptasensor fabrication process including the diamond paste (DP) voltammograms recorded for increasing concentrations of platelet-derived growth factor B-chain (PDGF-BB) (
B
). Reprinted and adapted from [
19
] with permission.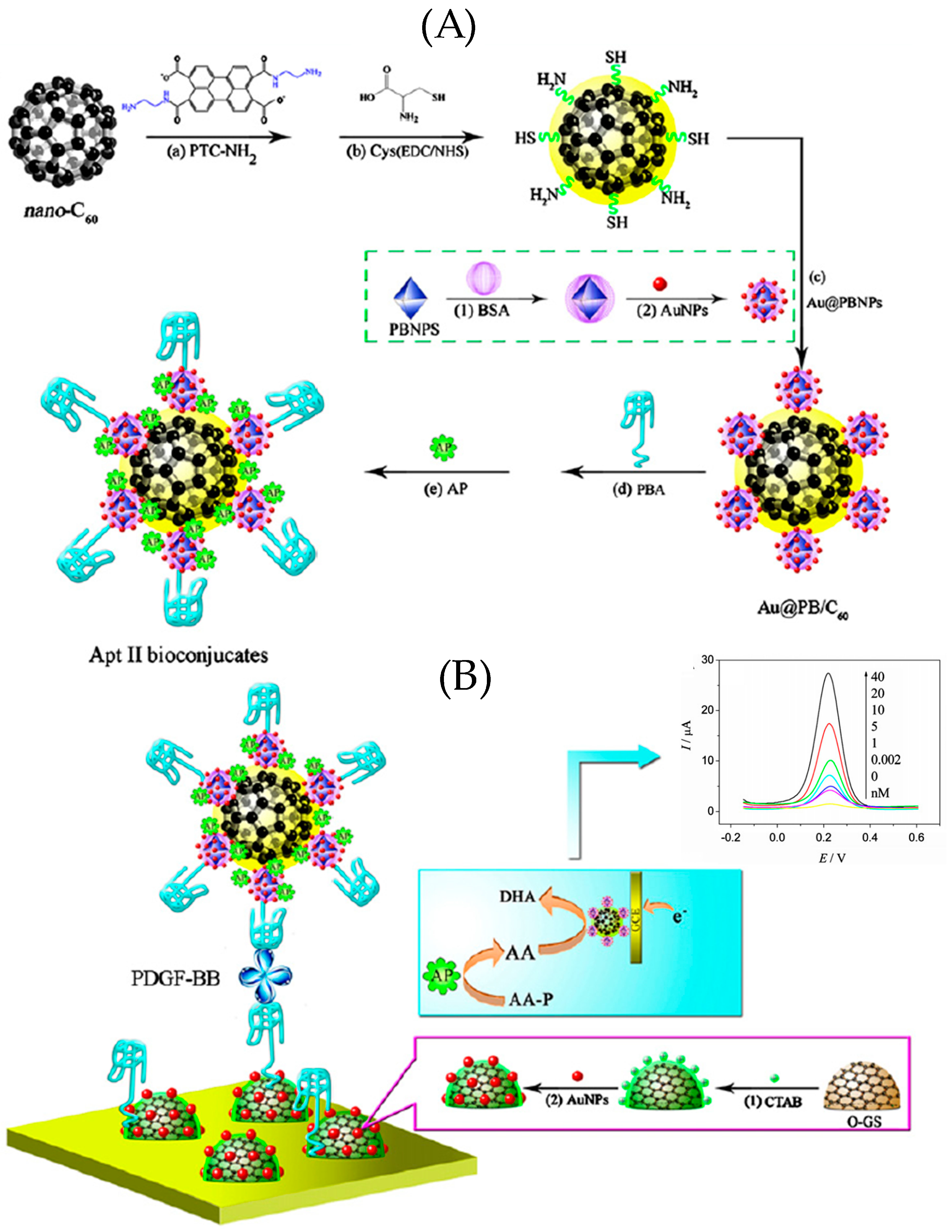 Figure 8.
Schematic illustration of the synthesis of Au–PAMAM–C
60
NPs used as nanotags in the preparation of an immunosensor for the determination of erythropoietin (EPO). The possible mechanism of the electrochemical reaction used to monitor the affinity reaction is also displayed. Reprinted from [
15
] with permission.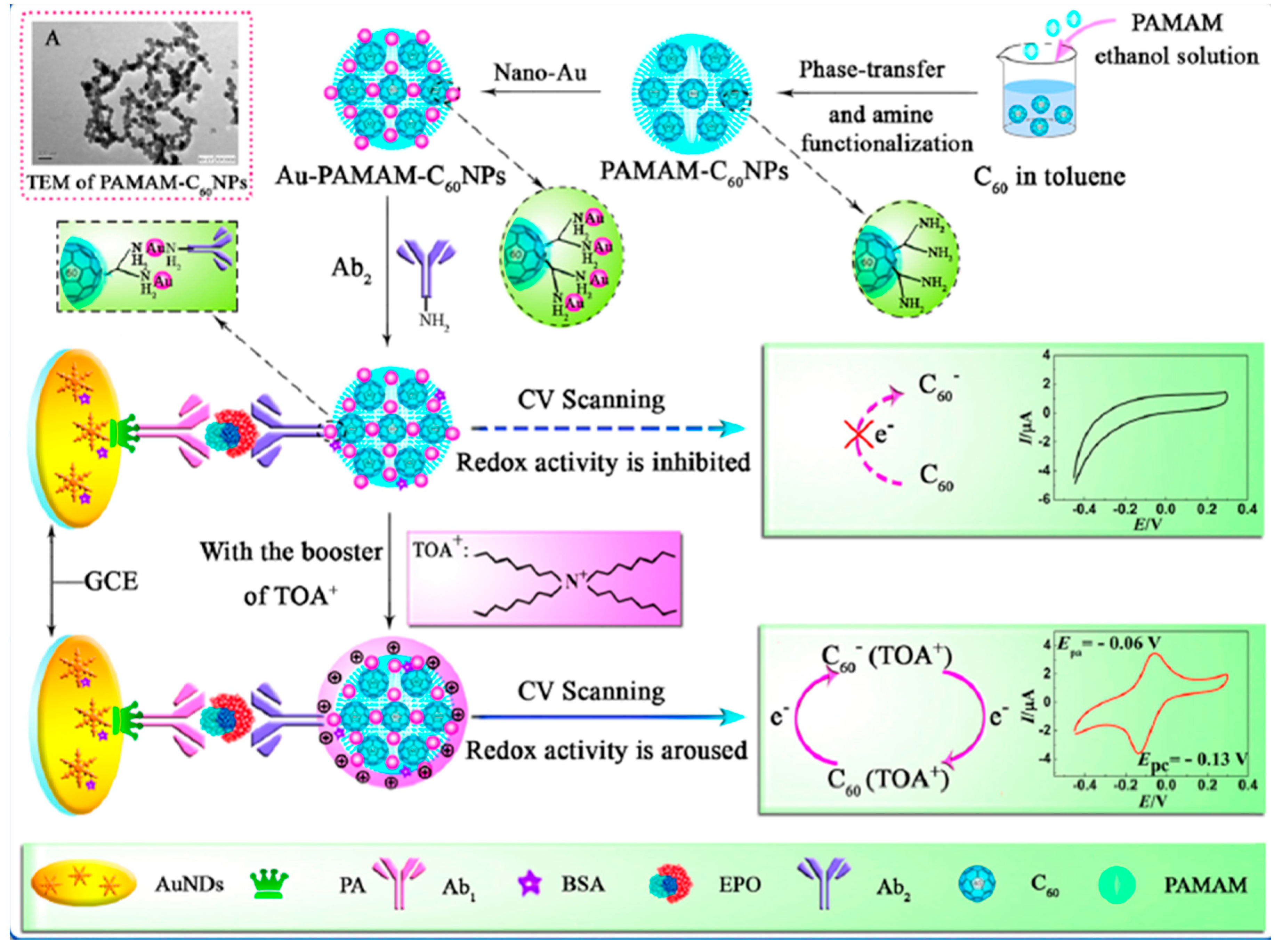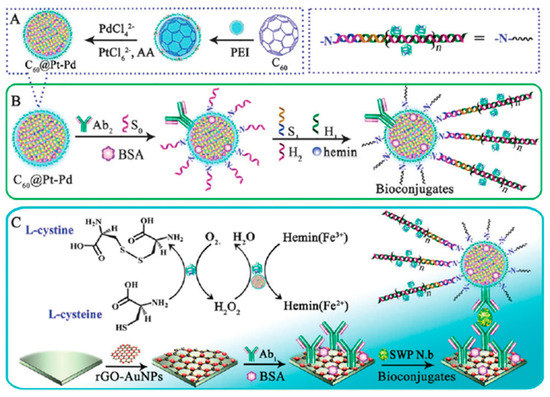 Figure 9.
Schematic display of the stepwise assembly procedure of an immunosensor for the determination of the spore wall protein of Nosema bombycis (SWP N.b) biomarker using C
60
@Pt–Pd nanoparticles as nanocarriers. The electrochemical detection fundamentals is also displayed. Reprinted from [
17
] with permission.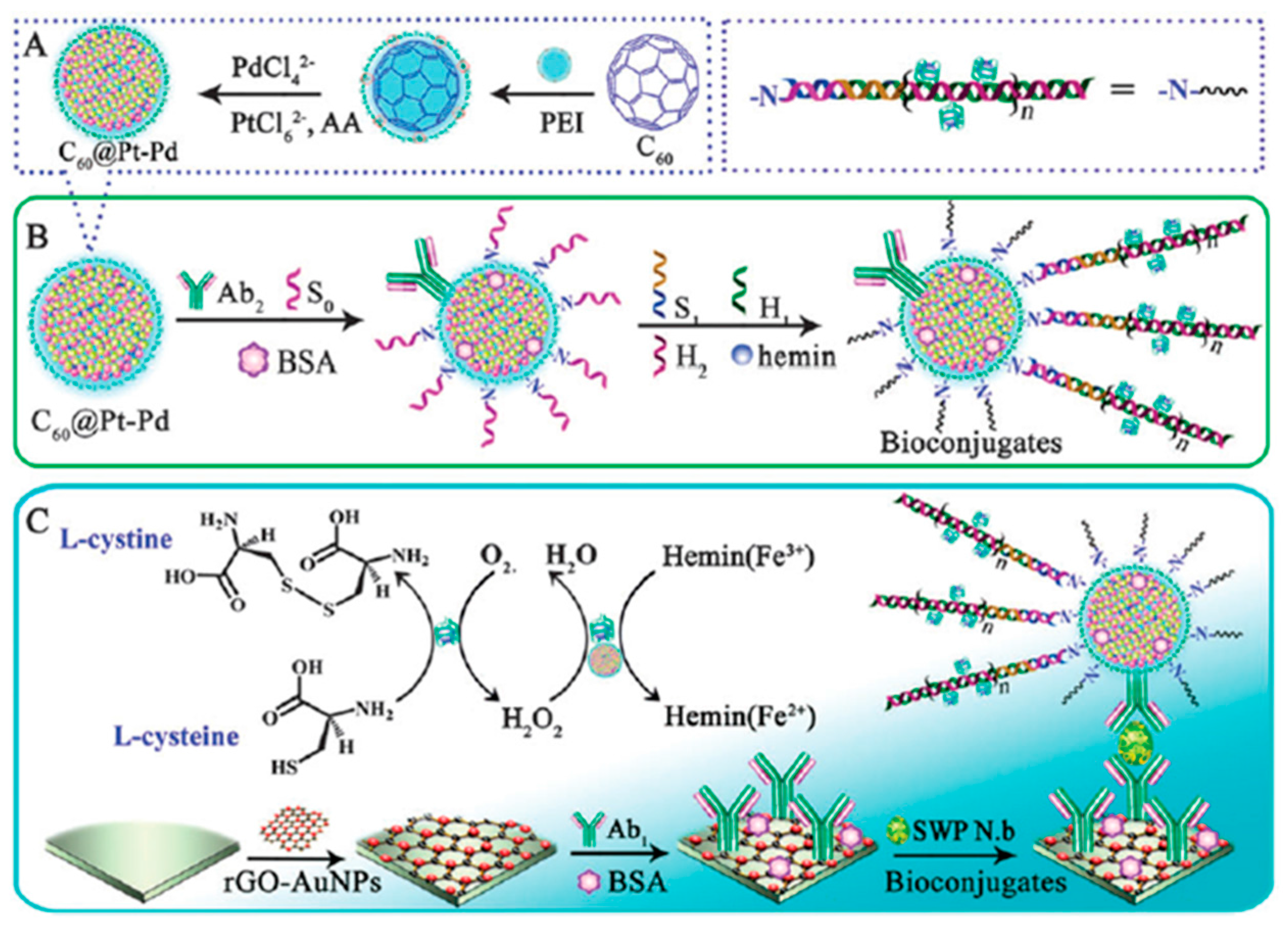 © 2017 by the authors. Licensee MDPI, Basel, Switzerland. This article is an open access article distributed under the terms and conditions of the Creative Commons Attribution (CC BY) license ( http://creativecommons.org/licenses/by/4.0/).