Open Access This article is
freely available
re-usable
Review
Trends in Upstream and Downstream Process Development for Antibody Manufacturing
Institute for Separation and Process Technology, Clausthal University of Technology, Leibnizstraße 15, D-38678 Clausthal-Zellerfeld, Germany
*
Author to whom correspondence should be addressed; Tel.: +49-5323-722200; Fax: +49-5323-723570.
External Editor: Christoph Herwig
Received: 1 August 2014; in revised form: 12 September 2014 / Accepted: 29 September 2014 / Published: 1 October 2014
Abstract
:
A steady increase of product titers and the corresponding change in impurity composition represent a challenge for development and optimization of antibody production processes. Additionally, increasing demands on product quality result in higher complexity of processes and analytics, thereby increasing the costs for product work-up. Concentration and composition of impurities are critical for efficient process development. These impurities can show significant variations, which primarily depend on culture conditions. They have a major impact on the work-up strategy and costs. The resulting "bottleneck" in downstream processing requires new optimization, technology and development approaches. These include the optimization and adaptation of existing unit operations respective to the new separation task, the assessment of alternative separation technologies and the search for new methods in process development. This review presents an overview of existing methods for process optimization and integration and indicates new approaches for future developments.
Keywords:
process development; upstream processing; downstream processing; process integration; host cell proteins
1. Introduction
In search of a solution for this "downstream bottleneck", new approaches of optimization strategies and technology development are necessary. Innovative technologies should increase the maximum capacity and allow the handling of high titer volumes.
2. State of the Art in Process Development and Optimization
The current manufacturing technology for antibodies can be divided in development and optimization of USP and DSP. The development of technological platforms was possible in process development and consequently in manufacturing [
16
]. Examples can be cell line selection, media optimization or harvesting methods on the USP side [
2
,
17
] or the optimization of individual unit operations on the DSP side [
16
,
18
,
19
]. The optimization of process and product analysis is also platform-based. This standardization of development steps takes place inside the company and aims at a decrease of investment, time and development cost per antibody [
2
,
8
,
16
,
17
,
18
,
19
]. In addition, material purchase and storage, scale up, process transfer are simplified [
2
,
8
] and the number of potential unit operations is reduced [
2
,
19
]. One example for the development of a manufacturing platform is published by Vogel
et al.
(2012) [
20
]. It is applied on a blood coagulation factor and the authors include an outlook on necessary process changes for antibody manufacturing.
Due to the intense time pressure in process development, high-throughput (HTP) methods are employed in early process development [
21
,
22
]. They permit running a large number of screening experiments in a very small scale and can be performed with minimal amounts of material. Large amounts of data are provided in a short period of time [
21
,
22
,
23
,
24
,
25
]. HTP methods are often combined with statistically planned experiments (Design of Experiments, DoE). In statistically planned experimental designs, several factors can be changed within one set of experiments. These experimental designs take into account the number and type of factors, already existing information and reliability of the results. Classical designs are full factorial, fractional factorial or response surface designs. By applying DoE, a small number of experiments is sufficient to determine the influence of several parameters and to identify the most significant ones. HTP methods and DoE are both applied in the development of upstream as well as downstream processing [
21
,
26
,
27
,
28
,
29
,
30
,
31
,
32
].
Furthermore, concepts of Quality by Design (QbD) in combination with HTP methods or DoE [
33
,
34
] are encouraged to be applied in process [
35
,
36
,
37
,
38
] and analytical development [
33
,
34
]. QbD is a manufacturing principle in which product quality is built into the manufacturing process by understanding the associated risks and including strategies to mitigate those risks during manufacture [
35
,
36
,
37
,
38
]. The implementation of QbD shall lead to the development of more robust and efficient manufacturing processes of mAbs with increased clinical efficacy [
36
]. Horvath
et al
. (2010) [
39
] described a QbD-based optimization approach in cell culture technology. Harms
et al.
(2008) [
40
] as well as Abu-Absi
et al.
[
41
] published case studies on mapping design space for fermentation and cell culture. In DSP, Jiang
et al.
(2010) [
35
] described a case study on the application of QbD principles for hydrophobic interaction chromatography and Pathak
et al.
(2014) [
34
] as well as Michels
et al.
(2012) [
33
] published examples for QbD-based development of analytical methods for antibody aggregates and size heterogeneity.
2.1. Process Development in Upstream Processing
Process development and optimization in USP includes various parts: cell line development and engineering, cell clone selection, media and feed development, bioprocess development and scale up [
5
,
9
,
42
,
43
,
44
]. Reactor design, cell harvesting, process control and the corresponding analytics can be part of the optimization process as well [
9
,
42
,
43
]. These areas are optimized individually and focus on a robust generation of a high product titer, high productivity and defined quality [
5
,
6
,
43
].
Figure 1
schematically presents the different optimization areas and lists the most important parameters. Following process development, process characterization, process transfer and set up of a cGMP-production take place in combination with process validation [
5
].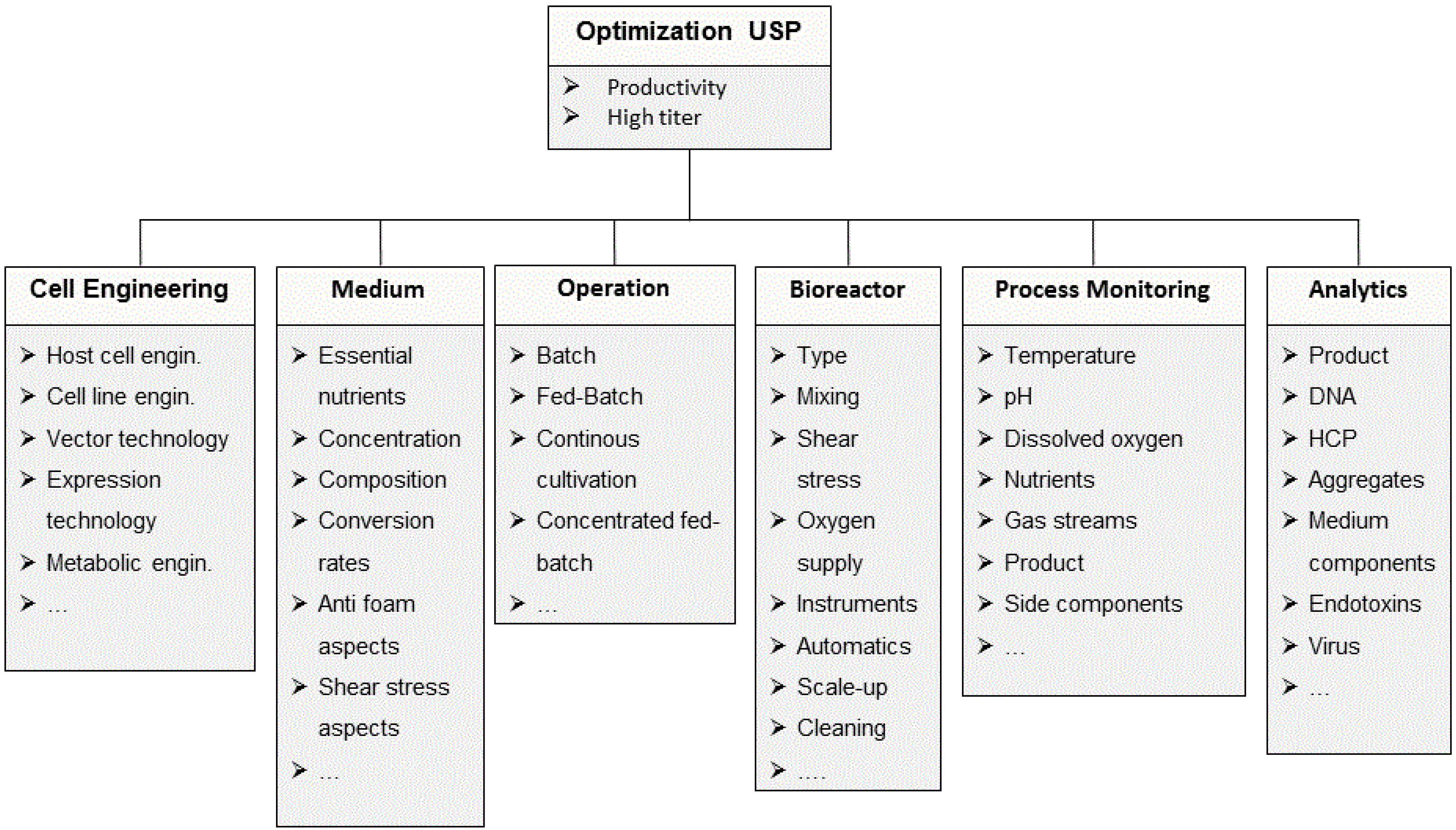 2.1.1. Cell Line Development and Clone Selection
2.1.2. Media Development and Optimization
2.1.3. Development of Process Strategies
Continuous processes in USP are already well established for unstable products. Continuous by-product removal and nutrient addition extend the cultivation time. A short retention time of the product preserves the product quality. The major advantage consists in high cell number and high productivity in a small-sized bioreactor [
64
,
65
,
66
,
67
,
68
]. This process is more challenging regarding technique and sterility. It produces large harvest volumes and requires large media volumes than batch or fed-batch processes [
65
,
67
,
68
]. Perfusion processes are applied in biopharmaceutical production and can also be used for high density seed bioreactors and cell bank manufacturing [
66
,
67
]. Cell retention devices are of high importance for the removal of fermentation broth from the reactor [
64
,
66
,
67
,
68
,
69
,
70
]. They can be divided into filtration- and acceleration-based devices. In addition to effective cell retention, they have to be robust [
64
,
67
] and scalable [
69
]. Gravity-based cell settlers, spin filters, centrifuges, alternating tangential-flow filters, vortex-flow filters, acoustic settlers and hydrocyclones are commonly used in small scale applications [
64
,
69
] but only few of them can be adapted to a larger scale. Scalable devices are mostly based on filtration, gravity settling and centrifugation. Pollock
et al.
(2013) [
68
] provide an overview of industrially applied retention devices in continuous antibody manufacturing. Internal spin-filters are used in production volumes of up to 500 L, and external ones up to 1000 L. On a larger scale, mostly gravity settlers are used [
68
]. A comprehensive overview of principles of sedimentation, centrifugation and filtration as cell retention devices is provided by Henzler (2012) [
71
].
Recent developments resulted in a new device, called the ATF System (Refine Technology) [
7
,
66
,
67
,
68
,
69
]. The system uses tangential flow filtration with an alternating cell broth flow direction. A diaphragm pump is used to alternate these directions without additional shear stress and a cycle time of about 1 min. The back flush created by the alternated movement reduces possible fouling effects [
66
,
67
]. This system is easy to scale up and presents a possibility for single-use applications in USP [
67
,
69
]. It is used to generate ultra-high-density cell cultures such as concentrated fed-batch and concentrated perfusion processes [
69
]. Cell densities up to 2.14 × 10
8
cells/mL [
67
] as well as product titer of up to 25 g/L are reached [
7
].
The choice of a fed-batch or continuous process depends mostly on product quality issues, existing facilities and experiences. The development and optimization concentrates on defining optimal operation parameters including among others temperature shifts, gas exchange, shear stress, transfection process, feeding strategy, duration of the cultivation and perfusion rate [
2
,
17
,
23
,
65
,
72
,
73
,
74
]. This part of development aims for high cell numbers, defined product quality, high titer und an extension of fermentation duration [
17
,
73
,
74
] and is mostly performed by use of DoE. The same criteria are valid for the choice of a bioreactor system.
2.1.4. Optimization of Bioreactor Systems
A new trend addresses an implementation of single-use bioreactor systems. They have the advantages of lower capital investment and operational costs, flexibility [
75
,
76
,
77
], improved production scheduling and higher process replication [
75
,
76
]. They are applicable for GMP manufacturing and available up to 2000 L in scale [
76
,
77
]. Different designs of single-use reactors are available, such as wave, orbital shaken, pneumatically mixed and stirred tank bioreactors [
75
,
77
,
78
,
79
,
80
]. They eliminate the need for cleaning or sterilization and, thus, significantly reduce contamination rates [
76
,
80
]. One new bioreactor system, based on cylindrical or square-shaped vessels which are orbital shaken, distinguishes itself by high gas transfer rates through surface aeration and a working scale of up to 2500 L as a disposable reactor [
25
]. First descriptions and simulations of fluid motions in these vessels were published by Reclari
et al
. (2014) [
81
]. Other disposable bioreactors have been developed based on a bag concept [
80
]. They are used not only in research but also in manufacturing processes in mini- and mid-scale as well as seed trains in perfusion mode. However, there is still a lot of work to be done in optimizing disposable bioreactor systems, especially in terms of aeration and mixing [
78
,
80
]. Up to now, the scale is limited up to 2000 L–2500 L [
25
,
76
,
77
], the diversity of options is restricted, and there is a lack in standardization, instrumentation and some remaining performance issues. Furthermore, there is a shortage of a validation process concerning the nature, quantity and risk of leachables and extractables from the disposable plastics [
76
,
79
,
80
]. The bags can also bind media components thus, decreasing the process performance [
80
]. These problems are currently in focus of development activities.
For similar production organisms and growth behavior, the development a generic harvest process [
16
], which consists mostly of a depth filtration or a centrifugation [
2
,
16
], could be attractive. Recently, depth filters have been shown to absorb soluble impurities, like proteins or DNA. An implementation of such a filter needs to be investigated in terms of a process integration [
2
]. Other developments include flocculation as a primary recovery step [
16
]. For products which are not completely compatible with the platform, additional development is necessary [
16
].
All development and optimization approaches in USP provide an increase in monoclonal antibody concentration from 50 mg/L in 1986 to 5–20 g/L today [
7
,
8
,
82
]. In spite of these achievements, the focus of optimization often neglects the drawbacks of impurities. Impurities will only be considered if they are highly toxic or if changes in their metabolic routes result in a higher production of the desired product. Considerations regarding subsequent separation problems are carried out rarely [
1
,
13
].
2.2. Process Development in Downstream Processing
DSP development focusses on yield and productivity as well as on purity and process capacities. An increase in separation efficiency of single unit operations is achieved by expansion of existing facilities and by optimization of existing and alternative processes [
2
]. New methods for process development are under investigation. These include the establishment of platform technologies, high-through-put methods with approaches based on QbD and DoE-based experimental optimizations [
2
,
21
,
36
]. Additionally, an integration of modeling and simulation of unit operations as well as the use of mini-plant facilities is applied in process development (see
Figure 2
).
Figure 3.
Schematic manufacturing process of monoclonal antibodies from cell culture [
84
].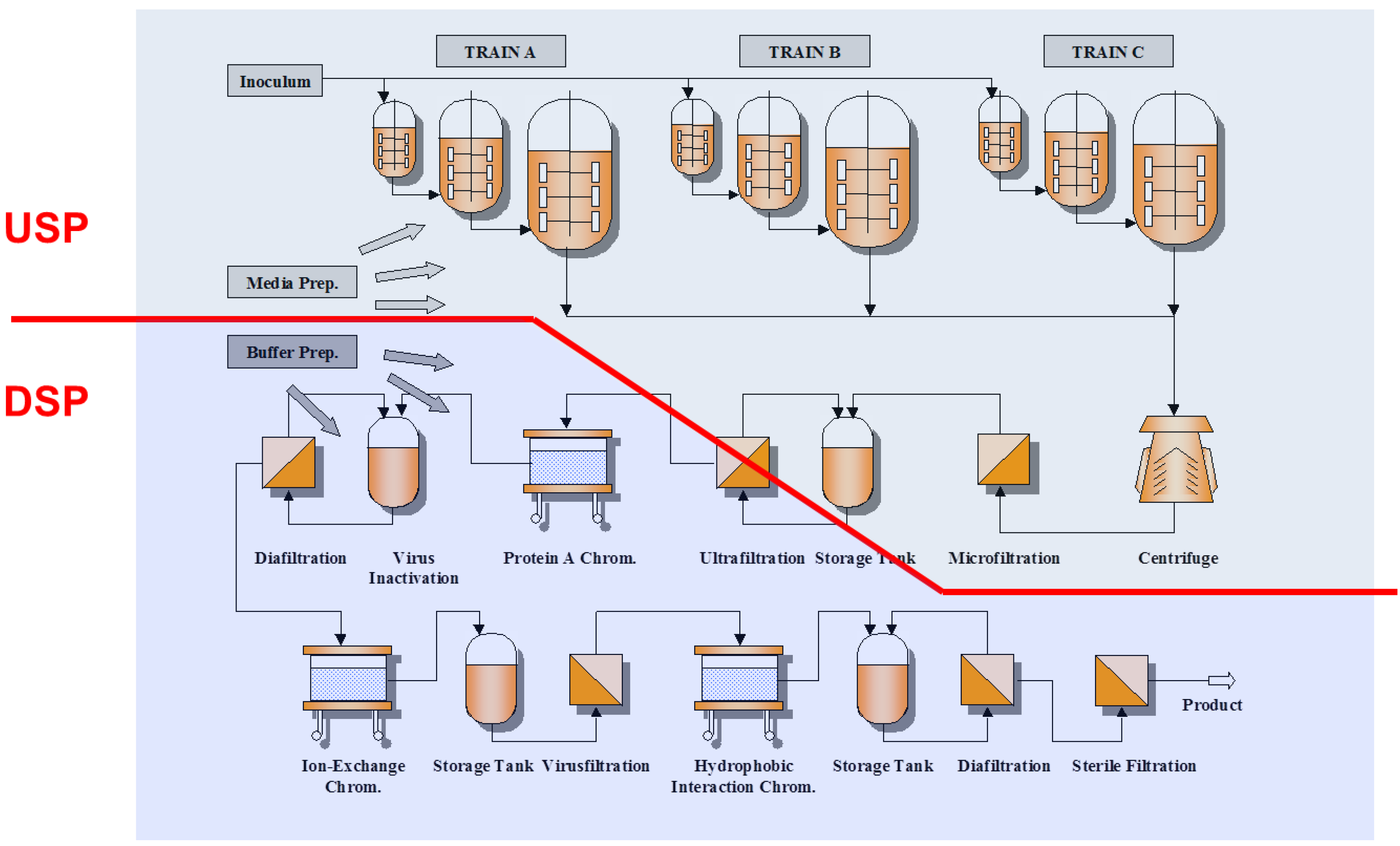 Traditionally, monoclonal antibodies were purified by a sequence of different chromatographic and membrane-based operations [
2
,
7
,
8
,
11
,
16
,
83
,
84
]. A virus-inactivating operation, a filtration-based virus-reducing step and a final diafiltration have to be included [
1
,
7
,
16
,
17
,
83
,
84
].
Figure 3
represents a typical process for antibody purification. A selected number of these individual steps are discussed in more detail in the following sections.
2.2.1. Chromatographic Separations
2.2.2. Non-Chromatographic Separations
3. Critical Parameters in Process Development
Current separation technologies in antibody purification are designed for feeds of 2–5 g/L product concentration [
6
,
8
] which are routinely reached in generic fed-batch processes [
128
]. In USP, further optimizations are aiming to increase the product volumes significantly. Product concentrations of up to 25 g/L were achieved by a two week long modified perfusion process of PER.C6
®
[
7
,
9
]. Product titers of above 5 g/L are going to exhaust existing capacities in DSP [
2
,
7
,
18
] and extensions of these capacities would shift the main costs of manufacturing towards DSP [
7
,
8
,
10
,
11
].
An increased antibody titer upstream requires a higher amount of chromatography resin, buffer and membranes downstream and consequently, costs scale. Strube
et al.
(2012) [
10
] presented studies on cost distributions in downstream processing depending on product concentrations. They show the shift of production costs towards DSP and a possible increase of costs of the overall manufacturing process in case of higher titer in USP development in future processes. Based on the assumption of a constant spectrum of impurities, the overall cost of goods (COG) decrease with increasing product titers. In contrast, downstream costs dominate the overall production costs with increasing titer. Assuming a change in the composition of impurities with increasing titers due to optimizations of cultivation parameters [
12
,
13
,
14
,
15
,
16
], the costs of DSP are significantly higher [
10
]. Considering the trend towards further increasing product titers in future processes, a similar trend of increasing costs is expected for downstream processing [
10
,
17
,
84
].
Impurities in Biopharmaceutical Manufacturing
Impurities generally consist of product and process related components as well as contaminants [
129
]. Product related components are molecular variants of the desired target molecule [
129
], precursors, degraded products [
130
,
131
], aggregates or product variants by different posttranslational modification [
131
,
132
]. They arise from production or during storage and possess different properties compared to the product regarding activity, efficacy or safety aspects. Process related impurities are cell components like host cell proteins (HCP) or DNA, chemical additives, residual media components [
15
,
129
,
133
] or leachables like Protein A [
15
]. Residual media components or digested components include carbohydrates, amino acids, vitamins, salts and lipids, among others. Contaminants include all adventitiously introduced materials which are not part of the manufacturing process, such as (bio-) chemical materials or microbial species. They should be strictly avoided [
129
].
Especially, host cell proteins (HCP) are a main source of impurities. This complex group of proteins is defined by their broad variety of properties. HCP of one process differ significantly from each other in their molecular mass, isoelectric point, hydrophobicity and structure. They can easily be a challenge for product purification due to the changing level, composition and property distribution during a single fermentation process.
Few studies have investigated problematic HCP and their removal in DSP. Pezzini
et al.
(2011) [
101
] monitored the fate of HCP through chromatographic operations. Low
et al.
(2007) [
11
] and Guiochon and Beaver (2011) [
134
] reported the HCP profiles in eluates from Protein A chromatography. Hogwood
et al.
(2013) [
13
] also reported the significant impact of harvest operations on the HCP profile. According to them, early DSP operations impact the HCP profile and the relative abundance of particular proteins throughout product purification.
HCP compositions depend strongly on metabolic pathways which are characteristic for the chosen cell line and clone and result in a characteristic pattern of proteins [
14
]. Other pathways are changed in order to optimize metabolic production routes of the product and thereby, changing production routes of secondary metabolic products [
14
,
135
,
136
]. Their composition depends on several factors: host organism [
14
], cell clone [
137
], protein of interest [
136
], route of metabolic expression [
14
,
135
], viability [
12
,
137
], stage of cell culture, process conditions in fermentation and harvest conditions [
12
].
Tait
et al.
(2012) [
12
] demonstrated the impact of age and viability of the cell culture on HCP composition. During the fermentation, cells produce different proteins at the end than they do in the beginning. This is due to changes in the environment and their metabolism. Additionally, the amount of HCP increases significantly at a stage of decreasing viability. Process conditions influence the HCP profile, too. According to Jin
et al
. (2010) [
14
] the HCP level can change by a factor of 0.5–7 due to variations of temperature, aeration, feeding strategy, medium composition, cell culture duration and harvest conditions, among others. The results of Tait
et al.
(2012) [
12
] indicate that the time of harvest is crucial towards the resulting spectrum of impurities which enters the downstream processing. Along these results, it should be investigated if an earlier harvest results in an easier separable HCP spectrum. This can improve the overall process in spite of a potential loss of production time.
The changes in levels of HCP, their composition and distribution of properties present a high optimization potential in bioprocess development. The high dependency of HCP profiles from different USP parameters is suitable as an optimization tool. By changing the focus of early upstream development, it is possible to reduce the HCP production or to influence its composition and improve DSP performance. By identification of unfavorable proteins in DSP, a screening for cell lines which produce HCP at lower levels would improve product purification [
13
].
4. Trends in Process Development and Optimization Strategies
5. Concluding Remarks and Outlook
Demands for high quality biologics will continue to increase in the coming decades. However, the boundary conditions will change substantially. Amounts to be produced and the number of products will increase. Additionally, there will be less, or even no blockbusters due to a shift towards stratified medicine. Many of the current blockbusters will be "running out of patent" during the next years. In combination with increasing pressure from regulatory agencies for enhanced quality and lower process costs from the health care systems, we are facing a major challenge.
The trend towards stratified therapeutics will support a change in plant design aiming for highly flexible multi-purpose facilities for small production volumes. Such a development will not only push innovation in the development of single-use technologies but also in the development of non-chromatographic, continuous and flexible downstream operations. As one consequence of these changes in process development, an integration of USP and DSP development regarding impurity profiles would be useful as a supporting tool for process optimization which can be established at reasonable expense.
Acknowledgments
The Authors would like to thank Jan Eggersglüß (now Boehringer Ingelheim, Biberach).
Conflicts of Interest
The authors declare no conflict of interest.
© 2014 by the authors; licensee MDPI, Basel, Switzerland. This article is an open access article distributed under the terms and conditions of the Creative Commons Attribution license (http://creativecommons.org/licenses/by/4.0/).